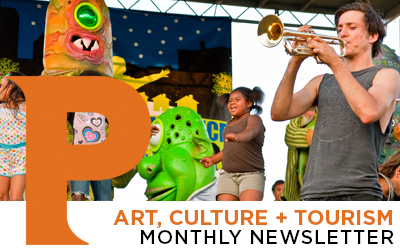 SIGN UP BELOW TO BE TUNED INTO ALL THE GREAT STUFF WE HAVE COMING UP INCLUDING ARTS OPPORTUNITIES AND EVENTS!
| | |
| --- | --- |
| Art, Culture + Tourism Issue #3 | |
<!–

From the Director

"Be the light that shines across this city, across this country." – Alfre Woodard

I am grateful that the shortest days of the entire year align with the shiniest celebrations. Being merry and bright is a necessity made much easier by some of the year's best art sales and most beloved holiday traditions. Heartwarming moments amidst the festivities have allowed me to slow down in appreciation and I am reminded to be more intentional about my own actions this season and beyond. 

Gathered around the Christmas tree in front of City Hall, I found myself nodding enthusiastically when Mayor Elorza urged us to focus more on the giving than the getting this holiday season. Recommitting to my goals when Mirai Nagasu spoke following her graceful skating program at the Alex + Ani Skating Center about the perseverance it took to make the 2018 Olympic Winter Games after some earlier disappointments, and her joy in being part of that team. I was delighted by the Winter Lights Market.

I was honored to receive the 2018 Mary Brennan Tourism Award from the Rhode Island Hospitality Association. Inspired as Turnaround Arts actress Alfre Woodard urged students at Gilbert Stuart Middle School to be kind and compassionate, to create the school culture they want to see, and then her husband, writer Roderick Spencer, spoke about the arts as an important creative outlet during the tumultuous times in which we live. Feeling quite determined after the 2019 Pell Lecture on building a more equitable creative sector through shared leadership.

It's been a great month! Let's carry this positive energy forward into the new year! We'll be ringing in the new year at WaterPlace Park – hope to see you there.

Stephanie Fortunato, Director

2018 ONE PVD NYE Celebration

Providence will wave goodbye to 2018 at Waterplace Park with a family-friendly gathering featuring live performances, a laser light show, fireworks, a big 'ole ball drop and so much more! This is the second year we have teamed up with Skyline to…CLICK HERE

ACT in the Community

The Cranston Street Armory Reuse Plan is an ongoing process led by the State of Rhode Island and a Steering Committee made up of community members and other stakeholders. The goal of the study is to develop a roadmap for the State to work with private partners to return the historic armory to active use. The City of Providence Department of Art, Culture + Tourism has been involved in these meetings, and has participated extensively in the reuse project through its Cranston Street Animated by Art initiative…..CLICK HERE

ACT Public Art

ACT Public Art has had a wild ride in the first six months of its inaugural year. After releasing the Art in City Life Plan in April, we launched the City's public art program, developed policy for commemorative works, and are working hard towards implementing the City's percent for art ordinance. Keep in touch with us by signing up for the public art list…CLICK HERE.

Our call for artists in residence is now closed. Thank you all who applied to work in residence at City Archives and Rogers Recreation Center. Our CALL FOR ARTISTS for the Woonasquatucket River Greenway Arts is now live, with qualifications due on January 2nd. To apply…CLICK HERE.

Galleries in Providence City Hall

Offering space to artists and organizations that might not have a permanent gallery, the Main Gallery at City Hall exhibits an eclectic array of work that highlights the artistic and cultural diversity found in the Providence community…CLICK HERE

Turnaround Arts: Providence

This week Gilbert Stuart students and teachers had their first national artist visit from stage and screen actress Alfre Woodard and her partner and collaborator Roderick Spencer. They did classroom visits, participated in an all-school assembly, were interviewed by the student newspaper and had lunch with community partners. In an interview with the Providence Journal, Woodard said, "Everyone seems to be in it for themselves, but that's out of fear. We have to let our children know they will feel stronger and safer when they are in it with each other."

For bios and more info…CLICK HERE

To read the Projo article…CLICK HERE

Produced in PVD

World-renowned creative professionals, artists, arts organizations and venues all call Providence home. Explore some of their most recent works and productions with this rotating spotlight of stuff you may have seen (and hopefully not missed) around town.…CLICK HERE

Lizzie's City Service Column

It is so cold outside and all I can think about is June and the stunning chaos that is PVDFest.

I am thinking about it because I am so excited to party together in the coming year. Furthermore, we are at one of my favorite benchmarks in the PVDFest planning, when we open the portal to Perform@PVDFest. It is the moment that our Department begins to dream about what is possible. My hope is that our community, including audiences and artists alike, is inspired to dream as well.

The portal is open and ready for you!! CLICK HERE!!

I urge you to be clear and thoughtful about what you want to present this June. This year there are more defined categories. You can apply to DJ, show a movie, tell jokes, play with a band, rap, dance, and write or perform poetry. And this year we have added a category called "HAPPENINGS", these events or moments can be digital or live, but they must include public engagement. Check out the portal for deeper definitions.

The deadline for submissions is February 15th. We can't wait to see what you come up with!

Lizzie Araujo, Deputy Director

<!–
| | | |
| --- | --- | --- |
| <!– | | <!– |
City of Providence Department of Art, Culture, Tourism
444 Westminster Street Providence, RI 02903
(401) 680-5770 | www.artculturetourism.com
Connect with us on social media!