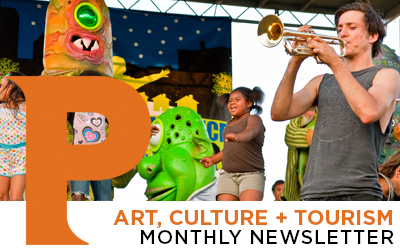 SIGN UP BELOW TO BE TUNED INTO ALL THE GREAT STUFF WE HAVE COMING UP INCLUDING ARTS OPPORTUNITIES AND EVENTS!
| | |
| --- | --- |
| Art, Culture + Tourism Issue #4 | |
<!–

From the Director

I am glad FUNDA Fest, RIBS' annual celebration of Black storytelling, happens early in the calendar year. FUNDA, which means to teach and to learn, is a reminder to pay close attention to the promise the unfolding year offers. At ACT, we are beginning 2019 by envisioning new possibilities for the City and the creative sector. My desk is full of work plans, calendars, and budgets, and I've curated my bulletin board with inspiration and organization in mind. The collection of photos, articles, quotes, and ephemera help me daydream while anchoring me to the task of creating order and seizing opportunity.

This month's newsletter holds invitations and opportunities to kick start your thinking about the year ahead. We are looking for performers, program partners, vendors and more to participate in PVDFest. There's a new opportunity for teaching artists to work in the City's senior centers. The momentum gathering around Turnaround Arts: Providence among the school communities will spill into the Gallery at City Hall later this month when works by Turnaround and TAPA students will be on view alongside work by a local artist. This is the year you've been waiting for — don't miss your chance. Read on!

Stephanie Fortunato, Director

Open Calls For PVDFest, June 6-9, 2019

Providence's signature celebration needs you! Performers, producers, food vendors and volunteers are all welcome to apply to be a part of the fun…CLICK HERE

ACT in the Community

This January & February the City of Providence plays host to a series of spoken word and poetry events that not only showcase the hotbed of talent residing in PVD, but also pays homage to the past…CLICK HERE

ACT Public Art

Beginning in 2019, ACT will be issuing calls for art through Call for Entry (CAFÉ) . If you aren't already registered, go ahead and do it now – it's free for artists (CLICK HERE). On CAFÉ you will be able to create a profile, upload work examples, and easily find and submit to national, regional, state-wide, and soon, Providence calls for art.

The Mayor's Center for City Services has teamed up with the Department of Art, Culture, + Tourism to create two opportunities to work with Providence senior residents. To learn more and apply, CLICK HERE. Applications are due January 31st.

Lastly, our Woonasquatucket River Greenway Arts Call is now closed. Artists chosen for PVDFest and for our Public Art Residencies and will be announced later this winter.

Galleries in Providence City Hall

Offering space to artists and organizations that might not have a permanent gallery, the Main Gallery at City Hall exhibits an eclectic array of work that highlights the artistic and cultural diversity found in the Providence community…CLICK HERE

Turnaround Arts: Providence

Providence students from Delsesto Middle School, Gilbert Stuart Middle School and Roger Williams Middle School are now in production mode for their Spring 2019 musicals. These musicals are produced by the students, which not only provides them with a fulfilling arts learning experience but also submerges the audience in a classic tale told with a fresh perspective…CLICK HERE

Produced in PVD

World-renowned creative professionals, artists, arts organizations and venues all call Providence home. Explore some of their most recent works and productions with this rotating spotlight of stuff you may have seen (and hopefully not missed) around town.…CLICK HERE

From the Deputy

Hello everyone,

Happy January! The thing I love about this time of year is the creeping optimism I feel as I see the sun stay with us for a minute at a time in the afternoon. And I appreciate every minute, as we make the slow crawl toward warmer weather.

Just a reminder the PVDFest Perform Portal is open and ready for submissions!

I know, it is you and what you bring that have made this festival a success, so I hope you will submit to participate in PVDFest 2019.

Keep checking the website, new opportunities are opening all the time.

Lizzie Araujo, Deputy Director

<!–
| | | |
| --- | --- | --- |
| <!– | | <!– |
City of Providence Department of Art, Culture, Tourism
444 Westminster Street Providence, RI 02903
(401) 680-5770 | www.artculturetourism.com
Connect with us on social media!