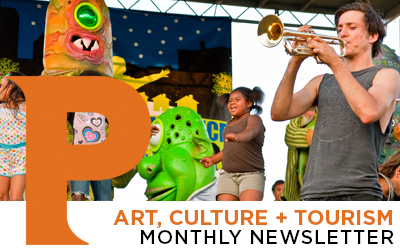 SIGN UP BELOW TO BE TUNED INTO ALL THE GREAT STUFF WE HAVE COMING UP INCLUDING ARTS OPPORTUNITIES AND EVENTS!
| | |
| --- | --- |
| Art, Culture + Tourism Issue #2 | |
<!–

From the Director

Supporting our arts community in taking beautiful dreams and making them a reality for our city is what ACT does best and the thing that makes me proudest about our work. Right now, the entire team is busy furthering plans for projects happening this month and beyond. We're excited to partner with the Downtown Providence Parks Conservancy again on the City's Tree Lightings and Winter Lights Market. Plan to kick off your holiday season downtown over the November 30 weekend with performance, art installations, a world class ice skating performance, an artisan marketplace, and more. We're helping artist Viktor Genel collect business cards for his upcoming installation in the Galleries at City Hall (find out more and drop off sites here). We're reaching out to regular ArtsNowRI users about their experience with the arts calendar. We're making new opportunities available through ACT Public Art including two residencies for artists to be embedded in City departments.

Planning is not enough, and our annual Pell Lecture on Arts and Humanities on December 11 will be a call for collective leadership across the creative sector. The City's future arts leaders, our Turnaround Arts: Providence students, are hosting their national teaching artists this month. These visits are sure to engage and inspire everyone involved to dream big.

2018 Christmas Tree Lighting & Winter Lights Market

For the second year in a row the City has elevated the annual tree lighting festivities to a 2-day holiday festival! Bring family and friends to City Hall on Friday, November 30 and to the Alex and Ani City Center on Saturday, December 1 for tons of activities, live performances, local artist sales and so much more…CLICK HERE

ACT in the Community

During the summer of 2017 ACT worked with local growers, chefs, and artists to prototype a ritual "community table" that would be offered at no cost to participants, bringing people from all walks of life together to break bread.

This year we refined our community table concept, offering it as a gift to the Olneyville and Valley communities where we will be spending the next year working on the Woonasquatucket River Greenway Arts project, and developing new relationships with artists, residents, business owners, and neighborhood organizations whose work makes these neighborhoods so vibrant.…CLICK HERE

ACT Public Art

The Art in City Life Commission has welcomed two new commissioners, Aleida Benitez and Jonathan Bonner, who will bring their respective expertise in arts education and public art installation to the commission. Read more about the commission…CLICK HERE

Thank you to everyone who submitted an RFQ to the now closed PVDFest submission portal.

We have two open calls for public art residencies, to learn more and apply by November 30, 2018…CLICK HERE.

Galleries in Providence City Hall

Offering space to artists and organizations that might not have a permanent gallery, the Main Gallery at City Hall exhibits an eclectic array of work that highlights the artistic and cultural diversity found in the Providence community…CLICK HERE

Turnaround Arts: Providence

Artists Valerie June & Fanshen Cox DiGiovanni had a great visit with Providence Middle Schools this past week.

For bios and more info…CLICK HERE

Produced in PVD

World-renowned creative professionals, artists, arts organizations and venues all call Providence home. Explore some of their most recent works and productions with this rotating spotlight of stuff you may have seen (and hopefully not missed) around town.…CLICK HERE

<!–
| | | |
| --- | --- | --- |
| <!– | | <!– |
City of Providence Department of Art, Culture, Tourism
444 Westminster Street Providence, RI 02903
(401) 680-5770 | www.artculturetourism.com
Connect with us on social media!