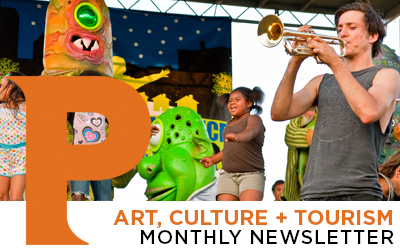 April is a great month for the Department of Art, Culture + Tourism. First we announced plans for PVDFest, which will take place June 7-10, 2018. Then Turnaround Arts: Providence students at Roger Williams Middle School put on an amazing production of the Lion King, Jr. this past weekend – congratulations to everyone involved!
We still look forward to sharing the results of the public art master planning process on April 26 – join us to learn more about the City's new Art in City Life Plan! Finally, April 26 – 28 we are pleased to be part of the local host committee for the annual statewide preservation conference, Encuentro, which will celebrate the stories and places of underrepresented Rhode Islanders, with a particular emphasis on Latino cultural heritage preservation. Curious? Register today.
Don't wait for the next conference or sporting event to explore our beautiful city.  You can also check out the self-guided walking tours at GoProvidence or get involved with Jane's Walk, a relaxing stroll downtown, on May 5, 2018.
Are you looking forward to summer like we are? Lots of plans are in the works for AC+T's summer programming. You can read about them below. Don't you just love that there is always so much going on in the Creative Capital?!
Stephanie Fortunato, Director
PVDFEST 2018

Providence, RI's signature celebration is back for another year!  Want to get involved?  We have many opportunities to participate including vending, volunteering, the parade and numerous job postings.  Check out the site now…

TURNAROUND ARTS: PVD

A national public-private partnership

that leverages the arts to help turn around the nation's lowest performing schools. PVD is one of 15 localities from the US selected by the

Kennedy Center and the

President's Committee on the Arts…
STATE-WIDE EVENTS

Tis the season to experience locally and nationally produced theater performances throughout the

Ocean State. Artists, organizations, and venues are encouraged to submit their profiles and events free of charge…

PRODUCED IN PVD

World-renowned creative professionals, artists, arts organizations, and venues call Providence home.  Explore some of their most recent work with this spotlight on stuff you may have seen (and hopefully not missed) around town…
AC+T IN THE COMMUNITY

The Providence Department of Art, Culture + Tourism ensures the continued development of a vibrant and creative city by integrating arts and culture into community life while showcasing Providence as an international cultural destination…

CITY HALL GALLERIES

Providence City Hall features a permanent collection showcasing mayoral portraits. It also houses three galleries on the second floor: the Main Gallery, Mayor Elorza's Community Gallery and a Pocket Gallery curated by the Art League of Rhode Island…
PUBLIC ART CORNER
Let's celebrate public art in Providence! Our year-long public art master planning process has come to a close.  We hope you will join the City of Providence Department of Art, Culture + Tourism and the Art in City Life Commission as we unveil the Art in City Life Plan.  Come hear results from the public art master planning process and learn about plans for ACT Public Art, the City's first public art initiative.  We will announce new calls for art and artist opportunities that respond to community input at the unveiling.
Join us on  Thursday, April 26 2018 from 4pm-5:30pm at the AS220 Main Space on 115 Empire Street Providence RI 02903. See our Facebook page for more details and to RSVP. 
In other exciting public art news, four public artists have been selected to install temporary public art works at PVDFest. Kristina Brown, May Babcock, Sam White, and Nick Carter with collaborator, KYLE,  will install original works throughout the footprint. You can learn more about these artists on the PVDFest website, here: http://pvdfest.com/public-artists/
SPECIAL EVENTS CORNER
We have a busy and exciting season of summer of events coming up so soon you won't believe it. Yes, these clouds will clear, the temperature will rise, and we will party in the parks and in the streets.
Of course the 4th installment of PVDFest will open the season June 7th-10th. Then RI PRIDE takes center stage in the Creative Capital the weekend of June 15th-17th. Federal Hill inaugurates its summer programming by closing Atwells Avenue.  June 23-24th. Then on Wednesday July 4th, ACT heads to India Point Park for mid-week Fireworks and live music (perfect for family picnicking).
After Independence Day the summer performance schedule will be in full swing. We are thrilled to announce that ACT is partnering with the Summer Meals program as a part of the Mayor's EAT, PLAY, LEARN initiative! Keep an eye out for circus performers, musicians, movies, and imaginative play spaces popping up in parks around the City between July and October.
Lizzie Araujo, Deputy Director
Filming In Providence?  Hosting A Public Event?   
Arts Opportunities  Post An Event To ArtsNowRI
Stephanie Fortunato | Director |
Lizzie Araujo | Deputy Director |
Gina Rodriguez | Cultural Affairs |
Micah Salkind | Special Projects |
April Brown | Turnaround Arts Program Director |
Michael Christofaro | Marketing, Fiscal + Production |
City of Providence Department of Art, Culture + Tourism
444 Westminster Street, 3rd FL | Providence, RI 02903 | 401.680.5770
www.providenceri.gov/art-culture-tourism
www.artculturetourism.com