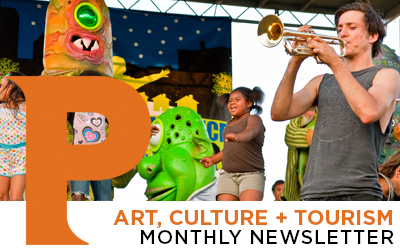 SIGN UP BELOW TO BE TUNED INTO ALL THE GREAT STUFF WE HAVE COMING UP INCLUDING ARTS OPPORTUNITIES AND EVENTS!
---
| | |
| --- | --- |
| Art, Culture + Tourism Issue #5 | |
<!–

From the Director

There is always a lot going on at ACT and this month I want to take a moment to celebrate the artistic and organizing practices of ACT staff outside the office. Black History Month began with the Langston Hughes Community Poetry Reading, an event organized by April Brown, in which members of the Providence community, including Deputy Director Lizzie Araujo, read and celebrated the life and work of this outstanding poet and writer of the Harlem Renaissance. Our Special Projects Manager Micah Salkind published a new book Do You Remember House? which looks at the movements that led to the development of house music in Chicago. Cultural Affairs Manager Gina Rodriguez-Drix joined Americans for the Arts' newly formed Arts and Culture Leaders of Color Network Steering Committee.

Through these independent projects, and in so many more ways, the ACT team works hard to advance and deepen our commitment to cultivating a thriving and inclusive community. We envision Providence as a global destination for arts, humanities, and design, where neighbors celebrate diverse cultural and artistic experiences, and where all residents and visitors feel that a relationship to arts practice, making, and culture is a part of their everyday lives. We are very proud to be a part of Providence's creative community and were especially pleased with the recent recognition as the "most artsy city" by CNN!

We are always looking for ways to highlight the strengths of our local artist communities and to grow the city's reputation as a creative center. There are several calls open for PVDFest participants with deadlines approaching this week for performers. Training is an important part of professional development and there are a few community-based workshops that may be just what you need. There are also plenty of exhibitions, theater, dance, and experimental arts activities to keep you busy this month. Please read on to learn more!

Stephanie Fortunato, Director

Open Calls For PVDFest, June 6-9, 2019

Providence's signature celebration needs you! Performers, craft vendors and volunteers are all welcome to apply to be a part of the fun…CLICK HERE

ACT in the Community

Accessibility, new work, and collaboration are on our minds during Black History Month. Take time, and give money, to support African American, African, and Afro-Latinx artists in your community as they share new and old stories of survival, resilience, and ingenuity in the face of both epic and everyday odds.…CLICK HERE

ACT Public Art

ACT and Rogers Recreation Center are proud to announce Providence artist YSANEL TORRES has been awarded the City's first Public Art Residency in a City Agency. 

YSANEL TORRES began her arts career as a painter/muralist in her hometown of Providence, Rhode Island and has studied at the Pennsylvania Academy of The Fine Arts where she spent most of her time creating installations conceptually driven by used materials. YSANEL will begin her residency at Rogers Recreation Center this April. There she will design and install a mural on the exterior wall in collaboration with children and youth. Follow us on social media for updates throughout the residency…FACEBOOK | TWITTER.

Galleries in Providence City Hall

Offering space to artists and organizations that might not have a permanent gallery, the Main Gallery at City Hall exhibits an eclectic array of work that highlights the artistic and cultural diversity found in the Providence community…CLICK HERE

Turnaround Arts: Providence

Providence students from Delsesto Middle School received a golden ticket in preperation for their upcoming Spring musical…a masterclass with the cast members of Roald Dahl's Charlie and the Chocolate Factory's national tour…CLICK HERE

Produced in PVD

World-renowned creative professionals, artists, arts organizations and venues all call Providence home. Explore some of their most recent works and productions with this rotating spotlight of stuff you may have seen (and hopefully not missed) around town.…CLICK HERE

From the Deputy

Hello everybody!

With the weather unseasonably warm and embarking on a vacation recharge for the coming months, I am beginning to feel truly inspired.

These the past couple of weeks I have had a couple of banner cultural moments. First, I heard Dr. Cornell West speak at RISD. Then, I was lucky enough to experience the magic of "Black Odyssey" at Trinity Rep. On top of these two amazing experiences as an audience member, I was invited to read at the 24th Annual Langston Hughes Poetry reading. All the while I have been meeting non-stop in preparation for PVDFest. Working on the festival assures me that great work is going on right now in our city and in all corners of our creative community. I am so lucky and so grateful to be among all of you.

Please continue to share your ideas for PVDFest 2019 by submitting through our various portals at http://pvdfest.com; more opportunities are opening all the time.

You can also tell me your dreams for the cultural life of Providence beyond the festival by emailing me – I'll do my best to answer after I return on February 13th.

With admiration,

Lizzie Araujo, Deputy Director

<!–
| | | |
| --- | --- | --- |
| <!– | | <!– |
City of Providence Department of Art, Culture, Tourism
444 Westminster Street Providence, RI 02903
(401) 680-5770 | www.artculturetourism.com
Connect with us on social media!