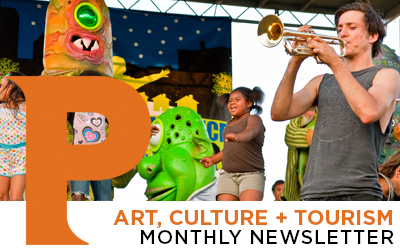 My love for Providence endures season after season but this really is a great time too year to experience the Creative Capital.
Dozens of events are happening as part of the 2018 Eat, Play, Learn Neighborhood Performing Arts Series (CLICK HERE). There's live music, drumming, dancing, storytelling and more for you to enjoy with your family and friends at no cost in public parks near you.
ACT is working on a new event with Mambo Pa Ti, the dynamic dance studio that led us to the world record in Bachata during PVDFest, that will have you dancing the night away. Join us on July 21 at the Alex and Ani City Center for this FREE Salsa Night (CLICK HERE FOR PVDFEST 2018 FOOTAGE).
Summer also means WaterFire, festivals, food trucks, outdoor movies, FRINGEPVD, and the Philharmonic Pops under the stars. Visit artsnowri.com to map out your summer – there's so much going on that you do not want to miss!
Best,
Stephanie
Stephanie Fortunato, Director
EAT, PLAY, LEARN PVD

A partnership between Mayor Jorge Elorza, Healthy Communities, Parks, Economic Opportunities, and AC+T to increase access to high quality, affordable, healthy, educational, and creative summer programs for youth in Providence….  

TURNAROUND ARTS: PVD

A national public-private partnership

that leverages the arts to help turn around the nation's lowest performing schools. PVD is one of 15 localities from the US selected by the

Kennedy Center and the

President's Committee on the Arts…
STATE-WIDE EVENTS

The weather is warming up and so are the outdoor events throughout the

Ocean State. Always free to veiw and explore, never a charge to submit an event…

PRODUCED IN PVD

World-renowned creative professionals, artists, arts organizations, and venues call Providence home.  Explore some of their work with this spotlight on stuff you may have seen (and hopefully not missed) around town…
AC+T IN THE COMMUNITY

The Providence Department of Art, Culture + Tourism ensures the continued development of a vibrant and creative city by integrating arts and culture into community life while showcasing Providence as an international cultural destination…

CITY HALL GALLERIES

Providence City Hall features a permanent collection showcasing mayoral portraits. It also houses three galleries on the second floor: the Main Gallery, Mayor Elorza's Community Gallery and a Pocket Gallery curated by Art Connection-RI

…
PUBLIC ART CORNER
We are excited to announce the upcoming unveiling of "What Is Your Story," a new public art installation at the corner of Broad and Somerset streets. Commissioned by ACT with support from Artplace America and RI LISC, the project was designed by artist Anna Snyder and students from Dr. Jorge Alvarez High School with help from The Steel Yard/Weld to Work Program, community engagement assistant Margie Butler, RI Latino Arts and Southside Cultural Center. CLICK HERE to learn more about the installation and their creative process.
We hope you join us to dedicate the work on Tuesday, July 31 at 2pm at 358 Broad Street.
On April 26th, Mayor Jorge O Elorza, the Department of Art Culture + Tourism, and the Art in City Life Commission together unveiled the Art in City Life Plan- the City's first master plan for public art.  CLICK HERE FOR DETAILS
---
SPECIAL EVENTS CORNER
Hello folks!
It seems like its going to be a wonderful summer! Our summer parks performance calendar is overflowing.
CHECK OUT OUR EVENTS HERE.
Once we hit event season, I can get so tired, but this year all of our collective events are inspiring me.
I have manged to feel joyful about them all from the largest to the smallest.
2018 has been a banner year for me as an event manager and civic practitioner because of the beauty and strength of my community.
I am awestruck by the talent, humor and good will of all the people I have worked with this year.
Filming In Providence?  Hosting A Public Event?   
Arts Opportunities  Post An Event To ArtsNowRI
Stephanie Fortunato | Director |
Lizzie Araujo | Deputy Director |
Gina Rodriguez | Cultural Affairs |
Micah Salkind | Special Projects |
April Brown | Turnaround Arts Program Director |
Michael Christofaro | Marketing, Fiscal + Production |
City of Providence Department of Art, Culture + Tourism
444 Westminster Street, 3rd FL | Providence, RI 02903 | 401.680.5770
www.providenceri.gov/art-culture-tourism
www.artculturetourism.com