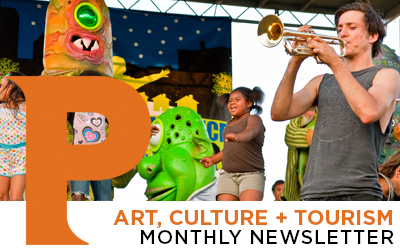 The season of gratitude reminds us to slow down and express our appreciation for each other. I am very grateful to work with an amazing group of curious, compassionate individuals who tirelessly look for new ways to develop meaningful connections between communities. They make the city a place where cultural diversity, creative expression, and the arts and humanities are valued as a part of everyday life.
We have amazing community partners that help us do the work. Of late we are working on collaborations to bring new fun to Providence's Holiday Tree Lightings & Winter Market; new ideas to the 2017 Senator Claiborne Pell Lecture on Arts and Humanities; and, new works to PVDFest 2018. We also partnered on a proposal for a Levitt AMP Grant Award to co—present a free, weekly live music series at the SouthLight Pavilion next summer. We need community support to make it happen – please vote for Providence by November 20.
Of course, the winter holidays are just around the corner. Its not too late to find information about art sales and events here. We hope that you take some time to reflect, celebrate, and give thanks with your community.
Stephanie Fortunato, Director
ONE PVD NYE 2017

TURNAROUND ARTS: PVD

A national public-private partnership

that leverages the arts to help turn around the nation's lowest performing schools. PVD is one of 15 localities

from the US selected by the

on the Arts & Humanities…
STATE-WIDE EVENTS

Tis the season to experience locally and nationally produced holiday performances throughout the

Ocean State. Artists, organizations, and venues are encouraged to submit their profiles and events free of charge…

PRODUCED IN PVD

World-renowned creative professionals, artists, arts organizations, and venues call Providence home.  Explore some of their most recent work with this spotlight on stuff you may have seen (and hopefully not missed) around town…
AC+T IN THE COMMUNITY

The Providence Department of Art, Culture + Tourism ensures the continued development of a vibrant and creative city by integrating arts and culture into community life while showcasing Providence as an international cultural destination…

PUBLIC ART

The Art in City Life Commission was formed to create standardized policies and procedures for public art, monuments, memorials, and markers on publicly held land and to set guidelines for private developers…
SPECIAL EVENTS CORNER
Happy Holidays Everybody,
The Alex and Ani City Center Skating Rink, Burnside Park, City Hall and Kennedy Plaza will soon be the home of the "2017 PVD Winter Lights Market & Tree Lighting" on Friday December 1st from 5PM-9PM and Saturday December 2nd from 12PM-9PM.  Please come join us for vendors, dancers, live music, skating, trees, lights, singing and so much more!
The 2018 dates for PVDFest have been announced and I hope you will save them: June 7th thru June 10th. And don't forget to go to pvdfest.com where you can register and submit requests to sell, create, perform, and participate in the 2018 festivities.
Lizzie Araujo, Deputy Director
Filming In Providence?  Hosting A Public Event?   
Arts Opportunities  Post An Event To ArtsNowRI
Stephanie Fortunato | Director |
Lizzie Araujo | Deputy Director |
Gina Rodriguez | Cultural Affairs |
Micah Salkind | Special Projects |
April Brown | Turnaround Arts Program Director |
Michael Christofaro | Marketing, Fiscal + Production |
City of Providence Department of Art, Culture + Tourism
444 Westminster Street, 3rd FL | Providence, RI 02903 | 401.680.5770
www.providenceri.gov/art-culture-tourism
www.artculturetourism.com