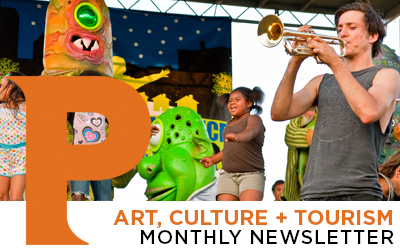 It's been a busy month for the Department of Art, Culture + Tourism! The start of the school year marked the official launch of the Turnaround Arts: Providence partnership. Faculty from our three participating schools received trainings in how to use arts strategies across their curricula to build capacity, collaboration, and shared leadership within their schools. The Turnaround approach to school engagement aligns well with AC+T's community-based work using arts-based strategies for cross-sector outcomes. Through our programs and initiatives we strive to creatively employ the arts, culture, and design practices in ways that strengthen civic engagement, advance equity, and promote vibrancy.
We are thrilled to announce that the Kresge Foundation recognizes Providence's innovative approach. The City was just awarded a $200,000 grant through their Fresh, Local & Equitable (FreshLo) initiative which supports neighborhood-scale projects leveraging healthy food and creative placemaking in the service of equitable economic development. We are looking forward to our continued work with the Sowing Place partners as we implement this plan.
Speaking of plans, our Imagine Art Here! workshop yielded great ideas which will help guide a community-driven vision for public art. There's still time to add your thoughts – take a moment to complete our survey (ENGLISH | SPANISH) today!
Stephanie Fortunato, Director
FRESHLO

With a grant from The Kresge Foundation, the City of Providence will continue work on a project to combine healthy food & Creative Placemaking as part of the FreshLo initiative. Mayor Elorza announced that the City of Providence…

TURNAROUND ARTS: PVD

A national public-private partnership that leverages the arts to help turn around the nation's lowest performing schools. PVD is one of 15 localities from the US selected by the Kennedy Center and President's Committee on the Arts & Humanities…
STATE-WIDE EVENTS

The leaves may be falling but the theater season is in full bloom!  Explore some of those "Fall Gems" throughout the Ocean State. Artists, organizations, and venues are encouraged to submit their profiles and events free of charge…

PRODUCED IN PVD

World-renowned creative professionals, artists, arts organizations, and venues call Providence home.  Explore some of their  work with this spotlight on stuff you may have seen (and hopefully not missed) around town…
AC+T IN THE COMMUNITY

Art, Culture + Tourism ensures the continued development of a vibrant and creative city by integrating arts and culture into community life while showcasing PVD as an international cultural destination…

PUBLIC ART

The Art in City Life Commission was formed to create standardized policies and procedures for public

art, monuments, memorials, and markers on publicly held land and

set guidelines for private developers…
SPECIAL EVENTS CORNER
Happy September,
September is a month of starting and starting again. I take a big deep breath and try to finish what I started. In our department, we try to stop long enough to look at the values that guide us. We focus on indoor programming, conversations, supporting gallery shows, and theater. This year we will also be involved with the Providence Public Schools, with the TURNAROUND ARTS program.
My colleague, April Brown, who sits near me in the office, has been working on the rollout of the TURNAROUND ARTS program in the schools. I was at an event she conceived and produced at Del Sesto Middle School, on one of the last warm Friday afternoons in September.  Becky Bass performed outside for the teachers as a part of a professional development event.   While educators faced a forgotten green space, Becky sang, spoke about music as a teaching aid and, most importantly, she performed for them. This show was only for them; a rare experience for teachers.
As Becky beckoned, the teachers joined her in song, they also laughed.  In this moment of connection I was reminded again why art and community are so important to the health of our city. I was touched by the ease with which these critically important members of our community came together to share an experience. I was humbled that I was a part of it in some miniscule way.  Sometimes I get tired, but that day, I re-committed to "throwing parties," employing local artists, honoring communities and bringing people together to share common spaces in uncommon ways.
Lizzie Araujo, Deputy Director
Filming In Providence?  Hosting A Public Event?   
Arts Opportunities  Post An Event To ArtsNowRI
Stephanie Fortunato | Director |
Lizzie Araujo | Deputy Director |
Gina Rodriguez | Cultural Affairs |
Micah Salkind | Special Projects |
April Brown | Turnaround Arts Program Director |
Michael Christofaro | Marketing + Fiscal |
City of Providence Department of Art, Culture + Tourism
444 Westminster Street, 3rd FL | Providence, RI 02903 | 401.680.5770
www.providenceri.gov/art-culture-tourism
www.artculturetourism.com