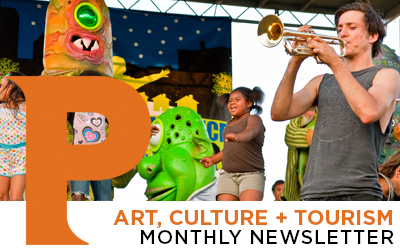 As 2017 draws to a close, we want to celebrate all that we've accomplished as a community this past year. Many thanks to the artists, cultural organizations, creatives, funders, partners, colleagues and audiences who have shared new works of art, ideas, and experiences to make Providence a more interesting place to work, live, and visit! 
There are still plenty of ways to support your local artist community this holiday season – enjoy your favorite holiday show or pick up a handmade gift at one of the upcoming art sales…click here for some wonderful opportunities.
Gather your family and friends and ring in 2018 with Skyline's One Providence New Year's Eve celebration at WaterPlace Park. 
Stephanie Fortunato, Director
ONE PVD NYE 2017

TURNAROUND ARTS: PVD

A national public-private partnership

that leverages the arts to help turn around the nation's lowest performing schools. PVD is one of 15 localities from the US selected by the 

Kennedy Center and the

on the Arts & Humanities…
STATE-WIDE EVENTS

Tis the season to experience locally and nationally produced holiday performances throughout the

Ocean State. Artists, organizations, and venues are encouraged to submit their profiles and events free of charge…

PRODUCED IN PVD

World-renowned creative professionals, artists, arts organizations, and venues call Providence home.  Explore some of their most recent work with this spotlight on stuff you may have seen (and hopefully not missed) around town…
AC+T IN THE COMMUNITY

The Providence Department of Art, Culture + Tourism ensures the continued development of a vibrant and creative city by integrating arts and culture into community life while showcasing Providence as an international cultural destination…

CITY HALL GALLERIES

Providence City Hall features a permanent collection showcasing mayoral portraits. It also houses three galleries on the second floor: the Main Gallery, Mayor Elorza's Community Gallery and a Pocket Gallery curated by the Art League of Rhode Island…
SPECIAL EVENTS CORNER
Hi Everyone & Happy Holidays!
PVDFest 2018 takes place June 7th through June 10th and we are currently accepting participation submissions. Whether you submit every year or this is your first time, I would encourage you to get involved with the festival. Please share your talents or share this information with a talented someone. It's Providence, we all know someone creative!!
I am on vacation the last two weeks in December, but when I return on January 9th, I would love to meet or just talk with anyone who has questions. | (401) 680-5772        
Lizzie Araujo, Deputy Director
Filming In Providence?  Hosting A Public Event?   
Arts Opportunities  Post An Event To ArtsNowRI
Stephanie Fortunato | Director |
Lizzie Araujo | Deputy Director |
Gina Rodriguez | Cultural Affairs |
Micah Salkind | Special Projects |
April Brown | Turnaround Arts Program Director |
Michael Christofaro | Marketing, Fiscal + Production |
City of Providence Department of Art, Culture + Tourism
444 Westminster Street, 3rd FL | Providence, RI 02903 | 401.680.5770
www.providenceri.gov/art-culture-tourism
www.artculturetourism.com