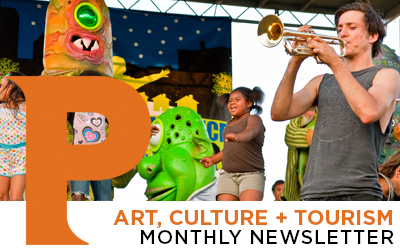 School starts and even if you are not going back yourself it's hard not to think about new beginnings. Read more about ACT's new projects in Turnaround Arts: Providence schools, the Woonosquatucket neighborhoods, and public art. There's also still time to enjoy ACT's outdoor events and luckily it's a busy season for special events which you can learn more about below!
Stephanie Fortunato, Director
TUNESDAY CONCERTS

Mayor Jorge Elorza, the Department of Art, Culture + Tourism and Providence Parks are pleased to announce TunesDays, an after-work artist series.  These free concerts will take place at Waterplace Park on…

 

TURNAROUND ARTS: PVD

A national public-private partnership

that leverages the arts to help turn around the nation's lowest performing schools. PVD is one of the localities from the US selected by the Kennedy Center and the

President's Committee on the Arts…
STATE-WIDE EVENTS

Check out our newly launched arts and events calendar and see what's going on in the Ocean State!  Listings are always free and entering info is a snap…

 

PRODUCED IN PVD

World-renowned creative professionals, artists and arts organizations call Providence home. Explore some of their most recent work with this spotlight on stuff you may have seen  around town…
AC+T IN THE COMMUNITY

The Providence Department of Art, Culture + Tourism ensures the continued development of a vibrant and creative city by integrating arts and culture into community life while showcasing Providence as an international cultural destination…

CITY HALL GALLERIES

Providence City Hall features a permanent collection showcasing mayoral portraits. It also houses three galleries on the second floor: the Main Gallery, Mayor Elorza's Community Gallery and a Pocket

Gallery.  Artist receptions coinside with Gallery Night Providence

…
ACT PUBLIC ART: UPCOMING OPPORTUNITIES
It's official – our Call for Public Art @ PVDFest 2019 is LIVE!!
---
SPECIAL EVENTS CORNER
When the sweet, sweater coziness of Autumn arrives the race season is not far behind. There are 10 races and parades between September 15th and December 2nd that impact different parts of the city. Be aware that easy errands on a Saturday may require some detouring. I know that If I am aware of impacts in advance it is much simpler to adjust, but when I am surprised by a detour, I get irritated. There are a lot of great happenings in our City in the next few months, and they are worth braving easy breezy detours and moderate traffic.
Don't stay home, stay informed!
Here are steps you can take to stay on top of road closures.
Download the 311 app (HERE) and check it before you leave the house for last minute information about closures.
Check the City of Providence's website (HERE). It has a notification bar running along the bottom with the most accurate and up to date street closures for events.
Follow Providence's Art, Culture + Tourism on Facebook (@provact) and Twitter (@providenceact)

Finally and always, feel free and give me a call at 401-680-5772 or email me;

, I am happy to talk you through whats happening or send more information

.

If you want, you can download a handy guide

(HERE)

to reference these steps anytime!
Lizzie Araujo, Deputy Director
Filming In Providence?  Hosting A Public Event?   
Arts Opportunities  Post An Event To ArtsNowRI
Stephanie Fortunato | Director |
Lizzie Araujo | Deputy Director |
Gina Rodriguez | Cultural Affairs |
Micah Salkind | Special Projects |
April Brown | Turnaround Arts Program Director |
Michael Christofaro | Marketing, Fiscal + Production |
City of Providence Department of Art, Culture + Tourism
444 Westminster Street, 3rd FL | Providence, RI 02903 | 401.680.5770
www.providenceri.gov/art-culture-tourism
www.artculturetourism.com