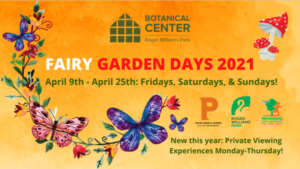 Fairy Garden Days is a magical time for both young and old. Each year, volunteers from the community create these mini-creations from natural items like acorns, twigs, moss, and whatever else might be found while walking outdoors. Once the houses are built, the Center displays each house with magical walkways, mystical ladders, and more! Interested in creating a house this year?
Join our Facebook page and request to be part of the Facebook Fairy Garden Days group RWPBC 2021 Fairy Garden Days Architects!
No walk-up sales will be permitted.   Parking is free. Due to Covid-19, we are unable to reschedule tickets at this time. Thank you!