Mayor Elorza began meeting regularly with the African American Ambassador Group on May 14 to discuss the disproportionate number of African Americans impacted by COVID-19. The group has since evolved to meet weekly and discuss and advance a social justice agenda for the City of Providence.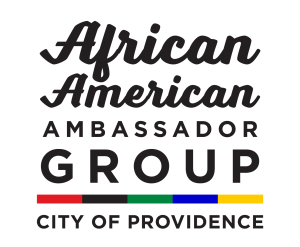 ---
VISION
We envision a future where racial, social, and economic equity is achieved for African Americans in Providence, and where our government and institutions represent and empower the African American community.
MISSION
The African American Ambassadors Group protects, uplifts, celebrates, and empowers the African American community in Providence by developing and advancing City of Providence policies that dismantle oppressive systems and extinguish racial, social, and economic equity gaps for African Americans.
African American Ambassador Group Sub-groups
In May 2020, once the focus of this group shifted from COVID-19 to racial justice work, members of the African American Ambassador Group identified areas of focus for community members to prioritize. Those areas of focus have become sub-groups that meet both during weekly Ambassador Group meetings and separately to advance conversations and work.
Education Reform  Police Advisory     Housing Insecurity/Eviction Defense   Internal Policy Reform    Youth Voice     Mental Wellness     Food Insecurities
---
Work to Date
On June 19, 2020, Mayor Elorza joined City Council President Sabina Matos, Councilwoman Mary K. Harris, Community Relations Advisor Shawndell Burney-Speaks, Bishop Jeffery Williams, members of the Mayor's African American Ambassador Group and community members to sign an Executive Order removing the term "plantations" from all City documents and oath ceremonies.
The announcement was made on the 155th year anniversary of Juneteenth, the oldest nationally celebrated commemoration of the ending of slavery in the United States. For this year's celebration, the City partnered with the JuneteenthRI Committee to raise the pan-African flag on Providence City Hall.
On Tuesday, June 23rd, after feedback from members of the African American Ambassador Group and community members, Mayor Elorza announced his order of the removal of the Christopher Columbus statue from its current location in the Elmwood neighborhood to an undetermined future location. The City's Special Committee for Commemorative Works will advise on the next destination of the statue.
On July 15, 2020, Mayor Elorza, joined by members of the African American Ambassadors Group and community members, enacted a community-driven Executive Order committing the City to a process of Truth, Reconciliation, and municipal Reparations for Black, Indigenous People, and People of Color in Providence.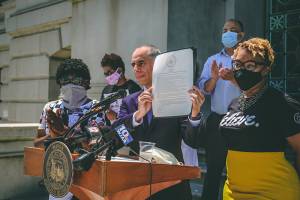 Members of AAAG    Truth, Reconciliations, and Reparations    Want to be engaged in this work? CLICK HERE
---