Comprehensive Plan Update
Every decade, Providence updates its Comprehensive Plan (or "Comp Plan"), which is a framework document that guides growth and development in the City over the next 20 years. 
The Plan outlines goals and strategies in a range of topic areas, such as housing, transportation, land use, outdoor recreation, and economic development. It informs all other planning efforts of the City of Providence. The Plan is updated with input from a robust community engagement process, and is ultimately approved by the Providence City Plan Commission, Providence City Council, and the Rhode Island Division of Planning.
Comprehensive Plan 101
Providence Yesterday, Today, & Tomorrow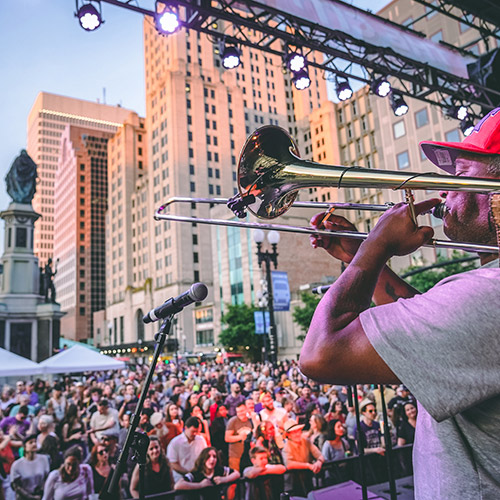 How is Providence Changing?
Over the last decade, Providence has changed in a number of ways. From 2010 to 2020, Providence grew to a population of 190,934 (+7.3%), and became… more diverse, with 38% of the population now white (not Hispanic or Latino) and 62% non-white (43.5% Hispanic/Latino/Latina/Latinx, 16% Black or African American alone). Ages 20 to 24 continues to be the largest age cohort. Incomes have increased 1.2% (inflation adjusted) since 2009, and the poverty rate remains unchanged at 26%. Median rents and home values have increased significantly with 48% of renters and 39% of homeowners "cost-burdened" (spending more than 1/3 of their income on housing) in 2020. Development activity is increasing across Providence, and climate risks (heat, flooding) are increasingly likely.
Learn more about Providence's neighborhoods!
Check out the Neighborhood Snapshots webpage to find the latest demographic, economic, health and other data about your neighborhood and how it compares to others in Providence!
What are some opportunity areas that an updated Comprehensive Plan could address?
Updating the Comprehensive Plan is an opportunity to ensure that Providence's future… development meets the changing needs of our community.
In the updated Plan, some policy areas that might merit extra attention or changes include: Providence's resilience to the impacts of climate change (heat, flooding, sea-level rise); increased attention to housing affordability, production, and quality; and reevaluating where in the City development should be encouraged or discouraged.