ABOUT THE SPECIAL ELECTION ON JUNE 7:
Over the last 10 years, Providence's annual pension payment grew by 48%. At the same time, City revenues grew by only 15%. Required annual pension payments are growing faster than City revenues.
Without action, pension payments will take up more and more of the City's budget – leaving less funding available for important City investments that make our neighborhoods better, like parks, recreation centers, and street and sidewalk repairs.
Providence can't wait. We need to take action NOW to invest in our future.
Who supports this pension obligation bond?
Mayor Jorge Elorza and Council President John Igliozzi
Pension Working Group Co-chairs:

Michael DiBiase, Rhode Island Public Expenditure Council President & CEO
Laurie White, Greater Providence Chamber of Commerce President
Cliff Wood, Providence Foundation Executive Director
Senator Maryellen Goodwin
Representative Scott Slater
Pension Working Group Members:

Senator Sam Zurier
Councilwoman Helen Anthony
Councilman Pedro Espinal
In the special election on June 7th, VOTE YES ON QUESTION 1!
There are many ways to vote in the upcoming special election. What's your voting plan?
BY MAIL
Apply for a mail ballot application between NOW-May 17
Once you receive your mail ballot, mail or return your ballot by June 7
EMERGENCY VOTING
Vote early at Providence City Hall
May 18 – June 6, 2022
Monday-Friday8:30AM-4:30PM
Deadline is Monday, June 6, 2022 at 4:00 PM
ON ELECTION DAY
Vote at your assigned polling location
Not sure of your polling location? Visit vote.sos.ri.gov!
Tuesday, June 7, 2022
7:00AM-8:00PM
Have questions? Call 3-1-1
UPCOMING COMMUNITY MEETINGS:
We're committed to making the resources available to Providence voters to get their questions answered before they vote in the upcoming special election. Over the next few weeks, Mayor Elorza, the Providence City Council and members of the Providence delegation will be hosting a series of community meetings throughout the City where we will be available to answer your questions:
PowerPoint Presentation can be found here.
"Despite the significant improvements to the city's overall finances, the unfunded pension liability still looms as a ticking time bomb. Armed with the recommendations of the Pension Working Group, we are committed to finding a long-term fix to the city's unsustainable yearly pension payments. I thank the members of the Pension Working Group for their recommendations, which have made the Pension Obligation Bond proposal stronger, and I thank the co-sponsors of the bill for advocating for our city's future," said Mayor Elorza.
"After several months studying this topic and educating the public, now is the time to take action to protect the financial health of our capital city. Together with my colleagues, I know we can address this challenge, protecting Providence's finances and ensuring our civil servants' pension benefits," said Senator Goodwin (D-Dist. 1, Providence).
"As was clearly stated in the Pension Working Group report, we can no longer accept inaction. We have the recommendations of the Pension Working Group to guide us, and I look forward to continuing to work with Mayor Elorza and my colleagues in the General Assembly to pass this legislation and allow Providence to move forward with a Pension Obligation Bond," said Representative Slater (D-Dist. 10, Providence).
"There's no question the city needs to take immediate action to help stabilize our precarious pension system. The proposed pension obligation bond of up to $515 million, with financial guardrails in place, is a step in the right direction. To my fellow lawmakers at the statehouse, we now respectfully ask for your help in approving this legislation that will provide Providence and its taxpayers with the financial tools needed for long-term security," said Council President Igliozzi.
"We're proud to have partnered with the city on this essential work to better understand the options available to our city to address the unfunded pension liability. With Providence serving as Rhode Island's economic center, we should all have an interest in addressing this significant liability and protecting the city's financial outlook. We are glad to see our recommendations moving forward in order to protect the best interests of Providence workers, residents and the economy of the city," said Co-chairs of the Pension Working Group Cliff Wood, Executive Director of the Providence Foundation; Laurie White, President of the Greater Providence Chamber of Commerce; and Michael DiBiase, President of Rhode Island Public Expenditure Council (RIPEC).
"The city's fiscal stability is of critical importance to our hard-working union members, and we must take action to ensure that their pension benefits remain intact. We appreciate the dedication and research of the Pension Working Group and look forward to working with Mayor Elorza, Council President Igliozzi, Governor McKee and members of the General Assembly to take action and address this challenge head-on," said Michael Imondi, President of the Providence Police Union, FOP Lodge #3; Derek Silva, President of the Providence Fire Union, IAFF Local 799; and Ronald Coia, Business Manager, Laborers' Local Union 1033.
ABOUT THE PENSION WORKING GROUP:
In response to having one of the lowest funded pension plans in the nation and limited City-controlled options to address these challenges, Mayor Elorza, the Providence City Council, The Providence Foundation, The Greater Providence Chamber of Commerce, and the Rhode Island Public Expenditures Council convened a Pension Working Group of leaders from the public, private, and not-for-profit sectors to review the pension system, identify risks and benefits of meaningful options to stabilize the system, and provide recommendations to inform policy deliberations for stakeholders. The PWG submitted a detailed report, outlining the group's findings, including a series of recommendations for how to most effectively address the City's unfunded pension liability.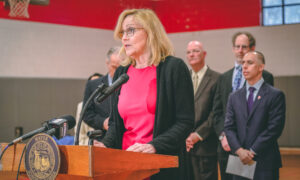 After much review, discussion, and deliberation, including reviews of differently sized transactions, the Pension Working Group included in the report that Providence should receive state legislative and city voter authorization to issue a pension obligation bond sized to deposit $500 million into the pension system if advantageous borrowing conditions and terms are met.
Currently, the City's pension expenses are growing at over 5% while revenue is growing at 2%. The Working Group determined that while smaller or larger bond issues could result in positive benefits, the most efficient transaction size is one that deposits $500 million into the employee retirement system (ERS). This allows the City to best position itself to increase the funded status of the pension system and match associated POB debt repayment costs to the City's conservative, realistic projection of revenues – and enhance budget sustainability. This proposal would lower the projected growth of pension expenses to 2%, matching the projected revenue growth and therefore fixing the long-term structural deficit.
ABOUT THE LEGISLATION:
On February 16, the City and General Assembly members announced the introduction of Senate Bill 2321 and House Bill 7499 to the Rhode Island General Assembly.
House Bill 7499 sponsors include Representatives Slater, Camille F.J. Vella-Wilkinson (D-Dist. 21, Warwick), Raymond A. Hull (D-Dist. 6, Providence), Gregg M. Amore (D-Dist. 65, East Providence), William W. O'Brien (D-Dist. 54, North Providence), Grace Diaz (D-Dist. 11, Providence), Anastasia P. Williams (D-Dist. 9, Providence), David Morales (D-Dist. 7, Providence), Carol Hagan-McEntee (D-Dist. 33, Narragansett, South Kingstown), Joshua J. Giraldo (D – District 56, Central Falls), Justine Caldwell (D – District 30 East Greenwich, West Greenwich), Charlene Lima (D – District 14 Cranston, Providence), Leonela Felix (D – District 61 , Pawtucket), Karen Alzate (D – District 60​​, Pawtucket), Edith H. Ajello (D – District 1​​, Providence), Marcia Ranglin-Vassell (D – District 5, Providence), Patricia A. Serpa (D – District 27 West Warwick, Coventry, Warwick), David A. Bennett (D – District 20 Cranston, Warwick), Jose F. Batista (D – District 12, Providence) and Brandon Potter (D – District 16, Cranston).
The companion legislation in the Senate, Senate Bill 2321, sponsors include Senators Goodwin (D-Dist. 1, Providence), Ana Quezada (D-Dist. 2, Providence), Frank A. Ciccone, III (D-Dist. 7, Providence, North Providence), Tiara Mack (D-Dist. 6, Providence), Samuel W. Bell (D-Dist. 5, Providence), Samuel Zurier (D-Dist. 3, Providence), Jonathon Acosta (D-Dist. 16, Central Falls, Pawtucket), and Sandra Cano (D-Dist. 8, Pawtucket).