As-salamu alaykum
---
We designed this site hoping you'll find it to be one of connection, education, and community. Throughout history and indeed very recently, there has been much stigma and hate directed towards the Muslim American community, even in Providence. But beyond the strength of surviving discrimination, the Muslim American community is one that thrives: full of beautiful, peaceful, and diverse traditions.
We encourage you to take the time to browse through this site in full and to contact the Mayor's Muslim American Liaison Monsurat Ottun at with any questions.
---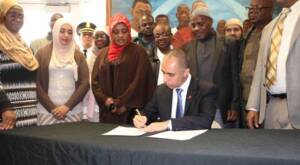 November 22, 2016, Mayor Jorge Elorza joined members of the Muslim-American community to sign an executive order creating the Muslim-American Advisory Board as part of an ongoing One Providence initiative aimed at protecting and serving every resident of the city regardless of race, ethnicity, national origin, gender identity, sexual orientation, political affiliation, religion, or disability.
The City of Providence is focused on promoting a compassionate and forward-thinking Providence. Mayor Elorza realizes that a society that reflects values such as equity, inclusion, and respect for the dignity of every individual that lives amongst us is paramount to the success of our community.
Recommendations of the Muslim-American Advisory Board
The Muslim-American Advisory Board officially sunset in March 2019. Upon the sunset of the Board, a recommendation was made for the City to appoint a Muslim-American Liaison to provide ongoing support to constituents in the Muslim community.
---
Meet Mayor Elorza's Muslim-American Liaison
Monsurat Ottun, Esq.
Monsurat Ottun joined the City Solicitor's Office in April 2018. Prior to joining the City Solicitor's Office, Monsurat worked briefly for Rhode Island Legal Services handling domestic violence matters in Family Court. As an Assistant City Solicitor, Monsurat has represented the City in a broad range of civil and criminal litigation matters as well as contracts. She has also worked on open government inquiries relating to the Access to Public Records Act (APRA) and the Open Meetings Act (OMA). Currently, Monsurat is responsible for:
Prosecution in Municipal Court
Contracts
Civil litigation
Advising URRP, BOPC and PHRC; and
The City's Cybersecurity initiative.
Additionally, Monsurat, serves as the Muslim American Liaison for the City and, among many other staff members, offers support to the Mayor's African American Ambassador's Group.
Monsurat earned a B.A. from Boston College in 2006 and her J.D. from Roger Williams University School of Law in 2016. During her time at Roger Williams, Monsurat externed for the Honorable O. Rogeriee Thompson of the United States Court of Appeals for the First Circuit for one year.
Most recently, in May 2020, Monsurat earned her M.S. degree in Cybersecurity Policy and Governance from Boston College and sits on Congressman Langevin's Cybersecurity Advisory Committee. In her free time, she volunteers as a mentor/advisor with Social Enterprise Greenhouse, sits on the Board for Genesis Center, and assists small businesses as well as non-profits through her consulting services.
---
How to get involved
To learn more or to get involved, you can contact Monsurat Ottun at or you can reach out to any of the local Masajid.
Masjid Al-Hoda – 60 Fortin Rd, Kingston, RI 02881
Masjid Al-Islam – 40 Sayles Hill Rd, North Smithfield, RI 02896 – Mufti Ikram Ul Haq
Masjid Al-Kareem – 39 Haskins St, Providence, RI 02903 – Imam Abdllatif Sackor
Masjid Ar-Rahman – 18 Dunnell Ln, Pawtucket, RI 02860 – Dr. Amjad Kinjawi
Masjid Ar-Razzaq – 1148 Broad St, Providence, RI 02905 – Abdul Giyath Mayale-Eke
The Muslim American Dawah Center of Rhode Island 59 McClellan St Providence, RI 02909  – tele# 401 529-4251
Learn more about the local mosques and institutions: https://www.ricma.org/mosques-institutions
---
Events
2021 Ramadan – April 12 – May 12
2021 Eid – May 13
Muslim-American Civic Engagement Muslim-American Resources  Muslim-American Spotlight
---