Tuesday, May 24, 2022
The City of Providence's Department of Art, Culture + Tourism (ACT), Real Access Motivates Progress (RAMP), and the Steel Yard today showcased the creation of "Tina's Table": an innovative, ADA-accessible picnic table, which is set to redefine accessible public seating in Providence.
Funded in part by a Project Fund Grant through the Department of Art, Culture + Tourism, "Tina's Table" combines the Steel Yard's local custom fabrication with knowledge and consulting from Tina Pederson of RAMP, emphasizing comfort, accessibility, and inclusive design. It features bench seats designed to look like powered or manual wheelchairs with room for up to three functional wheelchairs, giving the appearance that everyone seated at the table is in a wheelchair.
"Providence's design community always steps up, especially when the task at hand is about representing who we are as a City and showcasing our values," said Mayor Jorge O. Elorza. "This cutting-edge table is a perfect example of our team's ability to work with our community partners to prioritize accessibility for everyone and brought to fruition by many local organizations that recognize the importance of functional inclusivity."
"Anyone who knows Tina Pederson knows that she will accomplish anything she sets her mind to, and our community is so very fortunate to have her," said U.S. Representative Jim Langevin (D-RI). "Starting today, wheelchair users who visit Kennedy Plaza will know that this space is meant for us, too. Everyone, of every ability, can come together at Tina's Table, and that's what our public spaces should be about."
Like many innovations, "Tina's Table" started with a simple idea. While consulting on how to improve the accessibility of the Steel Yard's studio spaces, Tina Pederson and the Steel Yard began to discuss accessible design in public spaces generally, with Tina suggesting a picnic table with wheels attached, so that everyone seated at the table appears to be in a wheelchair. The one-of-a-kind table was then designed and built by artists and apprentices in the Steel Yard's job training program with 90% of the budget spent on local labor and materials. The design concept debuted in 2021 at the Steel Yard's first annual 'Accessibility Is Beautiful' celebration.
"Accessibility is not only a matter of compliance and equity, but also essential for a more inclusive and welcoming city and state," said Lt. Governor Sabina Matos. "I am so proud of Tina's leadership, the Steel Yard's creative vision, and the City's support for this project. This picnic table is more than just somewhere to sit and converse, it's a reminder of what's possible when we lead with kindness."
"This installation at the intersection of art and accessibility will be a fantastic addition to our capital city," said Commerce Secretary Stefan Pryor. "We are proud to join in celebrating this project and we give our thanks to the advocates and doers who made it happen. We look forward to implementing more such installations in the future, further enhancing accessibility through design-related creativity."
The table's design was entirely made with welded steel construction. The 84" long, 72" wide, 32" tall design will also feature the Rhode Island state flag and a dog leash hitch.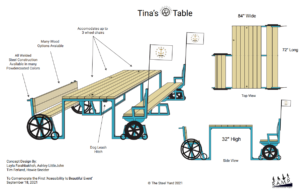 "This design was developed with our apprentices and staff, and fabrication was completed in our accessible metal shop," said Howie Sneider of the Steel Yard. "There is room for everyone at Tina's Table."
And Tina feels similarly.
"The Steel Yard helped my vision come to life in the most beautiful, expressive way, and I couldn't be prouder to partner with them," said Tina Pederson. "This table is not only functional and inclusive, but it also creates a statement that when we all gather at the table, we are all the same."
For those interested in viewing "Tina's Table," it will be on display at the Steel Yard, and it will become mobile this summer, touring different cities and towns across Rhode Island.