Providence Emergency Management Agency offers a variety of training opportunities for our community and volunteers. Courses offered include Until Help Arrives, CPR, and the Community Emergency Response Team (CERT) class, as well as trainings on a variety of topics held at the monthly volunteer meetings.
Community Emergency Response Team (CERT)
The Community Emergency Response Team (CERT) class is a free 20-hour course that teaches basic disaster preparedness and response skills including how to use a fire extinguisher, disaster medical operations, light search and rescue, extrication, cribbing, disaster psychology, and the Incident Command System. PEMA holds CERT classes 2-3 times per year.
Upon completion of the training, each individual will receive a CERT shirt, certificate of completion, and a response bag with equipment. The class consists of 8 units that are covered in 7 sessions followed by a hands-on "rodeo" where students get the opportunity to demonstrate the skills that they learned in a simulated disaster environment.
In May 2018, PEMA spearheaded a state-wide CERT exercise at the State Fire Academy in Exeter, Rhode Island. There were approximately 50 participants representing 9 local municipalities. This nine-hour exercise consisted of fire extinguishing, hands-only CPR, victim extrication from a building, urban search and rescue, victim extrication from a disaster pile, generator usage, a simulated flooding situation, and all simulation victims were made up with realistic injuries. These injuries included simulated severe bleeding and required tourniquet application. This exciting exercise gave CERT members an opportunity to practice important skills, meet members of other CERT teams, and gain experience in responding to disaster scenarios. The state-wide CERT exercise was held again in 2019 with 10 municipal CERT teams participating. Unfortunately the 2020 CERT exercise was canceled due to the COVID-19 Pandemic but will continue to be held on an annual basis.
To be notified of the next class, please contact the Preparedness Coordinator at .
---
CPR
Performing CPR promptly may save the life of someone you love. Anyone can learn CPR and be prepared to act in the event of a cardiac emergency. CPR class will equip you with the tools and confidence you need to transform yourself from the role of bystander to lifesaver!
To be notified of the next class, please contact the Preparedness Coordinator at .
Until Help Arrives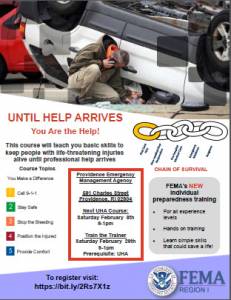 Life-threatening emergencies can happen quickly and emergency responders aren't always nearby. According to a recent National Academies of Science study, trauma is the leading cause of death for Americans under age 46. Life-threatening injuries require immediate action and those nearest to someone with injuries are best positioned to help. By taking simple actions, you can provide the care that can help save someone's life – you are the help until help arrives.
Until Help Arrives is a 3-4 hour class that offers students the opportunity to learn bleeding control, tourniquet use, proper interaction with 911, initial incident response, mass casualty response, and comforting the injured.
To be notified of the next class, please contact the Preparedness Coordinator at .
---
Volunteer Training
Monthly volunteer meetings provide an opportunity to engage in a variety of different training. Previous volunteer training include:
Volunteer reception training
Medical Point of Distribution (MED POD) training
Crowd management
Shelter management training
General radio operations
Active Shooter awareness
Disaster Assessment training
Critical Incident Stress management
Basic search and rescue training
Narcan administration training