Providence Emergency Management Agency offers a variety of training opportunities for members of our community and volunteers. Courses offered to include Until Help Arrives, CPR, and the Community Emergency Response Team (CERT) class as well as training on a variety of topics held at the monthly volunteer meetings.
Community Emergency Response Team (CERT)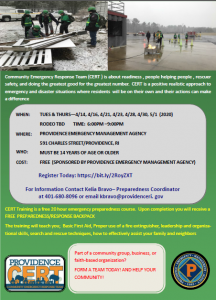 Learn about readiness, people helping people, rescuer safety, and doing the greatest good for the greatest number. CERT is a positive realistic approach to emergency and disaster situations where residents will be on their own and their actions can make a difference.
Learn how to safely respond to man-made and natural hazards
Help organize basic disaster response
Promote preparedness by hosting and participating in community events
CERT Training is a 23-hour free emergency preparedness course.  Course held at PEMA, 591 Charles Street, Providence, RI.
Dates:  April 14, 16, 21, 23, 28, 30 and May 1, 2020
Time: 6-9 PM
Location: Providence EMA 591 Charles St. Providence, RI 02904
Until Help Arrives
Learn basic skills on how to help others should you come upon an emergency situation.    This course will teach you basic skills to keep people with life-threatening injuries alive until professional help arrives.
This 3-4 hour class offers students the opportunity to learn bleeding control, tourniquet use, proper interaction with 911, initial incident response, mass casualty response, and comforting the injured.
Call 9-1-1
Stay Safe
Stop the Bleeding
Position the Injured
Provide Comfort
Date: February 8, 2020
Time: 9 AM -1 PM
Location: Providence EMA 591 Charles St. Providence, RI 02904
Train the Trainer
Train the Trainer
Date: February 29, 2020
Time: 9 AM -1 PM
Location: Providence EMA 591 Charles St. Providence, RI 02904
---
Volunteer Training
Monthly volunteer meetings provide an opportunity to engage in a variety of different trainings. Previous volunteer trainings include:
Volunteer reception training
Medical Point of Distribution (MED POD) training
Crowd management
Shelter management training
General radio operations
Active Shooter awareness
Disaster Assessment training
Critical Incident Stress management
Basic search and rescue training
Narcan administration training
---
CPR
Anyone can learn CPR and be prepared to act in the event of a cardiac emergency. Performing CPR promptly may save the life of someone you love. CPR class will equip you with the tools and confidence you need to transform yourself from the role of bystander to lifesaver!
Contact Us!
Email for more information on training or to reserve a seat in a class.