This guide provides information on new changes to street markings and traffic signals coming to the City of Providence. These improvements will help all road users (including cars, bikes, buses, and pedestrians) to coexist safely on our streets.
You can refer to this guide to learn how to navigate these new markings and signals and why these improvements are important for keeping all road users safe. #PVDTrafficSafety
Two-Stage Turn Box
Two -stage turn boxes are designated areas for people on bicycles to wait to turn left at intersections. They are called two-stage turn boxes because bicyclists proceed through the intersection, then wait at the box until the street that they are turning onto gets a green light. Two-stage turn boxes are sometimes marked with green and white paint on the street, and sometimes with just white paint.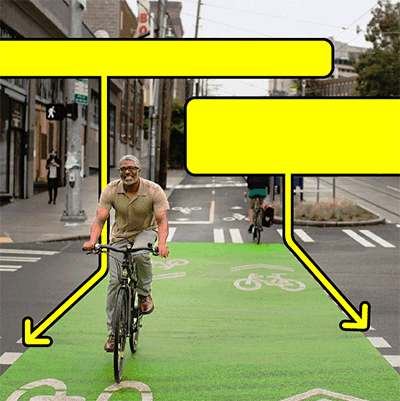 Green Bike Lane
Sometimes, bike lanes are painted green for added visibility. These lanes are the same as normal bike lanes, which means cars cannot drive or park in them. Green paint in bike lanes improves safety by making drivers more aware of people on bicycles.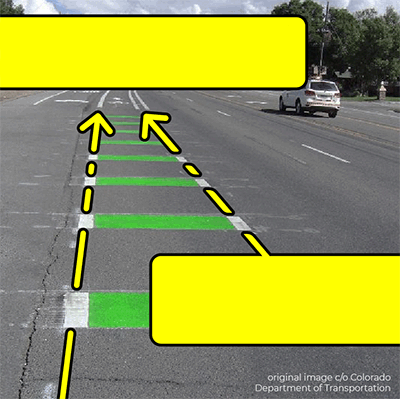 Dashed Green Bike Crossing
A dashed green bike crossing reminds drivers that bikes are traveling through an intersection or across a driveway, and makes bikes more visible to turning cars. Green paint is used to make them more visible. Before driving across these markings, look for bikes and yield to them if they are in the crossing.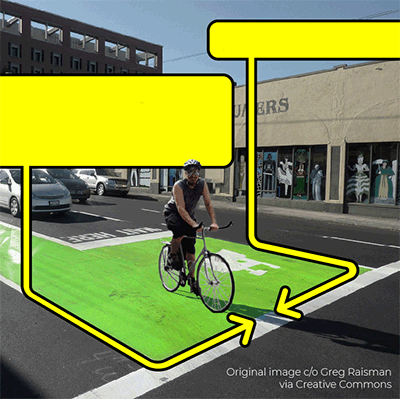 Bike Box
A bike box is a designated area for people on bicycles to wait at intersections. Cars stop at red lights before the bike box, allowing room for bikes within the box.  They improve safety by making people on bicycles more visible, especially if they are turning left. Bike boxes also help prevent crashes between bikes and cars that are turning right.
Bike Signal
Bike signals are dedicated traffic signals that tell people on bicycles when to stop and go. Bike signals do not apply to cars, but instead work with normal traffic signals to make it clear when bicyclists can and can't go in order to improve safety and reduce crashes between bikes and cars.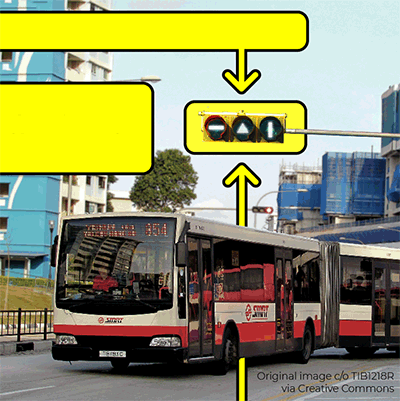 Transit Signal
A transit signal is a dedicated traffic signal for buses only. Transit signals do not apply to cars, but instead work with normal traffic signals to make it clear when buses can go through intersections. By giving buses their own signal, bus service becomes more efficient and more reliable.
Bus Lane
A bus lane is a travel lane dedicated for buses only. Because buses make frequent stops, separating them from cars allow both to move more efficiently and reliably. These lanes are not for car travel or parking.  Bus lanes are typically marked with red paint and the words "bus only" on the roadway surface. Parking or driving in a bus lane may result in a fine.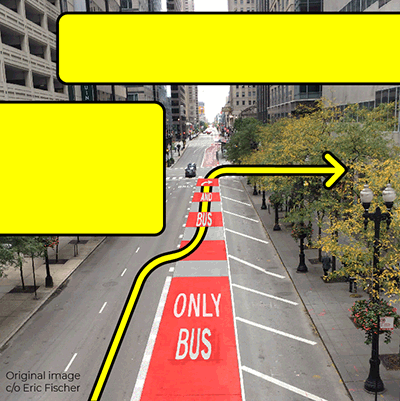 Shared Bus/Right Turn Lane
Sometimes, cars may be allowed to drive in bus lanes for a short segment prior to intersections in order to make right turns. When that is allowed, the red bus lane paint becomes dashed and a right turn arrow is shown on the road. Always look for buses and yield to them before turning into a shared bus/right turn lane.
Two-Way Protected Bike Lane
Two-way protected bike lanes allow people riding bicycles to move in both directions on one side of a street in a dedicated, protected space. Two-way protected bike lanes offer riders a trail-like experience, even in an urban area. This allows people of all ages and abilities to get where they need to go in the city on a bicycle. Drivers should make sure to look both ways when making a turn or crossing through a two-way protected lane.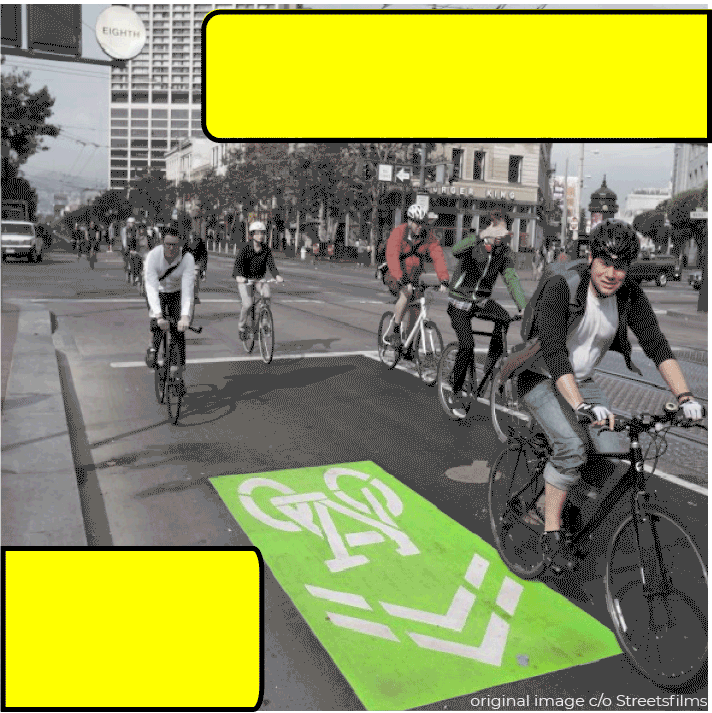 Green-Backed Sharrow
In Providence, green-backed sharrows are used on neighborhood greenways. Neighborhood greenways are low-volume residential streets where a combination of sharrows, signage, and traffic-calming creates a safe route for people to ride bicycles. Sharrows help direct people on bicycles along safe, slow routes and alert those driving to the increased presence of bicycles. When driving a car, remember, as always, to go slowly near bicycles, and only pass people on bikes when no car is coming in the opposite direction.