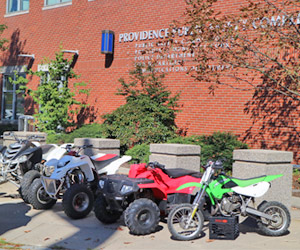 Police and City officials announce progress and continued efforts related to ordinance targeting illegal vehicles being operated on Providence streets
Providence, RI- Mayor Jorge Elorza, Public Safety Commissioner Steven M. Paré, Colonel Hugh T. Clements, Jr., Councilwoman Jo-Ann Ryan and other police and city officials gathered for a press conference today related to the recently implemented city ordinance directing members of the Providence Police Department to crack down on the illegal use of recreational vehicles on the streets of Providence.
Providence Police have continuously been vigilant in their efforts to issue violations for individuals operating illegal vehicles on city streets and an ordinance that was passed through Providence City Council in May allows for police to now confiscate these vehicles. The ordinance is also focused on police issuing summonses for vehicles that are not properly registered and do not have proper turn signals or lighting.
"The use of dirt bikes and ATV's on our streets is illegal and is a serious danger," said Mayor Jorge O. Elorza. "We've confiscated dozens of vehicles and we won't tolerate their use on Providence streets. I salute the Providence Police Department for their diligent work and for making our neighborhoods safer."
Over the past several months, the Providence Police Department Patrol Bureau has been actively working to rid these dangerous and illegal vehicles from the streets, seizing an ATV as recent as this past weekend. Since the implementation of the City Council ordinance and ATV/Dirt Bike Task Force, a total of 82 recreational vehicles have been towed, 91 summonses have been issued and dozens of these vehicles are pending forfeiture.
"As we are entering into the fall and winter months, the police department warns those individuals who are operating these vehicles illegally that our efforts will continue," said Commissioner Paré. "We also want to remind parents that these vehicles are in fact illegal and will not be tolerated by police."
Through collaborative efforts by the administration, City Council, and the Providence Police Department, a public service announcement campaign was launched in the summer to inform motorists of city vehicle restrictions and associated fines and charges.
"I am pleased to have sponsored new laws and an ATV Task Force enacted by the Council which have led to successfully getting illegal dirt bikes and ATV's off of city streets," said Councilwoman Ryan. "The operation of these vehicles within city limits is unsafe and menacing to our neighborhoods, and I commend the increased efforts by the Providence Police Department in curbing their presence. This is a team effort. I look forward to continuing to work with constituents, the Council, the police and the administration to identify even more tools that can be used in addressing this problem."
"The statistics speak for themselves, this initiative is working. Through the joint efforts of the City Council, administration, and Providence Police Department we are cracking down on these illegally operated ATV`s and dirt bikes which put our residents in danger as well as damper the quality of life in our city," said Councilman Michael Correia. "These vehicles are not meant for city streets and we will not tolerate their presence. I encourage all city residents to report sightings and storage locations of these illegally operated and unregistered ATV`s and dirt bikes, working together we will put an end to this citywide epidemic."
To report the location or operation of an illegal recreational vehicle please contact the Providence Police Department's Non-Emergency number at (401) 272-3121.