Police and City officials destroy recreational vehicles that have been forfeited to the City for illegal operation on Providence streets
 Providence, RI- Mayor Jorge Elorza, Commissioner of Public Safety Steven M. Paré, Colonel Hugh T. Clements, Jr. and City Council Pro Tempore Michael Correia gathered for a press conference this morning to destroy 27 recreational vehicles that were seized by police and subsequently deemed property of the City through a Municipal Court forfeiture process.
"We're once again sending a clear message that we will not tolerate the illegal operation of dirt bikes and ATV's on our city streets," said Mayor Jorge O. Elorza. "This risky activity has disrupted and caused widespread concern in our city for far too long. We'll be keeping a close eye on this issue and working to ensure our roadways are safe and inviting to all who rely on them."
destroyed and 2 were given to the City of Providence Parks Department.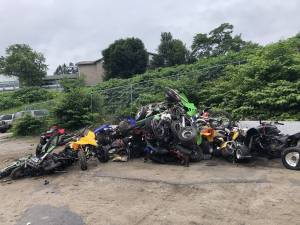 In 2017, the Providence City Council passed an ordinance allowing Providence Police to confiscate recreation vehicles operating illegally on city streets. Last year, a press conference was held to destroy 17 of the 46 vehicles that had been forfeited since the onset of the ordinance.  Today, there are 27 vehicles that were destroyed and an additional 17 pending forfeiture. The vehicles that were crushed today included various makes and models of ATV's and dirt bikes. A total of 31 vehicles were ready for destruction, 2 were previous
"I want to thank the hardworking men and women of the Providence Police Department for their dedication in helping rid our streets of these unauthorized vehicles," stated City Council President Pro Tempore Michael Correia. "ATVs are not meant for city streets; they are a disturbance in our neighborhoods, and because of the way they are recklessly used they can cause serious damage to the drivers, pedestrians, or other motorists. On behalf of the Providence City Council, we remain committed to doing our part in keeping these vehicles off our streets."
"I was proud to support legislation empowering our Police Department to confiscate and destroy illegally operated ATVs and dirt bikes," stated Majority Leader Jo-Ann Ryan. "This legislation gave the police the tools they need to end this threat to public safety, and by today's event, we can see that it is working.  There is still work left to do, but I believe this sends a message that we are serious when it comes to the illegal use of these vehicles, and I commend the men and women of the Providence Police Department for their hard work."
Providence Police will continue actively working to rid these dangerous and illegal vehicles from the streets.
"As the summer months approach, this event sends out a strong message that Providence Police will continue their efforts to rid all dangerous and illegal vehicles from our streets," said Commissioner Paré.  "Individuals who engage in this unlawful activity will have their vehicles confiscated by police, and in some cases destroyed, ensuring they will not be back on the streets and in the hands of those who intend to violate the law and cause a serious danger to the community."
To report the location or operation of an illegal recreational vehicle please contact the Providence Police Department's Non-Emergency number at (401) 272-3121.