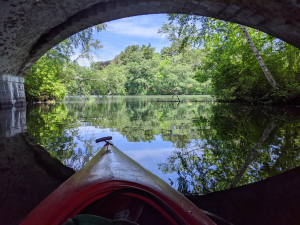 The City of Providence's Parks Department minimizes public exposure to toxic chemicals by reducing, and in many cases eliminating, the use of pesticides. The Department does not use pesticides as a regular part of their treatment plan for any parks or playgrounds in the city; they are only used sparingly as a last resort option.
In the Roger Williams Botanical Center, no pesticides are used and Integrated Pest Management (IPM) techniques have been implemented with great success. Plans are in place for implementing the successful IPM strategies throughout the city.  The Botanical Center uses goats to remove invasive plants from park grounds. The Department is developing a comprehensive turf management plan that emphasizes soil health and maintenance of fields based on their level and type of use.
Based on research that included extensive interviews of Parks Department staff, as well as best practices from across the country, the Audubon Society of Rhode Island leveraged funding from Healthy Babies Bright Futures to document the sustainable practices of the Providence Parks Department. Documenting this work helps inform future management decisions as Providence continues to develop best management practices that reduce or eliminate the need for harmful pesticides and chemicals.
Download the report on The City of Providence Pesticide and Chemical Free Management Practices
---
Providence's Strategies for Managing Lawns and Gardens without Pesticides
1. Prevention
Eliminate conditions that attract pests, including standing water, cracks in walls, food crumbs and overgrown vegetation.
– Monitor the spaces for threshold levels on a routine basis and scout for potential pests.
– Prevent pests inside and around buildings by eliminating conditions that attract pests and removing unhealthy or infected plants.
The use of beneficial insects or other microorganisms to manage pests can be highly effective for reducing the need for pesticides and supporting a healthy environment.
For assistance identifying pests and getting advice on how to manage the pests without the use of pesticides, contact the URI Master Gardeners hotline.
3. Cultural Control
Cultural controls are physical actions taken to make the environment less desirable to pests thereby reducing their populations. Removing weeds, maintaining healthy plants and creating habitat for beneficial insects are all methods used to reduce pests without the use of chemical pesticides.
4. Low-toxicity Insecticides
Good integrated pest management programs use preventative, biological and cultural controls whenever possible; however, there may be times when these methods are not enough on their own to control pests. In these cases, the lowest toxicity treatment is advised. Low-toxicity insecticides are often of biological origin derived from botanical chemical compounds. Soaps and microbes are also often considered low toxicity pesticides. It is important to note that all pesticides, including those considered low-toxicity and/or organic can have negative impacts to beneficial insects. When not used as directed, all pesticides can be harmful.
5. "Right plant right place"
Planting the best native species with the optimal soil conditions for a given environment will help reduce the need for irrigation, fertilization and pesticides.
6. Soil Health and Fertilization
Fertilizers have the potential to cause harm if used incorrectly; therefore it is essential to avoid over-application which can harm the soil and lead to runoff.
Best Practices:
– Testing soil for pH, nutrient levels and organic matter content
– Mechanical aeration can remedy compacted soil and increase grass growth
– Good quality organic compost can help build communities of beneficial microorganisms in the soil.
– Leaving grass clippings in place will recycle nitrogen into the soil.
7. Water Conservation
Being mindful to conserve existing water supplies by reducing the need for excessive or unnecessary irrigation is key to successful water conservation. Great care should also be taken to protect existing water bodies from pollutants, including runoff that may carry toxins and high nutrient loads that are the result of the overuse of fertilizers. These pollutants can have harmful effects on waterways, making them unsafe for both humans and wildlife.
Best Practices:
– Native plants grown in healthy, aerated soil will need drastically less water.
– Watering or irrigating early in the day can help prevent unnecessary water loss due to evaporation.
– Adding mulch around established plants and mowing grass "high" not only prevents weeds, but can also help to retain moisture.
– Irrigation systems must meet water efficiency standards and can be fitted with weather sensors to avoid irrigating in wet conditions and to adapt to changing temperatures.
Photos c/o Meg Kerr and the Providence Stormwater Innovation Center.