Welcome to the LGBTQIA+ Community Access Page
The purpose of the LGBTQIA+ Liaison is to provide support for the community and city staff, craft and promote policies incorporating LGBTQIA+ communities and generally connect the Mayor's administration with LGBTQIA+ communities.
---
Meet Mayor Jorge O. Elorza's LGBTQIA+ Liaison Bret Jacob (he/him)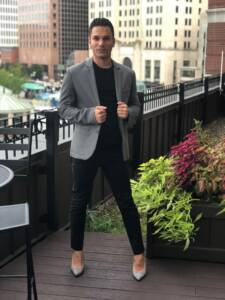 Bret Jacob (he/him) has served as Mayor Elorza's LGBTQIA+ Liaison since 2020. In addition to this role, Bret serves as the Director of Research and Development, providing high-level oversight and strategic guidance for the programmatic deliverables of the team, the Healthy Communities Office, and any consultants and subcontractors. Policy areas of focus include, criminal legal system, immigration, and racial equity. When he's not working, Bret spends time hiking and snuggling with Dia, the sweetest dog on the planet.
To contact LGBTQIA+ Liaison Bret Jacob email .
---
Providence as a LGBTQIA+ affirming city
The City of Providence has a proud history of affirming the LGBTQIA+ community. Over the past seven years, Providence has consistently been the only city in Rhode Island to receive a perfect 100 rating on the Human Rights Campaign's (HRC) Municipal Equality Index. This index takes into account policies and practices that indicate strong support for LGBTQIA+ communities.
---
LGBTQIA+ Specific Policies
City non-discrimination policy
For City employees: workplace transition guidelines
---
Visiting City Buildings
All-gender restrooms are located in City Hall, the Public Safety Building, 444 Westminster, and the School Department.
COMING SOON – Name Change Buddy Program 
The Name Change Buddy Program is a specialized customer service initiative for anyone, especially for transgender, non-binary, and gender non-conforming people, who resides in the City of Providence and would like to change their legal name. The City will provide a trained city employee to meet you at a comfortable location and accompany you to your destination to provide friendly support and enhanced customer service. All city employees are accepting volunteers, many of them members of LGBTQIA+ communities, who will be trained by TGI Network and the city to be responsive to what you most need during your visit. Coming soon in September of 2021. Please contact Human Relations Commission Executive Director Andi Wheeler (they/them) with more information at
---
Community Resource Links
T
Healthcare resources
Open Door Health
Safe, confidential, and inclusive health care specifically tailored for LGBTQIA+ communities.
Website: https://odhpvd.org/
Address: 7 Central Street Providence, RI 02907
Phone Number: (401) 648-4700
Thundermist Health Center – Trans Health Access
The Trans Health Access Team is a group of medical, behavioral health, and allied service professionals working to improve access to culturally and clinically competent healthcare for the trans community.
Website: https://www.thundermisthealth.org/services/trans-health-access/
Address: Multiple locations
Phone Number: (401) 467-4100
Project Weber/Renew – Beyond the Understanding of Gender
Program services include a community support group, transition support, support changing documents, and individual case management.
Website: http://www.weberrenew.org/beyond
Address: Providence and Pawtucket locations
Phone Number: (401) 383-4888
Voting Resources
Voting While Trans in Rhode Island is a comprehensive voting guide for Transgender and Non-binary residents. This resource was compiled by Thundermist Health Center's Trans Health Access team.
LGBTQIA+ owned businesses
LGBTQIA+ local media
Disclaimer
:
Every effort is made to keep this page updated
City does not endorse or favor business or content over the other
For comprehensive list, please visit Options (https://www.optionsri.org/)
To submit an additional link or business, please contact LGBTQIA+ Liaison Bret Jacob at
---
LGBTQ+ Resources