Welcome to the LGBTQIA+ Community Access Page
---
Providence as an LGBTQIA+ affirming city
The City of Providence has a proud history of affirming the LGBTQIA+ community. Over the past seven years, Providence has consistently been the only city in Rhode Island to receive a perfect 100 rating on the Human Rights Campaign's (HRC) Municipal Equality Index. This index takes into account policies and practices that indicate strong support for LGBTQIA+ communities.
We value our LGBTQIA+ residents and have taken numerous actions to affirm and protect them, including but not limited to:

Updating the City's health insurance policy to include gender-affirming care
Testifying in support of a ban on conversion therapy for minors
Updated City's health insurance policy to extend benefits to transgender city employees and retirees
Raised the transgender flag at City Hall to commemorate Transgender Day of Remembrance
Designated all-gender restrooms in municipal buildings (currently at City Hall, Providence Public Safety Complex, Providence School Department, and the Joseph A. Dooley Municipal Building at 444 Westminster St.)
The City school board passed a wide-ranging policy to support transgender students, which includes provisions about bathrooms and other school facilities
City brought in TGI Network to train city staff, including our municipal court judges, on how to be more inclusive and welcoming to the transgender community
Encouraged City staff to include pronouns in their email signatures to foster an environment of gender equity
---
LGBTQIA+ Specific Policies
City non-discrimination policy

Workplace transition guidelines for City employees

---
Visiting City Buildings
All-gender restrooms are located in City Hall, the Public Safety Building, 444 Westminster, and the School Department.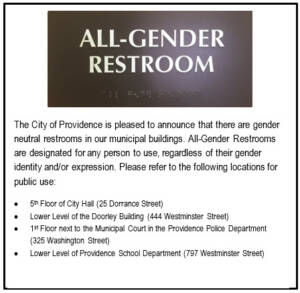 ---
Support for Transgender, Non-binary and Gender Non-Conforming Youth
Transgender, non-binary and gender non-conforming youth are welcomed and supported by the City of Providence.
Please feel free to reach out to City staff for resources for topics including, but not limited to:

Getting your or your child's gender marker or name changed on an ID.
Teachers or administrators using the wrong name or pronouns at school.
Having to use an incorrect or highly inconvenient bathroom or locker room at school.
Other forms of discrimination or harassment.
Please contact Andi Wheeler (they/them) at awheeler@providenceri.gov or Bret Jacob (he/him) at bjacob@providenceri.gov for further guidance.
---
Community Resource Links
Healthcare resources
Open Door Health
Safe, confidential, and inclusive health care specifically tailored for LGBTQIA+ communities.
Website: https://odhpvd.org/
Address: 7 Central Street Providence, RI 02907
Phone Number: (401) 648-4700
Project Weber/Renew – Beyond the Understanding of Gender
Program services include a community support group, transition support, support changing documents, and individual case management.
Website: http://www.weberrenew.org/beyond
Address: Providence and Pawtucket locations
Phone Number: (401) 383-4888
Thundermist Health Center – Trans Health Access
The Trans Health Access Team is a group of medical, behavioral health, and allied service professionals working to improve access to culturally and clinically competent healthcare for the trans community.
Website: https://www.thundermisthealth.org/services/trans-health-access/
Address: Multiple locations
Phone Number: (401) 467-4100
Voting Resources
Voting While Trans* in Rhode Island is a comprehensive voting guide for Transgender and Non-binary residents. This resource was compiled by Thundermist Health Center's Trans* Health Access team.
LGBTQIA+ owned businesses
LGBTQIA+ local media
Disclaimer
:
The City does not endorse nor favor any business or resource over another
For a comprehensive list of resources, please visit Options (https://www.optionsri.org/)
To submit an additional resource link or business, please contact LGBTQIA+ Liaison Bret Jacob at bjacob@providenceri.gov
---