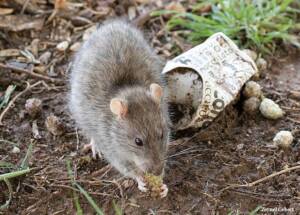 Rodents, including rats and mice, are common in urban areas throughout the world. Providence, Rhode Island is no exception. Traditional pest control methods rely heavily on pesticide applications and pose harm to humans, pets and other wildlife. We encourage property owners and tenants to target the underlying causes of pest infestations through simple pest proofing strategies such as fixing leaks and holes, managing trash to deprive pests of food and water, and maintenance of properties and construction sites to deprive pests of shelter.
PEST MANAGEMENT TIPS FOR OWNERS AND TENANTS
Keep your home clean and dry –especially the kitchen
• Keep food in sealed containers
• Keep counters and sinks free from food residue
• Reduce clutter
• Recycle piles of newspapers, paper bags and cardboard
• Don't leave pet food out overnight
• Don't leave dirty dishes in the sink
Maintain building exterior and yard
• Identify water leaks, holes and other conditions that can attract pests
• Keep yard clean and maintained regularly
• Remove weeds and debris near buildings and in yards
• Do not leave pet food outside
• Keep grass and shrubbery well-trimmed
• Place bird food in a feeder, not on the ground, and clean up spillage daily
• Clean up animal waste frequently
Manage trash, recycling, yard debris and bulk items daily
• Store trash properly in bags in carts and have it collected weekly
• Rinse recyclables before placing in recycling cart
• Store recycling properly, NOT in bags in carts and have it collected weekly
• Keep property clean and free of debris/trash/bulky items
• Do not overfill carts in order to keep lids secure
Download and review the complete Providence Pest Prevention Guide for more helpful tips on Pest Prevention from Providence's Department of Public Works. Other available resources include a simple one-pager on Rodent Prevention Tips (for residents) and Rodent Prevention Tips in Community Gardens.