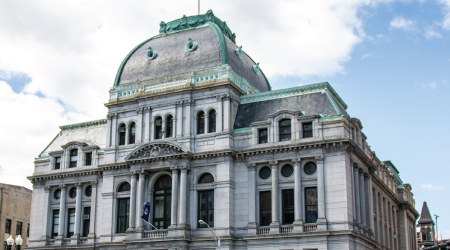 The Board of Canvassers operates in accordance with Title 17 of the Rhode Island General Laws and the Home Rule Charter of the City of Providence. The Board's mission is to protect the integrity of the electoral process and to effectively and efficiently administer the provisions of the Election Laws of the United States and the State of Rhode Island.
Emergency Voting for the Ward 1 Special Election
Emergency voting for the Ward 1 Special Election is available at Providence City Hall from 10:00AM–2:00PM on weekdays, subject to change. Votes may enter City Hall through the Eddy Street Entrance after buzzing in and be allowed to vote one at a time. This ends Monday, April 6 at 4:00PM so voting hours that day will change to 1:00PM to 4:00PM on that day only.
To apply for an emergency mail ballot you must obtain an application from your local board of canvassers and return it to them by 4:00PM the day before the election. You will be able to vote your ballot at the board of canvassers, take it with you, or authorize someone to pick it up for you.
All mail ballots must be received by the State Board of Elections at 2000 Plainfield Pike STE A Cranston, R.I. 02921 by 8:00PM the night of the election.
Voter Registration
Where Do I Vote?
Poll Worker Information
Upcoming Elections
Emergency Mail Ballot