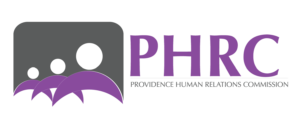 The Providence Human Relations Commission works to eliminate unlawful discrimination and to empower the people of Providence through education, advocacy, and collaboration, to ensure access to resources, protection of rights, and promotion of positive community relations.
Formed in 1963, the Commission's goal is to foster mutual understanding and respect among the city's diverse populations, and ensure equal opportunities for all Providence residents in housing, education, employment, credit, and public accommodations by combating discrimination based on race, ethnicity, color, sex, sexual orientation, gender identity or expression, religion, marital status, physical or mental disability, age, or country of ancestral origin.
Discrimination threatens the welfare of our citizens and undermines our ability to thrive as a diverse city.  If you feel that you have been illegally discriminated against, please call the Commission at 421-2489 x5740.
Equal Pay Task Force
The City of Providence Equal Pay Task Force was impaneled in 2017, per City of Providence Code of Ordinances § 16-85. It is staffed by the Providence Human Relations Commission Executive Director, and the Commission Chair and Vice-Chair retain permanent seats.
Formed in 2017, the Task Force's goal is to study best practices, collect relevant data and make policy recommendations to the offices of the Mayor and City Council, to advance pay equity City-wide.