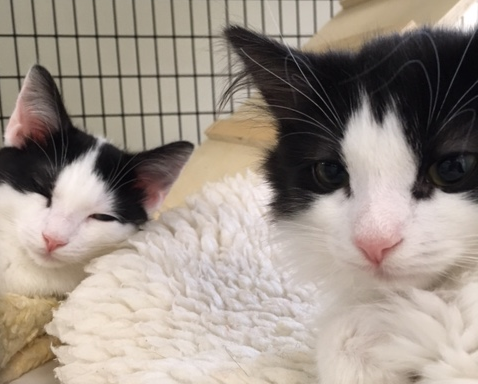 Where is Animal Control located?
Animal Control is located at 200 Terminal Road, near the Port of Providence. We house all of the animals impounded by our officers at the shelter here.
---
What are the hours of operation?
Animal Control Officers are on routine patrol from 7:00 a.m. to 11:00 p.m. seven days per week. There is also an officer on stand-by duty after 11:00 p.m. and during vacant shifts to respond to emergency calls. The shelter is open five days per week from 11:00 a.m. to 3:00 p.m. by appointment and closed on Sundays and Mondays.
Please call the office at 401-243-6040 from 7:00 a.m. to 3:00 p.m. (Tuesday – Saturday) for licensing questions, to report lost and found animals, or for assistance with animal complaints. Our fax number is 401-467-9746.
---
What services do you provide?
Animal Control regulates uncontrolled domestic animals, investigates bites and attacks by domestic and wild animals, investigates reports of nuisance animals, cruelty, pick up stray and unlicensed animals, rescue sick or injured animals, TNR trap-neuter-return, keep records of lost/found cats and dogs, accepts owner surrenders on a case by case basis, license dogs, enforce city ordinances and state statues pertaining to animals, give animal information and referrals, promote responsible pet ownership through education and adoption of cats, dogs and other small animals.
If you live in the City of Providence and you need to surrender or relinquish your pet, please call 401-680-7591 and leave a message. It may take a few days to return your call, please state the reason for surrender, breed and age of the animal and your timeline.
---
How do I file a complaint?
To have an Animal Control Officer respond to a complaint please call Providence Police at 272-1111. A dispatcher will send an animal control officer or police officer to investigate your complaint. If the officer sees a violation when he/she arrives, appropriate action will be taken.
---
How you can help us resolve difficult problems when an officer does not observe a violation?
If you provide strong photographic evidence, an Animal Control Officer may be able to issue a citation based on such evidence. Photos to be used as evidence should have the date, time, location, address of animal owner, and name of owner if known on the back of the photo, as well as who took the photo. Videos should have the date and time shown on the tape and attached documentation explaining the violation, the location, address of animal owner, and name of owner if known. In case of a dog at large, the photographic evidence should clearly show the animal off of the owner's property.
---
Who do I call if I am missing my animal?
Please call the Animal Control office at 401-243-6040 and we will try to determine if an animal fitting the description was picked up and impounded. Please be mindful that it is very difficult to identify mixed breed animals due to discrepancies and variations in descriptions. The best way to ensure the safe return of your lost animal is to have a city pet license for your dog. In most cases, animals wearing tags can be returned to the owner instead of being impounded. If no one is home, the officer will leave a note on the door advising that the animal was picked up. If the officer is unable to access the pet tag information immediately and cannot leave a note, the owner will be notified by telephone as soon as the information is obtained. If the animal is wearing tags, the owner will be notified within 24 hours. Please remember, animals will sometimes lose their tags or have them removed by someone. Even if your animal leaves home wearing a collar and tags, there is always a chance the collar may not be on when the animal is picked up. Impounded animals are held for five days and then put up for adoption or transferred out to another shelter or rescue. You should also contact the RI SPCA at 401-438-8150, Providence Animal Rescue League at 401-421-1399. RISPCA and PARL will frequently take in a stray animal that has been found by a citizen and brought to their facility. Also, contact local animal control in neighboring communities such as Pawtucket, Cranston and Johnston. Please also post a picture of your missing pet on one of the various lost pet pages on FaceBook (RI Lost Pets and Providence Lost Pets also, send a picture to our FaceBook Page Providence Animal Control Center).
---
What does it cost to reclaim my animal?
The impound fee to reclaim an animal is $15.00 in addition to a $5.00 fee for each day the animal is held at animal control. Only money orders are accepted for impound fees. We do not accept credit cards or cash as payment method. You will need to show proof of current rabies and distemper vaccinations and city license. If your animal is not up to date on vaccinations, you will not be able to reclaim your pet until he/she is vaccinated. The shelter veterinarian will vaccinate your pet during their next scheduled visit. We will then contact you to reclaim your animal.
---
What are the rules on animals running loose?
No dog is permitted to roam free off the owner's property. All dogs a required to be leashed at all times. A dog can be loose on the owner's property if within a fenced enclosure or tied. It is illegal to just open the door for the dog to go to the "bathroom" and wander about the neighborhood.
The "leash law" covers dogs only. This ordinance states that when a dog is being walked on any city sidewalk, city street or public right-of-way, it has to be on a leash or lead at all times. Dogs being walked on a leash must also be wearing a city pet license.
By Rhode Island State law, cats are only allowed to roam if they are wearing a current collar ID and have been spayed or neutered.
---
When do animals need licenses and where can I get one?
All dogs over the age of 4 months are required to have a rabies AND distemper vaccination and shall be licensed at 6 months of age. The rabies and distemper vaccinations are given by your veterinarian. City tags must be purchased at Providence Animal Control or via mail. To purchase a city tag, you must present proof of a valid rabies vaccination. The cost for a City license $6.00, check or money order. Any new Providence residents are granted 30 days to purchase a city pet license if they intend to keep the animal in the city for more than 30 days. License renewals are due April 1st.
---
How many animals can I own?
You are allowed to have up to 3 adult dogs (more than 6 months old) per residence and a limit of 3 adult cats per residence.
---
Can I have a pot-bellied pig for a pet and what animals are illegal to own?
The City of Providence restricts certain types of pets. A pot-bellied pig is classified as "swine" which is prohibited in Providence. Before acquiring an animal other than a dog or cat, be sure to check with Animal Control to make sure you can legally keep the animal in your neighborhood. No roosters please!
---
Can I adopt a pet from Animal Control?
Yes. All stray animals must be held for five days before becoming available for adoption. Please see the adoptions page for more information.
---
I've been bitten by an animal – what should I do?
All animal bites should be reported, this is a matter of public health and enforcement of these regulations is the responsibility of Animal Control. Any animal that bites someone must be placed in quarantine for a 10-day period. If you or any family member is bitten, call Providence Police immediately. An Animal Control Officer will respond to conduct an investigation and complete necessary paperwork. If medical treatment is required, the doctor or hospital providing the treatment should report the incident. Every attempt should be made to identify the animal so the owner can be contacted and the necessary paperwork completed. If a wild animal is involved and cannot be located, you will be advised on what treatment is necessary.
---
My animal bit someone – what do I do?
The bite should be reported by calling Animal Control at 401-243-6040 or Providence Police at 401-272-1111 the animal must be placed in quarantine for a period of 10 days. This quarantine is required even if the animal has been vaccinated for rabies. You may be able to keep the animal at your home under certain circumstances and if the animal is licensed with the City and rabies vaccinations are current. If you don't have a current license or a current rabies vaccination, under certain circumstances you can either board the animal at a veterinarian's office or have it quarantined at Animal Control at your expense. Different protocols apply depending on rabies vaccine status, the severity of the bite and bites coming from wild animals.
---
What are the liabilities concerning property damage or personal injury and my pet?
Any property damage or personal injury caused by an animal is the responsibility of the owner of the animal causing the damage or injury per state statute. There is an ordinance relating to property damage or injury to another animal however, there is no ordinance relating to personal injury or medical cost. Your options for recovery of personal injury expenses are homeowners or health insurance coverage, small claims court, or a personal attorney.
---
What warrants a "barking dog" complaint?
The "Barking Dog" ordinance states that it is illegal for any dog to bark in a manner that disturbs the peace of the neighborhood. We are aware that dogs will bark when they see something or someone. We look for the cause of the dog's barking or whether the dog is barking for no reason. When Animal Control receives a complaint, a license and rabies vaccination check is done. The protocol is to a send an animal control officer to visit the dog owner and make him/her aware of the complaint and to the complainant advising what the next steps are. If the barking continues the complainant must complete documentation forms on the barking. An Animal Control Officer will respond and try to get as close to the area as possible without letting the animal see or hear him/her. The officer will sit and listen to determine if a dog is barking in the area. Once the officer hears a dog barking, he/she will then try to determine if there is anything in the area causing the dog to bark. He/she will look for a letter carrier, children at the corner bus stop, etc. If there is something or someone causing the dog to bark, the officer will wait for the area to clear and see if the dog stops barking. The officer will also contact neighbors to determine to verify your complaint. The officer will approach the residence and contact the dog owner, making them aware of the situation and advising them of the steps they must take to prevent the barking in the future (based on the officer's observation of the possible causes or the dog's behavior), and depend what the results of the investigation are, issue a citation. The complainant must be willing to testify in court for a citation to be issued.
---
What constitutes "cruelty to an animal?"
Pet owners must provide proper food, water, and adequate shelter for animals at all times. The animal must be fed at least once every twenty-four (24) hours and have clean, fresh, potable water available at all times. The shelter must be a structure that is adequate to provide protection from the weather, keep the animal dry, and well maintained. The size of the shelter must be in proportion to the size of the animal. Inflicting inhumane pain or suffering or failing to provide veterinary care also constitutes cruelty. Violations should be reported by calling Animal Control at 401-243-6040 or the Providence Police Department 401-272-1111.
---
What about wildlife?
Due to the threat of injury to our personnel, there are some situations involving wild animals that cannot be handled by the City. Services we cannot provide are climbing into attics, going under structures, climbing trees, and disassembling any structures to get or remove animals. There are a few private companies in the area that provide these services, and one or more of these companies should be contacted in these situations. Costs for these services are at the home or property owner's expense. Be sure to call a HUMANE wildlife service that will work with you regarding EXCLUSION and EVICTION versus trapping and "gassing" of nuisance wildlife. Please call dispatch at 272 1111 to have wildlife complaints assessed by an Animal Control Officer. Please also reach out to the Wildlife Clinic of Rhode Island for guidance https://www.riwildliferehab.org/
---
Does the city have a "poop scooper" ordinance?
Yes, the city does require the owner to clean up after their own dog. The owner must carry something to pick up and properly dispose of the waste. There is also a sanitation ordinance requiring the owner to clean up animal feces on their property and properly dispose of it.
---
Where can I get my animal spayed or neutered or low-cost vaccinations?
There are a few organizations that offer spay/neuter and vaccination assistance in our area.
Providence Animal Control offers subsidized spay and neuter for cats only through our Gimme Shelter program. Providence residents can reach out via email to provanimalcontrol@gmail.com This program includes owned, feral and free-roaming cats!!
Potter League Spay and Neuter Clinic – 235 Elm St, Warwick, RI 02888 401-369-7297 https://potterleague.org/veterinary/spay-and-neuter-clinic/
PIN Clinic –  Pets in Need Veterinary Clinic at 270-3832  40 Amaral Street in Riverside  https://potterleague.org/veterinary/pets-in-need-clinic/pets-in-need/
Providence Animal Rescue League 401-421-1399 x204 https://www.parl.org/spay-neuter
RISPCA Animal Health Center 401-383-9300 https://www.rispca.org/ahc
Luke and Lilly Learner Spay Neuter Clinic North Grafton MA https://vet.tufts.edu/lerner-spay-neuter-clinic
Pet Partners Fall River https://petpartnersne.com/
MSPCA Cape Cod https://www.mspca.org/programs-resources/spay-neuter-services/mspca-cape-cod-spayneuter-programs/
---
Where can I find information on Rhode Island's animal law?