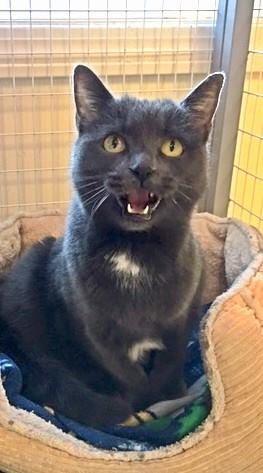 Lost a Pet
Since only you can identify your pet, you must send us a photo and description of your lost pet to our FaceBook page. Unidentified animals are held for five business days. Animals that are sick or injured would be treated at an animal hospital or off view to the public in a separate section of the shelter. If you do not see your pet, you are encouraged to ask the front desk regarding sick or injured animals in our care please call 401-243-6040.
Animals that are not claimed within the five business day holding period may be made available for adoption or transferred out to rescue/another shelter.
---
Found a Pet
Did you find a lost dog?
If you have found a lost dog that is not wearing identification, please bring the dog to Providence Animal Control if it is safe to do so. If you are unsure or uncomfortable, please call 401-272-1111 and give the dispatcher your name, phone number, location and description of the dog and an Animal Control Officer will be sent to look for and impound the dog. We will scan for a microchip which may provide information about the owner including a phone number and address. In addition, we will place the dog on public view so the owner can find their dog when they are looking at the shelter.
Did you find a lost cat?
There is no leash law for cats in the City of Providence. There are typically 3 types of cats found in our City; Feral or wild, indoor/outdoor cats and abandoned cats. If you find a healthy free-roaming cat (wearing identification or not), please call Providence Police Dispatch at 401-272-1111 so that an Animal Control Officer can assess the cat. If you can take a picture, please post that picture with the location of the cat to any of the Lost Pet Facebook pages; RI-Lost Pets, Providence Lost Pets OR send a message to the Providence Animal Control Center's page.
Providence Animal Control is now beginning to participate in TNR, the program is in its infancy however, we will add your location to the list of areas needing assistance. We are always looking for willing helpers and community participation! Please email Gmfarrell@providenceri.gov for more information.
If you find a previously owned cat that you know has been abandoned, please call 401-272-1111 to have an Animal Control Officer dispatched to that location, please provide any information on the previous owner. Abandonment of an animal is a serious offense and we will do our best to find the person who abandoned the cat. In some cases, animal control will be dispatched to collect the cat if abandoned inside a property or left outside in a crate and in some cases we will attempt to trap the cat if not easily caught.
Unfortunately, Animal Control does not generally impound healthy free-roaming cats due to the small size of our shelter and constant lack of space however, each situation and animal is different and important! Animal Control Officers shall assess any situation regarding cats that we are called to. We will pick up sick or injured cats and healthy, sick or injured kittens. If the kittens are feral and are too old to socialize, those kittens/cats would be candidates for TNR. We will always find a humane solution!
What else can you do to help?
If you have found a lost pet and have brought it to our shelter for public display and would like to do something more to help, consider the following:
• Post "Found" posters in the area where you found the pet.
• Look through Craig's list and pet finder Lost and Found; take note of any descriptions that match that of the pet you found.
• Look in your neighborhood for any "Lost" posters that have a description matching that of the pet you have found.
• Look in the classified section of the newspaper under "Lost and Found." An owner may have placed an inquiry there. Check with your local newspaper about placing a "Lost and Found" ad in the classifieds; many papers provide this service free of charge. If there are any popular "Dog Parks" or leash-free areas nearby, place a "Found" poster there.
• Social media, especially Facebook is an excellent place to post a lost or found pet! Please post lost or found pets to RI Lost Pets or Providence, RI Lost Pets, these pages are easily searchable in the search tab next to the Facebook icon at the top of the page. If you have lost a pet, please message the Providence Animal Care & Control Center Facebook page.
---
How to Claim a Pet
• Once you have located your pet at the animal shelter, please remember the tag number we placed on its neck as well as the cage/kennel number. Take that information to the front counter.
• The Animal Services Representative should be able to provide you with information as to how the animal was impounded, the general area found, and the necessary steps to reclaim your pet.
• Proof of a current rabies vaccination and dog license is required for all dogs impounded.
• Sometimes the animal may have received injuries while it was lost. We provide life-sustaining and pain-relieving care for the pet, but you may need to obtain follow-up veterinary care.
• There will be a variety of fees associated with reclaiming your pet. These fees include impoundment, daily board, vaccination, medical, licensing, etc. All fees will be itemized and explained to you.
• Once all fees are paid and the appropriate paperwork is signed, an Animal Control technician will assist you in retrieving your pet. If the animal required medical treatment, the Animal technician may also provide additional information.
• A leash (for dogs) or a secure carrier (for other small pets) is required when claiming your pet. If you do not have one, inexpensive leashes and carriers are available for a nominal charge.