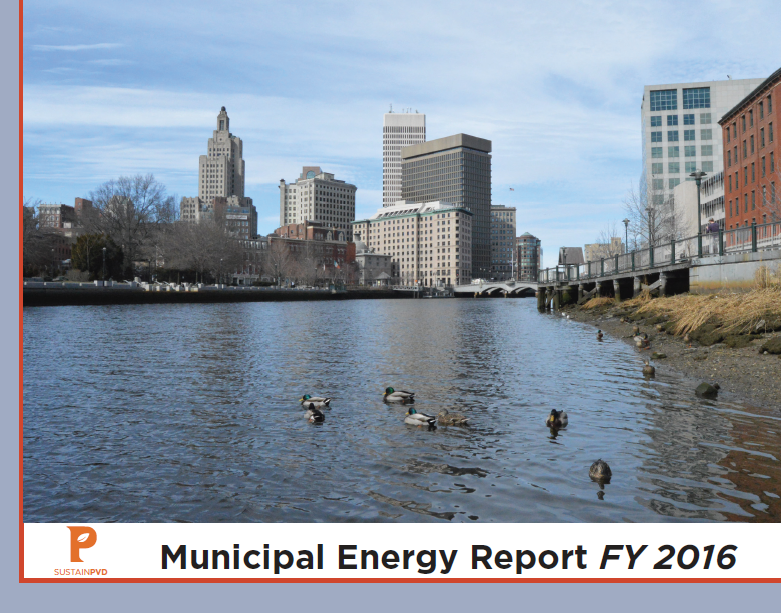 The City of Providence released its second annual Municipal Energy Report for the 2016 Fiscal Year. The Report discloses the City's energy data in an effort to track progress towards the City's energy goals, increase transparency, and lead by example. The City's 2014 Sustainable Providence plan set a goal to reduce energy consumption 30 percent by 2030. Measuring and monitoring our consumption by benchmarking buildings is an important first step to achieving this goal.
The City of Providence has been benchmarking and monitoring its energy consumption as part of its fiscal and environmental agenda since 2010. This FY 2016 report marks the second annual municipal energy report released by the Office of Sustainability. The data in this report helps the City manage its energy consumption and identify opportunities for investment and savings. The full dataset is available on the City's Open Data Portal.
The City's facilities, including buildings and outdoor lighting, used 409,821 MBtu2 of energy in FY 2016 in the form of electricity, natural gas, and oil. Highlights from the report include:
The City's expenditures on energy declined 18% compared to FY 2015 and 7.8% since FY 2010.
25 municipal buildings qualify for Energy Star certification, meaning they perform better than 75% of similar buildings. This is up from 15 buildings in FY 2015.
30 Energy Star scored buildings increased their Energy Star scores between 2010 and 2016.
The average Energy Star scores of all City schools combined has risen 17% since FY 2010. Nathanael Greene Middle School Energy Star score increased from a 23 in FY 2015 to an 85 in FY 2016.
Greenhouse gas emissions from municipal buildings and outdoor lighting decreased 21% since 2010, reflective of fuel switching, reduced electricity consumption from LED lighting conversions, and school building heating upgrades.
The City has reduced #2 fuel oil consumption by over 88%. As of December 2016, heating oil has been eliminated from all municipal school buildings.
Recent investments in lighting and mechanical efficiency measures have reduced electricity consumption by 6.6% since 2010.
The City has converted all of its 16,800 streetlights to smart LED fixtures, estimated to save the City $18.9 million in the next ten years, and expected to reduce City carbon emissions by about 9,441 tonnes annually.
Projected energy savings from efficiency projects being completed in 5 municipal buildings, including three fire stations, using $1 million in low-interest financing from the Rhode Island Infrastructure Bank's Efficient Buildings Fund, is estimated to be over $100,000 annually.
Read the 2016 Report
Read the 2015 Report