Group will conduct outreach and make recommendations to help Providence foster and retain millennial-age residents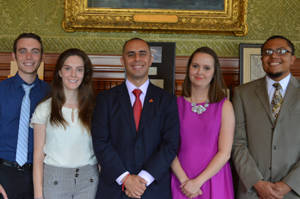 Mayor Jorge Elorza today announced the formation of the Mayor's Millennial Task Force to launch a public engagement campaign and help inform the City's efforts to attract and retain talented young professionals in the capital city.
"Our city's millennial population is essential for building the New Providence. Not only are young people Providence's greatest resource, they are our city's future," said Mayor Elorza. "This task force will engage the millennial community and put together recommendations from students, young adults, young professionals and aspiring business owners and entrepreneurs to help us make Providence the ideal place for millennials to live, work and play."
The following individuals will serve on the Mayor's Millennial Task Force:
Sierra Barter – CEO and co-founder of the Lady Project, and Student Services Social Media Coordinator at Johnson and Wales University, her alma mater;
Travis Escobar – Community Engagement Coordinator at ONE Neighborhood Builders and founding member of the Millennial Professional Group of Rhode Island;
Grace Evans – Recent Wheeler School graduate who will be attending Harvard University in the fall;
Tyrene Jones – Talent Development Coordinator at the University of Rhode Island;
Drew Milligan – Performance Analyst with the Rhode Island Department of Education.
Residents are encouraged to engage with the Mayor's Millennial Task Force on Facebook, Instagram, and Twitter at @LiveWorkPlayPVD and by email at LiveWorkPlayPVD@providenceri.com.
The Task Force is also holding a Twitter Town Hall on Monday June 29, 2015 at 11AM and an Engagement Event at City Hall on Tuesday, June 30, 2015 at 5:30PM in the Alderman's Chamber.