Providence, RI   Mayor Jorge Elorza, Commissioner of Public Safety Steven M. Paré, U.S. Senator's Jack Reed and Sheldon Whitehouse, Congressman David Cicilline, David Parr, Regional Fire Program Specialist, DHS/FEMA and members of the Providence Fire Department gathered this morning at the Atwells Avenue fire station to showcase the Providence Fire Department's new Ladder 6 vehicle, a 2018 E-One Metro 100' rear mount ladder truck, which was purchased through funding granted to the PFD under FEMA's Assistance to Firefighters Grant (AFG). The purpose of the AFG is to enhance the safety of firefighters and the community by providing funding for the equipment necessary to enhance fire services
 "Providence is proud to welcome a new ladder truck to one of the finest fire departments in the nation," said Mayor Jorge O. Elorza. "It is critical that our firefighters have access to modern equipment and tools that help them to do their life-saving work effectively. I thank FEMA for supporting the wellbeing and safety of our communities and fire personnel through the AFG program."
Through the AFG, the Providence Fire Department also purchased a rescue vehicle for the Broad Street station, one of the busiest stations in the City, where firefighters respond to over 5000 Emergency Medical Service calls a year, which was put into service in July of 2018.
"With the high volume of calls that the members of the Providence Fire Department respond to each day, it is imperative that firefighters have the best possible resources available to them," said Commissioner Paré. "I thank the members of the federal delegation for their support and helping to secure the funding needed to purchase this new vehicle."
This new apparatus represents a significant upgrade to the department's response capabilities and complies with modern, nationally recognized safety standards.  The new Ladder 6 will be under the command of Captain Daniel Corneau, a 28-year veteran of the PFD. Ladder Company 6 responds to over 1,800 calls for service each year, primarily in the West End neighborhood and also in parts of the North End and South Side neighborhoods.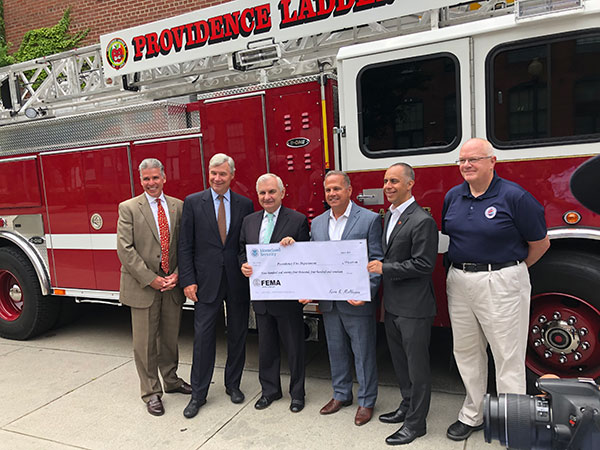 "This new truck is a major upgrade and will be a workhorse for the city for years to come.  The cutting-edge technology on the truck far surpasses the old truck and enhances safety, capabilities, and efficiency.  I am grateful to our outstanding firefighters for their service and I am committed to ensuring they have the most up-to-date equipment and technology to serve our community," said Senator Reed, a senior member of the Appropriations Committee who leads an annual workshop for fire departments across the state to help them successfully apply for federal grants.
"I was pleased to help secure federal funding to commission a new Ladder 6 for first responders to use as they work to keep the residents of Providence safe," said U.S. Senator Sheldon Whitehouse.  "This state-of-the-art ladder truck is a significant upgrade for the Providence Fire Department's busy fleet."
The total federal funding awarded to the department was $974, 419. The City's match on the grant for the two vehicles was $97, 441.
 ###