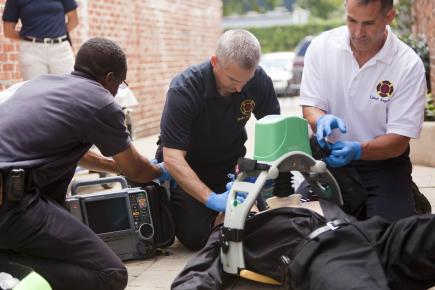 Providence, RI– The Providence Fire Department has recently purchased LUCAS™ 3 Chest Compression Systems to enhance life-saving measures when responding to calls that require Cardiopulmonary Resuscitation (CPR).  The PFD conducted a five-month trial period with two of these devices being stored on rescue vehicles, operating in various areas throughout the City, and were used by firefighters when responding to all calls where a patient was suffering from cardiac arrest.  The devices were utilized by fire personnel over 50 times during the 5-month timeframe.
According to the website, the LUCAS™ 3 Chest Compression System has been assisting lifesaving teams around the world to deliver high quality, guideline-consistent compressions while serving in the field as well as during transport for further medical care related to the patient's needs.
These safe and effective devices standardize chest compressions consistent with American Heart Association (AHA) guidelines and are delivered in the same manner as manual CPR, operating in the center of the patient's chest. The LUCAS™ 3 allows first responders to focus on additional life-saving tasks and other rescue relief that may arise on their call for service. The City of Providence has funded seven devices for the PFD, along with a four-year preventative maintenance plan at a total cost of $141,766 to outfit all seven rescue vehicles in the City.
"The announcement of the Providence Fire Departments purchase of these devices should also serve as a reminder to the community as to the current guidelines issued by the Rhode Island Department of Health regarding the administration of required 30-minutes of CPR directly on scene of any call where CPR is necessary," said Acting EMS Chief Zachariah Kenyon. "Studies have proven that uninterrupted, continuous CPR will have increased lifesaving benefits for the patients that we care for every day as first responders.  The LUCAS™ 3 will grant our men and women the ability to increase productivity and perform other necessary lifesaving interventions during rescue situations, while at the same time acting as a source of support and comfort for the loved ones of the patient, who are also suffering. The additional time we have on scene will only increase our effectiveness and the possibility of a better outcome for the patient."