Providence Fire Department's Accelerant Detection K-9 Wizard awarded $1,500.00 in grant funding from Petco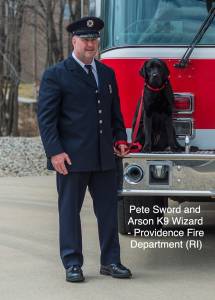 Foundation's "Helping Heroes" campaign
Providence, RI- The Providence Fire Department has been awarded a generous $1,500.00 in grant funding from the Petco Foundation's annual "Helping Heroes" campaign. Funds will be used to provide much-needed resources for PFD's Accelerant Detection K-9 Wizard, who plays a vital role assisting her handler, Arson Investigator Peter Sword, with arson investigations.
The Helping Heroes campaign supports thousands of therapy, service and working animals who dedicate their lives to helping people. This campaign is held each October, inviting Petco customers across the country to donate online and inside Petco stores to support the life-changing work of service animals like K-9 Wizard.
Arson Investigator Sword, a 27-year veteran of the PFD, served his first 22 years on the job working as a Firefighter/EMT before transferring to the Fire Investigations Unit 5 years ago. K-9 Wizard, a 2-year-old Labrador retriever, began working with Arson Investigator Sword in March of 2019 and completed training on May 1, 2019 at Maine Specialty Dogs and is certified under the guidelines of the Maine Criminal Justice Academy. K-9 Wizard is trained to find minute amounts of ignitable liquids used to start and accelerate fires. Arson Investigator Sword and K-9 Wizard work throughout the city and state as well as surrounding communities investigating arson crimes.  K-9 Wizard is one of only two Accelerant Detection K-9's in Rhode Island.
 "I thank the Petco Foundation for their generosity and awarding the Providence Fire Department this much-needed grant funding that will help us provide K-9 Wizard with the essential training and supplies for her and Arson Investigator Sword to serve the department and community to the best of their ability," said Commissioner Paré.  "K-9 Wizard is an invaluable resource to our Arson Squad and we are grateful to all those who donated during the Helping Heroes campaign to support this great cause."
###