WHO DO I CONTACT FOR MY SPECIFIC PARKING OR CURBSIDE MANAGEMENT ISSUE?
Contact the Department of Public Works (401-680-7500) for:
Questions about Overnight Parking Permits
Questions about Temporary Parking Permits
Questions about all other parking permits
Contact Liza Farr, Curbside Administrator (lfarr@providenceri.gov, 401-680-7573) for:
Loading zones
Passenger pick up/drop off zones
Spin E-scooters and E-bikes issues
Request a handicap space
Request for permanent No Parking signs
Contact Nate Urso, Traffic Engineer (nurso@providenceri.gov, 401-680-7518) for:
Request parking sign repair or replacement
Questions about a Temporary Parking Permit or Emergency No Parking Tow Zone permit
Questions about street closures
Contact Board of Licenses (licensing@providenceri.gov, 401-680-5207) for:
Valet license
Outdoor dining license
Contact Lizzie Araujo (Laraujo@providenceri.gov, 401-680-5772) for:
Contact the Municipal Court (401) 243-6414 for:
Questions about parking tickets
Contesting a parking violation
Contact your bank if:
You get incorrectly charged for your parking payment. You can contest the charges that are incorrect there.
How much does it cost to park at a meter?
The current meter rate is $1.25 per hour, or 25 cents for every twelve (12) minutes. Short-term parking (30-minute meters only) cost $0.75 for the thirty (30) minutes, or 25 cents for every ten (10) minutes. When paying with a credit card, there is a 2-hour minimum due to credit card processing fees.
HOW DO I PAY FOR METERED PARKING?
You can pay for metered parking with coins or using the Passport phone app.
The Passport app is the quickest and easiest way, and also allows you to extend your session without going back to the space to feed the meter. You can access Passport through the PVD311 app, which you can download here: https://apps.apple.com/us/app/pvd311/id1057678905. You can also download the Passport app here: https://www.passportparking.com/.
The single-space parking meters accept only United States currency in the form of nickels, dimes, quarters and dollar coins. Credit card payments must go through the Passport app.
The multi-space meters that are located in the city accept nickels, dimes, quarters and dollar coins, as well as credit cards. No dollar bills are accepted. You can still use Passport to pay at multi-space meters as well.
Find a map of the Passport zone numbers here: https://webgis.providenceri.gov/server/rest/services/Hosted/Passport_Zones_View/FeatureServer
WHAT ARE THE BENEITS OF METERED PARKING?
Metered parking of course is an important way for the City to generate revenue that can be used to provide important city services. However, that is not the only reason we charge for parking in some places.
79% of people paying for parking in Providence are coming from outside the City limits. Though we love our visitors, they use our roads and services but don't contribute to city taxes. Metered parking is one way to gain back some payment from them to cover their use of those city amenities.
Additionally, having paid parking can reduce how long people stay in a parking space, thus freeing up the space more frequently for new customers. This means making the spaces paid can actually make it easier and more reliable to find parking in an area. It also reduces how much cars have to circle to find a spot, which subsequently reduces traffic congestion. In an additional bonus, parking pricing can prompt some people who are able to, to bike, walk, bus, or ride-hail to a destination rather than drive their personal vehicle. This reduces air pollution and carbon emissions, as well as traffic congestion. This also means that more customers can patronize the businesses in the area.
Not all places should have metered parking. The general rule of thumb is that meters could be considered on streets where over 85% of the spaces are full at peak times. If that is the case, the surrounding businesses and residents could be consulted to see if metered parking could be appropriate to help manage demand, improve business vitality, reduce traffic congestion and pollution, and generate revenue for city services.
If the posted sign limit is two hours, can I go back and "feed" the meter to obtain additional time?
No. The posted sign limits of 30 minutes, 1 hr, 2 hrs, 3 hrs, 4 hrs and 10 hrs are strictly enforced. The purpose of creating a time limit is to afford other motorists the opportunity to patronize local businesses. If you need longer-term parking there are parking lots located throughout the City that charge affordable daily rates.
When are the meters and parking regulations enforced?
The parking meters and posted signs are enforced from 8:00 AM to 9:00 PM, Monday through Saturday in Downtown and Federal Hill. All other areas are 8:00 AM to 6:00 PM, Monday through Saturday. Parking at after enforcement times above or on a Sunday is free of charge. Overnight parking is by permit only, and it is enforced between the hours of 2 AM and 5 AM. Other violations are enforced around the clock – such as no parking on sidewalks, in "no parking" zones, or blocking driveways.
How many parking spaces are there and where are they located?
There are over 2200 metered spots in the Downtown, College Hill, Thayer Street, Smith Hill, Federal Hill, Wayland Square and the Jewelry District areas and there are also numerous non-metered spots. Most time limits are 2 hours, 3 hours and 4 hours, but some long term parking (10 hours) exists in limited supply on the following streets:
Canal Street
Broadway (Downtown)
Gaspee Street
Greenman Lane
Fountain Street (Across from Providence Public Library)
Friendship Street (West of Chestnut)
Clifford Street (West of Chestnut)
South Main Street (from Wickenden to James Street
South Water Street
There are also well over 20,000 public/private parking lots within walking distance of most establishments in the Downtown area. A map of metered locations and parking facilities can be found here for your reference.
CAN I PARK ON THE STREET OVERNIGHT?
You may not park in any on-street parking space in Providence between 2 AM and 5 AM without an overnight parking permit or guest parking permit. To obtain one, go to https://providenceri.viewpointcloud.com/categories/1078/record-types/6365, or you can come in person to 700 Allens Ave. in Providence RI. If you do have an overnight parking permit or guest permit, you still can only park in legal parking spaces overnight. Anywhere that is designated as "No Parking" is not a legal parking space for overnight parking.
WHERE DO I SEND A REQUEST TO CHANGE THE CURB REGULATIONS FOR A STREET, SUCH AS ADDING METERS, ADDING A LOADING ZONE, OR CHANGING THE TIME RESTRICTIONS?
You can reach out to the Curbside Administrator, Liza Farr. Generally, we will study the curb activity in the area, including parking utilization, double parking activity, and pedestrian and bike safety. We will also work with you to talk to the other businesses and residents on that street before making any final decisions.
You can find the forms for Commercial Loading and PUDO spaces under "Links, Forms, and Documents" on the main webpage. (or you can just say here and link it).
What type of payment is accepted at the meters?
The single space parking meters accept only United States currency in the form of nickels, dimes, quarters and dollar coins.
The multi-space meters accept nickels, dimes, quarters and dollar coins, as well as credit cards. No dollar bills are accepted at either meter type.
You can also always pay for parking with a credit card using the Passport Parking app, which you can also access through the PVD311 app.
How do I use a Multi-space meter?
Multi-space meters in the city are of the "Pay and Display" type, which prints out a paper ticket once payment is entered. The paper ticket will indicate the amount of time purchased and must be displayed on the front dashboard of the vehicle on the passenger side. If time remains on the ticket and you wish to park elsewhere in the city that is metered, the ticket will be honored up to the time indicated.
When parking at a single space meter, how do I know which meter goes to what parking space?
When parking at a single space meter, the meter that is closest to the front of the car belongs to that parking spot. To ensure that you receive credit for paying for a parking spot, always remember to pull the front of your car as close as possible to the meter pole so that they are parallel. There are some locations where there are double headed meters. In those situations one meter will be at the rear of the car. (See photo)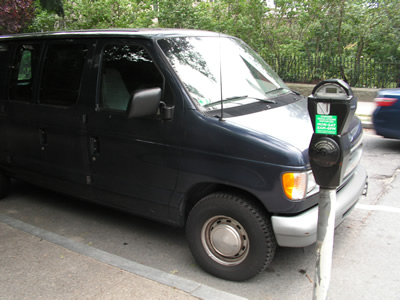 If a meter is not functioning, who should I contact and will I receive a ticket for parking there?
If a single space meter is not functioning properly you can report this to the Curbside Administrator's Office at 401-680-7573. Repairs to meters are made daily. If the meter is not functioning, you can still park at the location, but the posted time limits are still enforced. For example, if the meter you are parked at is a 2 hour meter, you will only be able to park at that location for 2 hours at no charge.
If a multi-space meter is not functioning properly, and there is another nearby, simply go to the nearest multi-space meter to pay for parking. The printed tickets that goes in your window are not specific to any given parking spot. Once again, any multi-space meter that is not functioning can be reported to the Curbside Administrator's Office at 401-680-7573.
For any type of meter, you can always pay for parking through the Passport app. Go to passportparking.com to download, or here to pay in your web browser. There are signs throughout the city that indicate what zone you are parking in. You can also find a zone map here.
What is the fine for overstaying my time at my meter or at a regulated parking spot?
The fine for parking at an expired meter or for overstaying your time at a meter/regulated parking spot is $25.00. Payment must be made within 14 days, as fines will double if not paid within the specified time-frame. If you feel that the ticket was given to you erroneously you can always contest the ticket and appear before the Providence Municipal Court, located at 325 Washington Street in Providence.