How much does it cost to park at a meter?
The current meter rate is $1.25 per hour, or 25 cents for every twelve (12) minutes. Short-term parking (30-minute meters only) cost $0.75 for the thirty (30) minutes, or 25 cents for every ten (10) minutes.
If the posted sign limit is two hours, can I go back and "feed" the meter to obtain additional time?
No. The posted sign limits of 30 minutes, 1 hr, 2 hrs, 3 hrs, 4 hrs and 10 hrs are strictly enforced. The purpose of creating a time limit is to afford other motorists the opportunity to patronize local businesses. If you need longer-term parking there are parking lots located throughout the City that charge affordable daily rates.
When are the meters and parking regulations enforced?
The parking meters and posted signs are enforced from 8:00 AM to 9:00 PM, Monday through Saturday in Downtown and Federal Hill. All other areas are 8:00 AM to 6:00 PM, Monday through Saturday. Parking at after enforcement times above or on a Sunday is free of charge.
I always hear that it is difficult to find a parking spot in Providence? How many parking spaces are there and where are they located?
Parking in Providence is easier than you think and there aisan abundance of spaces available. There are over 2200 metered spots in the Downtown, College Hill, Thayer Street, Smith Hill, Federal Hill, Wayland Square and the Jewelry District areas and there are also numerous non-metered spots. Most time limits are 2 hours, 3 hours and 4 hours, but some long term parking (10 hours) exists in limited supply on the following streets:
Canal Street
Broadway (Downtown)
Gaspee Street
Greenman Lane
Fountain Street (Across from Providence Public Library)
Friendship Street (West of Chestnut)
Clifford Street (West of Chestnut)
South Main Street (from Wickenden to James Street
South Water Street
There are also well over 20,000 public/private parking lots within walking distance of most establishments in the Downtown area. A map of metered locations and parking facilities can be found here for your reference.
What type of payment is accepted at the meters?
The single space parking meters accept only United States currency in the form of nickels, dimes, quarters and dollar coins, as well as Credit Cards (Visa, Mastercard and Discover)
The multi-space meters that are located in the city accept nickels, dimes, quarters and dollar coins, as well as credit cards. No dollar bills are accepted.
How do I use a Multi-space meter?
Multi-space meters in the city are of the "Pay and Display" type, which prints out a paper ticket once payment is entered. The paper ticket will indicate the amount of time purchased and must be displayed on the front dashboard of the vehicle on the passenger side. If time remains on the ticket and you wish to park elsewhere in the city that is metered, the ticket will be honored up to the time indicated.
When parking at a single space meter, how do I know which meter goes to what parking space?
When parking at a single space meter, the meter that is closest to the front of the car belongs to that parking spot. To ensure that you receive credit for paying for a parking spot, always remember to pull the front of your car as close as possible to the meter pole so that they are parallel. There are some locations where there are double headed meters. In those situations one meter will be at the rear of the car. (See photo)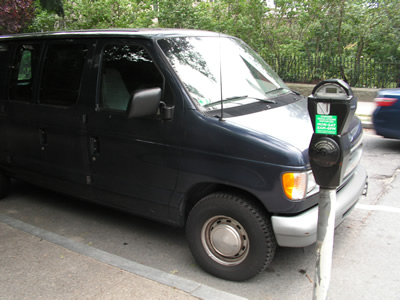 If a meter is not functioning, who should I contact and will I receive a ticket for parking there?
If a single space meter is not functioning properly you can report this to the Parking Administrator's Office at 781-4045. Repairs to meters are made daily. If the meter is not functioning, you can still park at the location, but the posted time limits are still enforced. For example, if the meter you are parked at is a 2 hour meter, you will only be able to park at that location for 2 hours at no charge.
If a multi-space meter is not functioning properly, and there is another nearby, simply go to the nearest multi-space meter to pay for parking. The printed tickets that goes in your window are not specific to any given parking spot. Once again, any multi-space meter that is not functioning can be reported to the Parking Administrator's Office at 781-4045.
What is the fine for overstaying my time at my meter or at a regulated parking spot?
The fine for parking at an expired meter or for overstaying your time at a meter/regulated parking spot is $25.00. Payment must be made within 14 days, as fines will double if not paid within the specified time-frame. If you feel that the ticket was given to you erroneously you can always contest the ticket and appear before the Providence Municipal Court, located at 325 Washington Street in Providence.