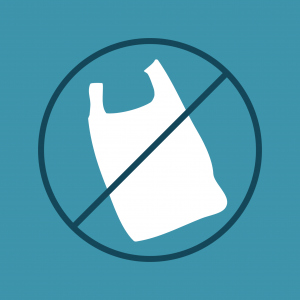 Providence's Retail Plastic Bag Ban was developed by the Providence City Council with input from the City's Office of Sustainability, the Racial and Environmental Justice Committee (REJC) and other community organizations. The ordinance was approved unanimously by the City Council on Earth Day, April 22, 2019 and signed into law by Mayor Jorge O. Elorza on May 1st, 2019.
The ban went into effect on October 22, 2019. Read the ordinance online here. 
Retail Plastic Bag Ban – One Pager Retail Plastic Bag Ban – FAQ Apply for an Exemption Exemption Review Process Bag Ban Tips for Businesses Exempt Retailers as of June 2020
---
Frequently Asked Questions
Q: What does the ban do?
The ban seeks to reduce the number of plastic checkout bags in the City, curb litter in the streets, protect our waterways and marine environment while reducing greenhouse gas emissions through encouraging the use of reusable bags by prohibiting retailers from offering single-use plastic bags at the checkout counter.
Q: What about produce bags and other plastic bags?
Bags used to hold and transport produce are exempt, as are laundry and dry-clean bags, newspaper bags, and bags used to contain or wrap frozen foods, meat or fish.
Q: What can retailers offer instead?
If any retail establishment provides a checkout bag to customers, the bag shall comply with the requirements of being a Reusable Bag or a Recyclable Paper Bag.
– Reusable Bag: a bag specifically designed and manufactured for multiple reuse, with handles which are stitched and not heat-fused. The bag cannot be made of any non-recycled plastic.
– Recyclable Paper Bag: a paper bag that is 100% recyclable including the handles, contains at least 40% post-consumer paper content, and displays the words "Recyclable" and "made from 40% post-consumer recycled content (or other applicable amount) in a visible manner on the outside of the bag.
Q: Can I offer thicker plastic bags without stitched handles, or "biodegradable" or "compostable" bags?
Unfortunately, no. Thicker plastic bags without stitched handles can be used more than once, but not enough to make it worth the environmental cost. Most bags that claim to be "biodegradable" or "compostable" only break-down in certain temperatures and with special processes. If not disposed of properly, these bags can still cause harm to wildlife and have a negative impact on the environment.
Q: What happens if a retailer continues to offer single-use plastic bags at the counter?
On first violation, a retail establishment will be issued a warning notice. If an additional violation happens within one year of being issued a warning notice, retailers will be fined:
– $50 for the first offence.
– $100 for the second offense and all subsequent offenses.
Payment of such fines may be enforced through civil action in the City Municipal Court. All revenue collected as a result of violations shall be deposited into a designated city fund for furthering community education and outreach on recycling and waste matters.
Q: Are there any cases where a retailer will be exempt?
The director of the Office of Sustainability may exempt a retail establishment for a period of one year if it's found that the requirements of the ordinance would cause undue hardship to a retail establishment.
Q: How do I know if I'm considered a "retailer"?
Retail establishment means any person, corporation, partnership, business venture, or vendor that sells or provides merchandise, goods, or materials directly to a customer, whether for or not for profit. This includes (but is not limited to) restaurants pharmacies, convenience and grocery stores, liquor stores, seasonable and temporary businesses, jewelry stores, and household goods stores. "Retail establishment" does not include sales by residents at their homes.
Q:  Can I use reusable bags during COVID-19?
It is not certain how long COVID-19 survives on different types of surfaces. According to a recent study published in the New England Journal of Medicine, SARS-CoV-2, the virus that causes COVID-19, can live in the air and on surfaces between several hours and several days. The study found that the virus is viable for up to 72 hours on plastics, 48 hours on stainless steel, 24 hours on cardboard, and 4 hours on copper; the study didn't include fabric.
While there is limited scientific research on potential health risks associated with reusable bags vs. paper bags or single-use plastic bags, we recommend cleaning reusable bags (as with all surfaces) to kill the virus and protect yourself and others. Cloth bags may be a good choice, particularly if you are able to machine wash your bags between uses. We also encourage customer self-bagging when reusable bags are used.
See these guidelines on how to wash different types of reusable bags: https://www.cleaninginstitute.org/cleaning-tips/clothes/fabric-care/cleaning-reusable-bags
For more information on the local response to COVID-19, resources or operational changes, residents can visit www.PVDCOVID19.com. Residents may also call to connect to the Mayor's Center for City Services by dialing 3-1-1, visiting www.PVD311.com or downloading the PVD311 mobile app on your smartphone for 24/7 access.
Q:  Has COVID-19 changed the bag law?
No. The Retail Plastic Bag Reduction Act is still in place. As a reminder for retailers that may encounter challenges complying during this time, you may apply for an exemption online.
Applying for an Exemption
Retail establishments may file for a temporary exemption if they demonstrate their qualification for an undue hardship.
The Director of the Office of Sustainability (or designee) may approve the exemption request, in whole or in part, with or without conditions on a case by case basis.
Qualifying for an Exemption
Retailers may qualify for an exemption if they can demonstrate the following:
– Circumstances or situations unique to the particular Retail Establishment such that there are no reasonable alternatives to bags that are not Recyclable Paper Bags or Reusable Bags; or
– Circumstances or situations unique to the Retail Establishment such that compliance with the requirements of this chapter would deprive a person of a legally protected right; or
– Circumstances where a Retail Establishment requires additional time in order to draw down an existing inventory of single-use plastic check out bags.
If Retailer claims "excess inventory" as reason for exemption, the Retailer must include a description of remaining inventory and inventory reduction plan with the exemption request form.
If you plan on filing for an exemption, please click the button below to learn more about the exemption application review process.
Exemption Application Review Process
---
---
Acceptable & Unacceptable Bags Under Providence's Retail Bag Ban
 

---