What is compost?
Composting is a natural process that turns everyday waste like food scraps, coffee grounds, and yard debris into organic, nutrient-rich soil (compost) which is 100% FREE.
Benefits of compost
Compost helps make organic and healthy soil for your garden, reduces household waste, cuts down on greenhouse gas emissions, can be an important component of stormwater runoff management, and helps decrease municipal waste costs.
Composting in Providence
DIY Backyard Composting
The ideal place to make compost is your own backyard or outdoor space. You can purchase a compost bin from the Department of Public Works or Rhode Island Resource Recovery, or build your own using low cost materials. Search "DIY compost bins" on Google or YouTube for helpful tips.
CLICK HERE for a step-by-step guide on how to compost in your backyard.
Food Scrap Composting: Drop off points & curbside pickup
If you are unable to compost at home, you can hire a service to pick up your compostable kitchen scraps, or you can drop them off at various composting hubs across the city. This ensures your unused food will go towards healthy green growth elsewhere, rather than in Rhode Island's landfill.
Food scrap PICK UP SERVICES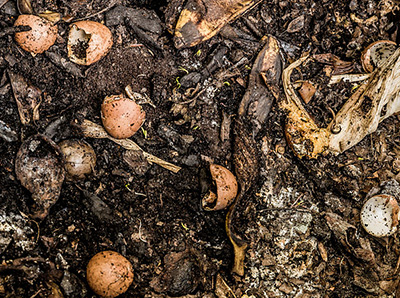 The Compost Plant (restaurant & commercial pickup only)
Food scrap DROPOFF LOCATIONS
Armory Farmers Market (May 31st to October 25th)
NOTE: The City of Providence does not endorse any one service or business. If you know of other services or drop off locations to add to the list, please email sustainPVD@providenceri.gov
Indoor Composting: Vermiculture (using worms)
You can compost indoors using worms!  A special type of worm called the "red wiggler" (Elsenia fetida) eat their weight in organic matter each day and digest food scraps to create nutrient-rich compost.
CLICK HERE for a step-by-step guide on vermicompost.