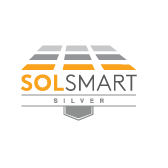 Providence was awarded a Silver SolSmart Designation, earning high-profile national recognition for the steps it has taken to reduce barriers to going solar. SolSmart is a national recognition and a no-cost technical assistance program for local governments, designed to drive solar adoption across the United States. Providence is the first community in Rhode Island and the sixth in New England to achieve a SolSmart designation, joining the ranks of 58 other communities across 25 states that have made it faster, easier, and cheaper to go solar.
"This designation from the U.S. Department of Energy recognizes the City of Providence's longstanding efforts to make solar energy more accessible to businesses and residents," said Leah Bamberger, Director of Sustainability. "Accelerating the adoption of solar is critical to achieving our goal to become a carbon neutral city by 2050 and will help residents and businesses save money."
SolSmart aims to reduce costs for solar customers, save local governments time and money, and improve business prospects for solar companies. It is funded by the U.S. Department of Energy SunShot Initiative through the Solar Powering America by Recognizing Communities (SPARC) funding opportunity.
Providence is making it easier for residents and businesses to go solar by reducing solar "soft-costs" and barriers, including those related to zoning, planning, permitting, inspection, and customer acquisition. Addressing these soft-costs can make a significant difference in the expense and ease of going solar.  The SolSmart designation shows that the City is "open for solar business" and is reducing barriers to allow for solar market growth.
Providence's solar-friendly zoning ordinances, recent Solarize campaign, training of inspection and permitting staff on solar PV, and coordination with the State of Rhode Island on expanding solar programs gave the City a strong foundation for participating in the SolSmart program. To earn the Silver designation, the Office of Sustainability created a new webpage for solar and published metrics, the Department of Planning and Development conducted a thorough examination of the zoning code to ensure it is solar-friendly, and the Department of Inspection and Standards created a checklist detailing the steps of the City's permitting process for solar installers.
The City's new Go Solar Providence webpage has a wealth of information, including a Guide to Going Solar for Residents and Businesses, guidance for projects in historic districts, answers to common questions about solar photovoltaic panels, information about financing options and incentives, and consumer protection resources.
Promoting solar energy development in Providence helps the City achieve economic, environmental, and public health goals. Providence is seeing unprecedented growth in solar installations, with a 65% increase in installed capacity in 2016 compared to the previous year. At the end of 2016, there was almost 3.7 MW of solar PV capacity installed in Providence. Statewide, the industry is growing rapidly, with almost 1,200 solar workers and 30 companies in the state. Recent regulatory changes have given the Rhode Island solar market a boost, including the introduction of Power Purchase Agreements (PPAs) to Rhode Island and the introduction of C-PACE financing to Providence.
To learn more about how you can go solar, visit www.providenceri.gov/sustainability/go-solar-providence/