About IDPVD Apply Now IDPVD Benefits FAQs Policy + Procedures
---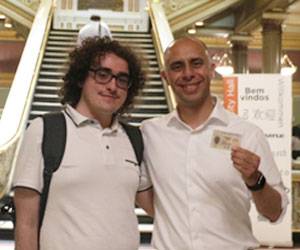 In 2017, Mayor Elorza signed an executive order establishing the Providence Municipal ID Program – IDPVD. This program was launched to issue photo identification cards so that residents, regardless of whether they have other state or federally issued identification, can access city services and programs. We believe that Municipal ID programs allow for equitable access to local programs and services for any resident of the city and that IDPVD strengthens and protects our neighborhoods by promoting community pride and aims to improve relationships between residents and local government entities.
IDPVD allows Providence to continue building a society that reflects values such as equity, inclusion, and respect for the dignity of every individual that lives amongst us.
---
About IDPVD
The IDPVD card is a photo identification card for Providence residents issued by the City of Providence. IDPVD users receive access to City partners, such as Ocean State Libraries, and receive discounts to some local businesses.
The goal of the program is to:
Promote equitable, inclusive, compassionate and forward-thinking policies that respect the dignity of all City residents.
Ensure that the City's most vulnerable residents are supported have access to identification.
Provide all City residents with a primary or alternative means of demonstrating residence.
IDPVD BENEFITS
By just showing your IDPVD card, you can access several discounts from many local businesses and experience everything PVD has to offer! Learn about discounts and perks at local restaurants, shops, museums and more by visiting our IDPVD Benefits page!
---
The IDPVD Card is available to all Providence residents – aged 14 years and older – and can:
Serve as proof of identity and residency to be used in city limits and at participating locations;
Be used to engage with City Departments, including the Providence Police Department;
Provide discounts on family activities, restaurants, museums, entertainment venues and more;
Cost of an ID card:
14 – 17 years old: $5.00
18 – 65 years old: $15.00
65+ years old: $5.00
Low Income: $5.00 *
* Low-Income: Applicant must show proof of income status. Sample documents you may present include: proof of enrollment in Means-Tested Benefits (such as SNAP, Section 8 housing, Medicaid, etc.)
Money orders, personal checks, and credit cards are accepted forms of payment. Cash and PayPal will not be accepted. There is a convenience fee for any resident who chooses to pay with their credit card.

Why have cities throughout the country created Municipal ID programs?
Although available to all residents of a city, the cards are particularly valuable for those members of our community who are:

Undocumented immigrants
Those experiencing homelessness
Youth & the elderly
Formerly incarcerated individuals
LGBTQ individuals
Residents who may have difficulty obtaining & retaining other government-issued ID.
Want to partner with IDPVD?  Here are some of the ways the IDPVD card can help your business:
Participating businesses will be listed on the City's official IDPVD website and may also be included in additional IDPVD materials that will be distributed to new card holders upon registration.
Businesses that sign up to partner will be listed on the IDPVD Benefits.
Parties interested in pursuing a partnership or seeking more information about the program are encouraged to email IDPVD@providenceri.gov or call the Mayor's Center for City Services (MCCS) by dialing 3-1-1.
---