"Like slavery and apartheid, poverty is not natural. It is man-made and it can be overcome and eradicated by the actions of human beings. And overcoming poverty is not a gesture of charity. It is an act of justice. It is the protection of a fundamental human right, the right to dignity and a decent life. While poverty persists, there is no true freedom."
Nelson Mandela
---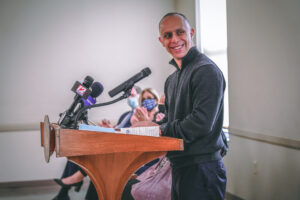 Mayor Jorge O. Elorza has joined more than 50 mayors from big cities and small towns across the country to put forth a pilot program to test the effects and outcomes of guaranteed income.
Mayors for a Guaranteed Income
(MGI) supports an income floor to supplement, rather than replace, the existing social safety net and serve as a tool for racial and gender equity.
Launched in July 2021, 110 individuals were randomly selected by the Center for Guaranteed Income Research (CGIR) research team from a pool of more than 4,000 applications, collected during a one-week application window in August 2021. To be eligible for the program, applicants were required to be Providence residents with an income at or below 200% of the Federal Poverty Level. Ultimately, 110 Providence residents have been receiving monthly $500 payments since November of 2021, which were previously scheduled to end in October of this year. Through the Providence Rescue Plan, Providence's American Rescue Plan Act (ARPA) budget, the PVDGI program will be extended for an additional six months.
A guaranteed income is a monthly cash payment given directly to individuals, empowering recipients to address their most urgent needs and providing a cushion for unpredictable expenses, external shocks, and income volatility. It is unconditional and is meant to supplement, rather than replace existing social safety net programs.  The PVDGI program was designed as a randomized control trial to learn more about how to build effective guaranteed income and cash assistance programs. As part of the Mayors for Guaranteed Income (MGI) Coalition, Providence is working with the Center for Guaranteed Income Research (CGIR), based at the University of Pennsylvania, to evaluate the program.
The launch of our pilot program was entirely philanthropically funded, meaning over $1 million used to launch this program was donated by outside contributors for the express purpose of implementing this program.
---
Selected Participants
At this time, all selected participants have been notified. First payments in the PVDGI Pilot went out on November 15th, and participants will continue to receive the $500/month payments during the duration of this program.
Participants were selected via a lottery conducted by the Center for Guaranteed Income Research. The City does not have access to individual participants' names or information. However, below is demographic information on the participant group as a whole.
Of the 110 participants, 76% are female and 24% male.
The median age of participants is 39
8% are between18-24
61% are between 25-44
29% are between 45-64
2% are 65 and older
The participants' median reported monthly income is $913, and the average monthly income is $1094. The additional $500/month represents a 55% average increase in participants' monthly median  income, or a 46% average income in participants' monthly mean income.
The race and ethnic makeup of participants are:
45% Hispanic or Latino
31% White
19% Black
5% Asian
2% American Indian/Alaska Native
2% Native Hawaiian or other Pacific Islander
3% multi-racial
38% identified as another race, meaning they could identify as multiracial or as an ethnic makeup not identified.
61% of the participants have children under the age of 18
43% have 1-2 children
17% have 3-5 children
1% have 6 or more children
Benefits Counseling Services
Benefits counseling was initially developed for the PVDGI pilot as part of an effort to inform potential participants how the PVDGI program may impact their public benefits. The expanded benefits counseling pilot program, designed by the City of Providence and DHS, is funded through a $100,000 grant from DHS and administered by Amos House and Dorcas International. Benefits counselors at Amos House and Dorcas International are trained on all public benefits programs available in Rhode Island.
Individuals who participate in this newly-expanded benefits counseling will be screened for all benefits programs they may be eligible to receive, and receive application support as well as information on how life changes may potentially impact their benefits. After benefits counseling, individuals will be empowered to make fully informed decisions about available benefits.
All Rhode Island residents are now eligible to schedule benefits counseling at Amos House or Dorcas International.
Counselors are available Monday through Friday at Amos House from 8:00 AM to 4:00 PM and at Dorcas International from 9:00 AM to 5:00 PM. Sessions will last approximately 30 to 45 minutes. Sessions are available via phone, virtually or in-person in both English and Spanish, with interpretation for other languages available. Counseling participants should have an understanding of their income and benefits they currently receive.
Anyone interested in participating may schedule a benefits counseling appointment by contacting Amos House at 401-272-0220 or Dorcas International at 401-784-8600.
Click here to watch our press conference announcing first payments have gone out.
Click here to read our press release on first payments and benefits counseling services"
---

What is the Mayors for Guaranteed Income (MGI) Coalition?
Mayors for Guaranteed Income (MGI) is a coalition of 50-plus mayors who will explore cash payment programs in their cities and advocate for guaranteed income programs. The founding mayors of the network include Michael D. Tubbs from Stockton, CA; Ras J. Baraka from Newark, NJ; Eric Garcetti from Los Angeles, CA; and Keisha Lance Bottoms from Atlanta, Georgia, among others. More details about the coalition can be found here.
---
FAQs in More Languages
Arabic Chinese English Haitian Creole Hmong Khmer Kinyarwanda Lao Portuguese Spanish Swahili
---
Community Outreach Presentations
Download in English   Descargar en español
---
Frequently Asked Questions (FAQ)
What is Guaranteed Income?
Guaranteed income (GI) programs provide monthly, no-strings-attached, cash transfers to a targeted portion of the population, mostly those with low incomes and/or experiencing poverty.
Guaranteed income is designed to fill in holes left by other welfare programs. GI programs provide cash rather than vouchers or EBT-type cards, allowing beneficiaries to make their own choices about their priorities and needs. These programs are designed to be low-barrier and to have no requirements that recipients must meet to continue receiving payments. This structure allows for trust and efficiency, eliminating costs associated with traditional welfare programs, and putting those savings directly into the pockets of program participants.
What isn't a Guaranteed Income?
A guaranteed income is not an answer to poverty by itself. Guaranteed income must be paired with other policies that support wealth building in historically marginalized communities. Guaranteed income is not a replacement for the rest of our social welfare system. Guaranteed income is meant to supplement, not supplant, existing welfare programs that millions depend on, such as the Supplemental Nutrition Assistance Program (SNAP), Medicaid, and Social Security.
A guaranteed income is also meant to supplement, not supplant, other income or wages. After one year of the Stockton Economic Empowerment Demonstration, recipients of guaranteed income were 12% more likely to be working full time than at the beginning of the year, compared to only a 5% increase in full-time employment among members of the control group.
How is the guaranteed income pilot paid for?
In Providence, our pilot was launched entirely through philanthropy. The City of Providence received $500,000 from Square CEO Jack Dorsey and other contributions from the United Way of Rhode Island, Rhode Island Foundation, Providence Community Relief Fund and ONE Neighborhood Builders for a total of $1.1 million in cash and in-kind donations to fund the direct cash payments and administrative costs associated with the pilot program. Recently, the City included an additional allocation of $500,000 from Providence Rescue Plan funds to support the Providence Guaranteed Income program.
How many Providence residents are participating in the guaranteed income pilot?
The Providence Guaranteed Income pilot program serves 110 households for one year. That scope, while enormously significant to participants, does not meet the needs of our entire community. The goal of the Providence Guaranteed Income pilot program is to display the positive effects and outcomes of guaranteed income and be used to advocate for similar programs at the state and federal level.
Who was eligible to participate in guaranteed income through this pilot?
Providence residents with an income below 200% of the Federal Poverty level (see table below) were eligible and encouraged to apply to participate in this pilot. An outside entity will conduct a lottery to select participants from the pool of applicants. Once participants were selected, a second lottery sorted participants into a "treatment group" and a "control group."

| | | | | | | | | |
| --- | --- | --- | --- | --- | --- | --- | --- | --- |
| Household Size | 1 | 2 | 3 | 4 | 5 | 6 | 7 | 8 |
| 200% of FPL | $25,760 | $34,840 | $43,920 | $53,000 | $62,080 | $71,160 | $80,240 | $89,320 |
Participants in the control group do not receive a guaranteed income but participate in research activities, such as completing surveys and participating in focus groups and interviews. All participants, both in the treatment group and the control group will receive stipends for each research activity they complete.
The control group allows us to understand the impact of guaranteed income over time amongst two similar groups of people: one who receives guaranteed income and one who doesn't. For example, in Stockton, researchers were able to show that guaranteed income had a significant impact on full time employment by comparing the change in employment amongst the treatment group and the control group. This allows us to attribute outcomes to the guaranteed income.
Will guaranteed income influence other benefits?
The City of Providence and our partners are taking a three-pronged approach to ensure that participants receiving other benefits are not harmed by receiving this guaranteed income. We have worked closely with the RI Department of Human Services to keep guaranteed income from impacting benefits such as RI Works, Child Care Assistance, LIHEAP, and emergency rental assistance.
Each participant was able to meet with a Benefits Specialist before enrolling in this pilot. The Benefit Specialist helped them weigh the pros and cons of participating in this pilot and explained how it may impact benefits such as housing vouchers and SNAP. Funds are available to participants if they do experience an unanticipated economic loss from participation in this pilot.
How will we measure the impact of guaranteed income?
As part of the Mayors for Guaranteed Income (MGI) Coalition, Providence is committed to working with the Center for Guaranteed Income Research, based at the University of Pennsylvania, to build a rigorous and innovative body of research capable of measuring the person-level impacts of guaranteed income.
Mayors for Guaranteed Income and the Center for Guaranteed Income have published a learning agenda, outlining the questions that will guide the design and study of guaranteed income pilots, and the process by which they will be evaluated. With the support of MGI and the Center, a researcher will be embedded in Providence to support the development and monitoring of our pilot to ensure that it advances the learning agenda and provides valuable data on the effectiveness of our guaranteed income program.
Are there other guaranteed income pilots?
There are several guaranteed income pilots in progress across the country, demonstrating the variety in size and scope of guaranteed income programs:

In Stockton, CA, the Stockton Economic Empowerment Demonstration has been giving 125 residents $500 per month, since February 2019.
In Jackson, MI, Springboard to Opportunities is giving $1,000 per month to 20 Black mothers for a year through the Magnolia Mother's Trust.
In Compton, CA, Mayor Aja Brown recently announced The Compton Pledge, the largest GI program announced to date, which will provide 800 residents with a guaranteed income for two years.
In Richmond, VA, the Richmond Resilience Initiative will provide $500 a month for 24 months to 18 working families who no longer qualify for benefits assistance but still do not make a living wage.
Which organizations are involved in the Providence GI Pilot?
Learn about our partners listed below.
When will the first payments go out?
Participants in the Providence Guaranteed Income Pilot received their first payments in November 2021.
---
Our Partners
Administering Agencies
Amos House
Amos House has more than four decades of experience serving low-income individuals and families, particularly those experiencing housing insecurity and homelessness, with the mission of "helping people help themselves out of homelessness and poverty through vital services and results-oriented programs." The agency offers more than 18 programs to help members of their community who are low-income meet their basic needs and advance toward financial independence. Programs include RI's largest soup- kitchen, the state's only recovery-focused shelter, emergency shelter, permanent supportive housing, education and training programs, financial literacy, and comprehensive support services. Amos House operates two businesses, Amos House Builds and More Than a Meal Catering- generating income for the organization and employing graduates of their culinary arts and building maintenance programs.
---
Supporting Organizations
Dorcas International
Dorcas International Institute of Rhode Island helps vulnerable individuals and families, especially immigrants, refugees, and the underserved, to become self-sufficient and fully participating members of our diverse community. For 100 years, Dorcas has offered innovative programs and advocacy that promote education, training, and cultural understanding.
State Department of Human Services
Through the compassionate delivery of critical safety net and other supportive services, the Rhode Island Department of Human Services (DHS) is committed to ensuring that individuals and families in Rhode Island have access to the supports they need to achieve their goals. Its vision is that all Rhode Islanders have the opportunity to thrive at home, work and in the community. DHS works hand-in-hand with community partners and resources throughout our great State to deliver these benefits to more than 300,000 families, adults, children, elders, individuals with disabilities and veterans every year. We are part of the solution to end poverty and food insecurity and we make a lasting, positive impact on the State's health and future.
Economic Progress Institute
The Economic Progress Institute is a nonpartisan research and policy organization dedicated to improving the economic well-being of low- and modest-income Rhode Islanders. EPI analyzes and advocates on a range of issues including: public benefit programs (RI Works, SNAP, Child Care Assistance, and Medicaid); employment-related programs (minimum wage, TDI/TCI, family leave); and on state revenue and investments. EPI is a respected authority on issues impacting the economic vitality of our residents and our state.
RI Kids Count
The mission of Rhode Island KIDS COUNT is to improve the health, safety, education, economic well-being, and development of Rhode Island's children with a commitment to equity and the elimination of unacceptable disparities by race, ethnicity, disability, zip code, immigration status, neighborhood, and income. Rhode Island KIDS COUNT engages in information-based advocacy to achieve equitable public policies and programs for the improvement of children's lives.
Direct Action for Rights and Equality
DARE believes that poor and working class families, people of color, oppressed nationalities including immigrants regardless of documentation status, women, LGBTQ community members and youth must be at the forefront in leading the way to our liberation. DARE uses four interconnected strategies to build power, win campaigns and fuel a lasting movement for social change: Base building, direct action organizing, leadership development and movement building.
AMOR
AMOR is an alliance of community based grassroots organizations mobilizing to end state violence against the various communities its coalition members work with. AMOR works to create a space where the community can demand accountability, challenge injustices, and access healing after experiencing violence. AMOR organizes to place sovereignty back into the hands of communities directly affected by systemic oppression, and to build leadership, generate power, and organize resistance with and alongside all directly affected peoples.
PrYSM
PrYSM organizes at the intersections of race, class, gender, and sexual orientation by centering youth, female, queer, and people of color leadership in our campaigns, our organization, and our communities. PrYSM mobilizes queer Southeast Asian youth, families, and allies to build grassroots power and organize collectively for social justice.
Providence Housing Authority
Founded in 1939, the Providence Housing Authority (PHA) provides and develops quality and safe affordable housing opportunities and services to address the needs of Rhode Island residents. We are committed to the core values of excellence, accountability, innovation, respect, and equity in all that we do. Today, the PHA provides affordable housing to more than 12,000 residents in the City of Providence. We administer 2,601 public housing units – making us one of the largest landlords in the State. We also oversee the administration of almost 2,800 Section 8 vouchers that allow low-income families to rent in the private market and host a variety of support programs.
RI Coalition to End Homelessness
Founded in 1988, the Rhode Island Coalition to End Homelessness (formerly Rhode Island Coalition for the Homeless) is a 501 (c) 3 corporation that works statewide with individual and organizational members to pursue comprehensive and cooperative solutions to prevent and end homelessness. The Coalition plays a strategically vital leadership role in efforts to prevent and end homelessness in Rhode Island, including working closely with Rhode Island Housing to support the State's Continuum of Care. Coalition programs and activities include: advocacy and policy work, Homeless Management Information System (HMIS) administration, managing the Coordinated Entry System's permanent housing placement and call center, "Barrier Busting," including operation of the Homeless Legal Clinic, research, training, policy analysis and advocacy at the local, state, and federal levels.
---
Our Funders
RI Foundation
For more than 100 years, the Rhode Island Foundation has been dedicated to improving the lives of Rhode Islanders. The Foundation acts on its mission by inspiring philanthropy, investing in the community, and providing leadership and a forum for dialogue on critical local issues.
United Way of RI
UWRI's mission is to unite our community and resources to build racial equity and opportunities for all Rhode Islanders. Their vision is a Rhode Island where every individual in each community has equal opportunity for justice and prosperity.
ONE Neighborhood Builders
ONE Neighborhood Builders is a community development leader in Rhode Island whose mission is to develop affordable housing and engage neighbors across Greater Providence to cultivate healthy, vibrant, and safe communities.
Providence Community Relief Fund
The Providence Community Relief Fund is focused on sustaining the long-term recovery of Providence's residents through the COVID-19 crisis.
Jack Dorsey's Start Small Initiative
Square/Twitter CEO Jack Dorsey's public fund for global COVID-19 relief. After the pandemic, the focus will shift to girl's health and education, and Universal Basic Income (UBI).
---
---
[/su_list] [/su_column]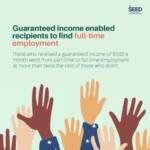 [/su_row]
---