How to use this page
This page is your NBG tickets hub. Most programs at NBG are free and do not require an RSVP, but we do have some events that require tickets or an RSVP due to space constraints. This page will be regularly updated with our special programs. You'll find the details for each, and the ticket widget right here. Scroll all the way to the bottom to use the widget. This page is best experienced on a computer, rather than a phone or tablet.
Program Details
Sunday 1899: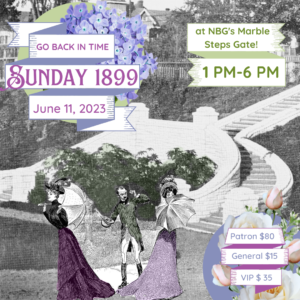 Go back in time to a busy Sunday in 1899, when North Burial Ground was the place for recreation in Providence. Cole Caswell from AgNo3 Labs will be back this year with a tintype photography pop up! Liberty Farms is returning to take you on a carriage ride through the cemetery, and we'll take a special tour of Gilded Age burials at the cemetery. The Vintage Mystic will be in attendance to bring us  a hint of the 19th century's interest in Spiritualism by reading tarot cards. Bring your own picnic, and we'll provide treats and beverages!
Date and Time: June 11, 2023, 1-6:00 PM. Location: The Marble Steps Entrance, North Burial Ground. Parking: The best place to park is along Cemetery Street and North Main and enter the cemetery the way they would in 1899, down the fabulous marble steps! Stair-free entrance to the event is at the Rochambeau gate.
Sunday 1899 Ticket Levels:
15.00: General Admission level includes entrance to the event, an NBG sticker, and a small disposable (ish) picnic blanket.
35.00: VIP Level includes entrance to the event, an NBG roll-up picnic blanket that you can use for all your cemetery (or otherwise) picnic adventures, two NBG stickers,  and a Victorian headstone iconography pin, made by our friends at Queerly Departed. There are only 50 VIP tickets available, so get them while you can!
80:00: Our patron level ticket includes everything from the VIP level, and a special Tarot reading by The Vintage Mystic.
To sign up to receive a tintype portrait, you must still email aheppner@providenceri.gov. Tintypes are an added cost, and are paid directly to our fabulous photographer at the event!
How to Purchase a Ticket or Reserve a Space for a Free Program
Enter the quantity of tickets you want to buy or reserve from the drop down menu in the tile for the event you want to attend.  Follow the prompts to complete your purchase or reservation. Some of the prompts won't necessarily apply. For example, on the second page, you've already selected the product, so when it asks you to "Select Product and enter email address," just add your email address into the box where it says "Shipping Address."