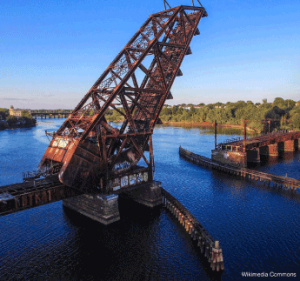 The Crook Point Bascule Bridge is a steel railway drawbridge that once connected Providence's Fox Point neighborhood to the City of East Providence across the Seekonk River. The bridge—which is also referred to as the Seekonk River Drawbridge or Crook Point Bridge—is currently unused and fixed in the upright position. Since 1976, when the bridge and tunnel were abandoned, Providence residents and vis­itors have been fascinated by the bridge, as a symbol of Providence's industrial past and as a sculptural element of the city's skyline.
Call for Design Ideas
In October 2020, the City of Providence issued an open Call for Design Ideas to solicit creative ideas for reuse of the Crook Point Bridge structure. Those interested in submitting ideas are encouraged to review the full Call for Design Ideas.
This competition is sponsored by the Providence Redevelopment Agency. The structure is owned by the Rhode Island Public Rail Corporation. Neither the Rhode Island Public Rail Corporation, nor the Rhode Island Department of Transportation are involved in this design competition. This competition is designed to generate creative ideas for the future reuse of the structure.
Finalists' Design Proposals
Out of the nearly 80 proposals received from around the world, five teams were awarded $1,000 each and asked to submit more detailed ideas. Community members are encouraged to review the five semi-finalists' design proposals (see below) and submit feedback. This public comment will help inform the jury's selection of a winning team. Comments will be accepted via the form below until Tuesday, April 6 at 11:59 PM. In May 2021, one winning team will be announced and receive $10,000 upon award.
The five finalists are:
Horsley Witten Group & Jonathan Harris — a Providence-based engineering and environmental consulting firm;
James Carpenter Design Associates — a New York-based design firm led by a former RISD student and faculty member;
Joshua Teas — an architect based in both Norway and Maine;
PORT — a Philadelphia and Chicago-based design consultancy; and
Ultramoderne — a Providence-based architecture firm.
Anticipated Timeline (subject to change) 
Call for Design Ideas Announced: October 22, 2020
Round One Submissions Due: Sunday, November 29, 2020
Five Finalists Announced and Invited to Participate in Round Two: Early-February 2021
Round Two Submissions Due: Monday, March 22, 2021 by 11:59 PM EST
Winner Announced: May 2021
---
---
---
---
---
---