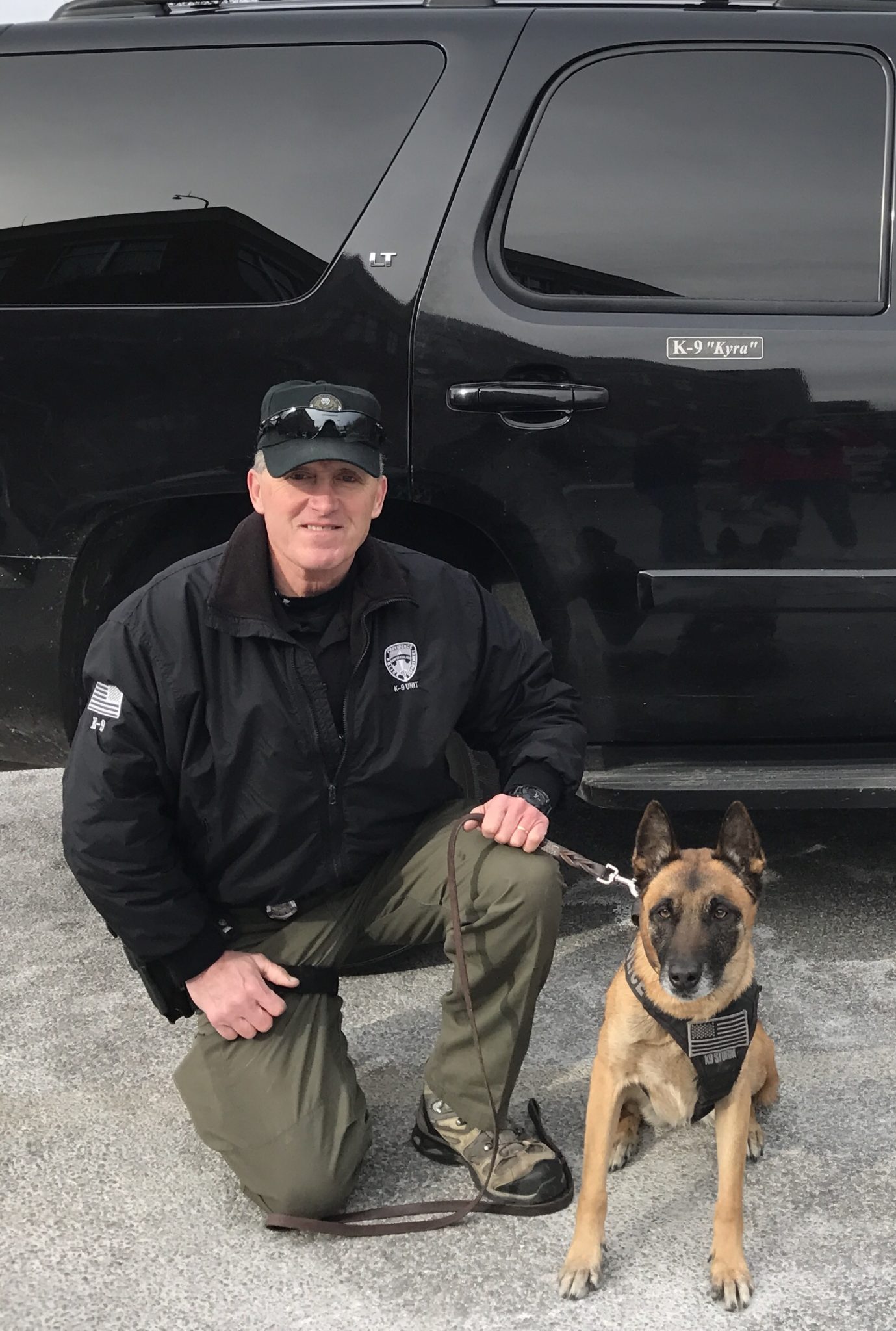 The Providence Police Department announce the addition of two new police dogs to the K9 Unit, for a total of four dogs on the force. K9 Ripp and K9 Jimbo have completed the 12-week K9 patrol training school at the Rhode Island K9 Academy, led by Master Trainer Sgt. Roger Reardon (RISP, Ret.), which certified them in all areas of article search and tracking. Patrol K9's are used to find and apprehend criminals, search buildings, and track suspects or missing persons using their keen sense of smell. Both K9 Ripp and Jimbo, along with their handlers, are currently in their 3rd week of explosive and firearm detection training school which is also held at the Rhode Island K9 Academy.
K9 Ripp's partner is Officer Eric Chabot, a 14-year veteran of the PPD. K9 Ripp is an 18-month old German Shepard and he and Officer Chabot work the out last shift (11:00 p.m. – 7:00 a.m.) in the North End of the city in District 7. During K9 Ripp's first days on duty, he and Officer Chabot apprehended a subject wanted for larceny and also recovered a stolen vehicle. K9 Ripp was able to obtain a scent from the stolen vehicle and began a search for the subject wanted for operating the vehicle. K9 Ripp then led Officer Chabot to the wanted subject hiding under a pickup truck and he was apprehended.
K9 Jimbo's partner is Officer Daniel Sirignano, a 9-year veteran of the PPD. K9 Jimbo is also an 18-month old German Shepard and he and Officer Sirignano work the out first shift (3:00 p.m. – 11:00 p.m.) in the West End of the city in District 4. Shortly after Officer Sirignano and K9 Jimbo graduated from patrol school they actively worked performing building searches at breaking and entering scenes where subjects fled prior to police arrival, and also performed several article searches for evidence after a crime was committed. During one of these searches, K9 Jimbo was able to locate a set of keys that a suspect discarded after fleeing from a vehicle.
K9's Ripp and Jimbo join the other members of the PPD K9 Unit, K9 Kyra and partner Officer Lincoln Sisson and K9 Gero and partner Officer Louis Salinaro. K9 Kyra is an expert explosive detection dog and works closely with other law enforcement agencies both locally and regionally. K9 Gero is trained in patrol techniques and narcotics detection.
"In the short time our new K9's have been on the street they have already proven to be a valuable resource to the department and all of the officers working a shift with them," said Colonel Clements. "With less manpower, our officers are able to utilize these K9's to search in a faster, safer, more accurate manner than they would on their own. I look forward to the continued success of K9's Jimbo and Ripp as well as the other members of our highly respected K9 Unit."