Mission
Human Resources supports the City of Providence in achieving its strategic and operational priorities through the use and development of effective policymaking, benefit administration, and fiscal stewardship, making the City a workplace where employees are and feel valued, accepted, and accountable to high standards of public service and operational efficiency.
Vision
Our vision is to have an innovative, diverse, and dedicated workforce that effectively serves the needs of our residents and businesses, making Providence a City that works.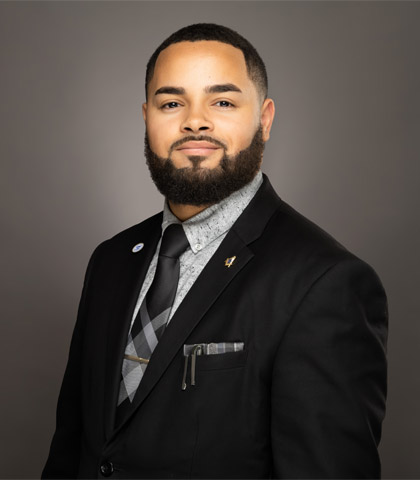 Paul A. N. Winspeare, MBA, BS-HRM, SPHR, PHR, aPHR, M∴
Chief Human Resources Officer
With 10 years of progressive HR, consulting, and business operations experience, Paul Winspeare is dedicated to the craft of human resources and is a results-focused leader who delivers on talent acquisition, human capital management, executive, employee, and labor relations that helps organizations harness the full power of what Winspeare believes is their most valuable asset, their people.
Winspeare is three-time nationally certified as a Senior Professional in Human Resources, Professional in Human Resources, and Associate Professional in Human Resources through the Human Resources Career Institute (HRCI). He specializes in strategic HR management, HR technology, talent acquisition, training and development, civil service, union and labor management, compensation and benefits, employee relations, executive coaching, and HR business science. He possesses an MBA in Strategic Leadership and a Bachelor of Science in HR Management from Fisher College in Boston, Massachusetts. Throughout his career, Winspeare has served in a variety of roles as a business consultant and manager of recruitment and personnel for Staffing Network-QPA and spent approximately the last five years in HR leadership as a HR Generalist, Recruitment Manager, Assistant and Interim Director, and Chief HR Officer for Chicopee, Massachusetts.
As people, culture, and technology are the cornerstones of his approach to modernizing human resources, Winspeare believes that leadership through education and stewardship is what feeds the progressive development of business. It is his desire to contribute to the HR team through this methodology, which he carries into his professional endeavors, externally. He serves as a member of the HR Management Association, HRCI, MA Freemasons. And has served as a professional member of the Massachusetts Municipal HR Association. It is his intention to serve and contribute to making the workplace the best run in America.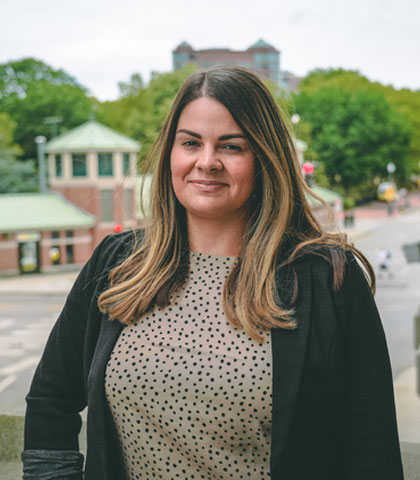 Ashley Fioravanti
Deputy Chief Human Resources Officer
Fioravanti serves as Deputy Chief Human Resources Officer (DCHRO) and works alongside the CHRO to lead strategy and operations for all HR functions, including employee benefits, workers compensation, personnel, equal employment opportunity, training, performance, and administration. Fioravanti finds the field of human resources inspiring and is focused on making quality improvements to the HR operation. Fioravanti's work is inspired by her witnessing HR's involvement throughout the complete employee trajectory with the City, from the moment they are hired through their promotions, benefit changes, and ultimately their departure, and aims to create systems and processes that support their growth and development.
Born and raised in Providence, Fioravanti is a graduate of Providence College, where she majored in psychology, and holds a Master's Degree in Human Resource Management from Saint Mary's University in Minnesota. Fioravanti has worked her way up in the City's Department of Human Resources, from her beginnings in benefits, to workers compensation, personnel, and ultimately being promoted into confidential and management positions in the administrative offices having served as the Acting CHRO, and currently as Deputy Chief HR Officer.
General HR Questions
hr@providenceri.gov
401-680-5616
Collective Bargaining Agreements
Laborers' International Union, Local 1033
Providence Teachers Union AFT Local 958
International Association of Firefighters, Local 799
Fraternal Order of Police, Lodge No. 3