Mission
Human Resources supports the City of Providence in achieving its strategic and operational priorities through the use and development of effective policymaking, benefit administration, and fiscal stewardship, making the City a workplace where employees are and feel valued, accepted, and accountable to high standards of public service and operational efficiency.
Vision
Our vision is to have an innovative, diverse, and dedicated workforce that effectively serves the needs of our residents and businesses, making Providence a City that works.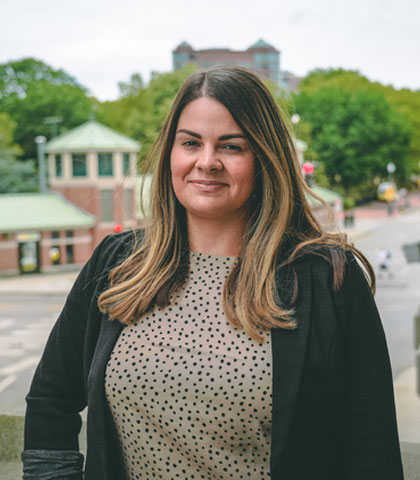 Ashley Fioravanti
Acting Chief Human Resources Officer
Fioravanti serves as Acting Chief Human Resources Officer (CHRO) and leads strategy and operations for all HR functions, including employee benefits, workers compensation, personnel, equal employment opportunity, training, performance, and administration. Fioravanti finds the field of human resources inspiring and is focused on making quality improvements to the HR operation. Fioravanti's work is inspired by her witnessing HR's involvement throughout the complete employee trajectory with the City, from the moment they are hired through their promotions, benefit changes, and ultimately their departure, and aims to create systems and processes that support their growth and development.
Born and raised in Providence, Fioravanti is a graduate of Providence College, where she majored in psychology, and holds a master's degree in human resource management from Saint Mary's University in Minnesota. Fioravanti has worked her way up in the City's Department of Human Resources, from her beginnings in benefits, to workers compensation, personnel, and ultimately being promoted into confidential and management positions in the administrative offices. Before being appointed Acting Chief Human Resources Officer, Fioravanti served as the Deputy Chief Human Resources Officer and oversaw the Personnel and Compensation division.
Collective Bargaining Agreements
Laborers' International Union, Local 1033
Providence Teachers Union AFT Local 958
International Association of Firefighters, Local 799
Fraternal Order of Police, Lodge No. 3