Image credits: Steel Yard @thesteelyard, The Wurks @thewurks
---
---
About the Plan
The City of Providence, in partnership with the community, is preparing a vision plan for the area along the Woonasquatucket River from Paragon Mills to Providence Place Mall– including portions of the City's Olneyville, Valley, and Smith Hill neighborhoods. Funded by a brownfields grant from the US Environmental Protection Agency, the City of Providence will work with community partners to plan for the thoughtful redevelopment of polluted industrial sites to stimulate economic development that benefits Providence residents, and strengthen environmental and social resilience in the Project Area. The Vision Plan will be used to guide and prioritize the many investments planned and underway in the Project Area, determine other needed investments, visualize what desirable reinvestment looks like, and advocate and secure resources for implementation.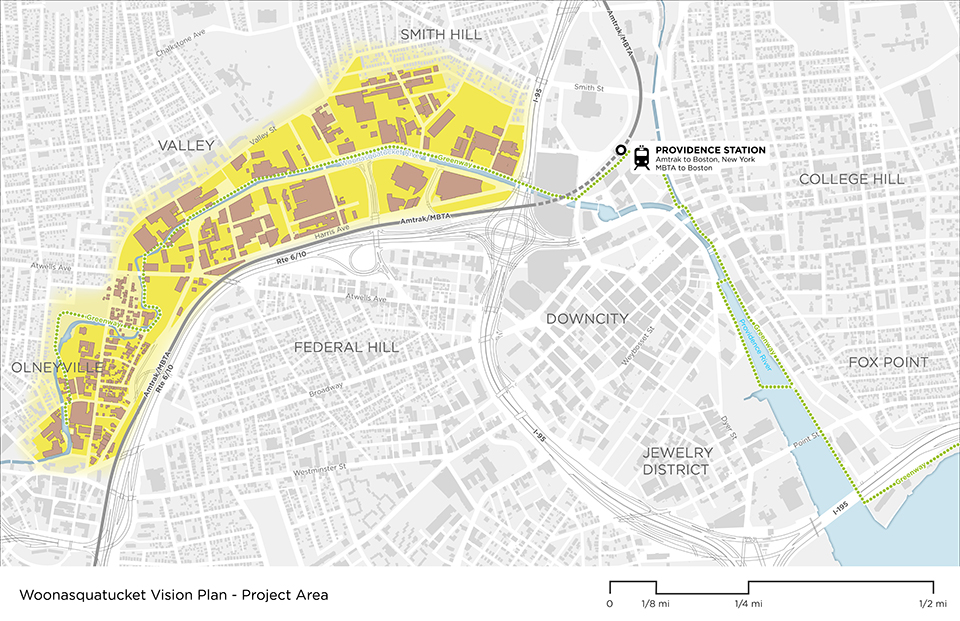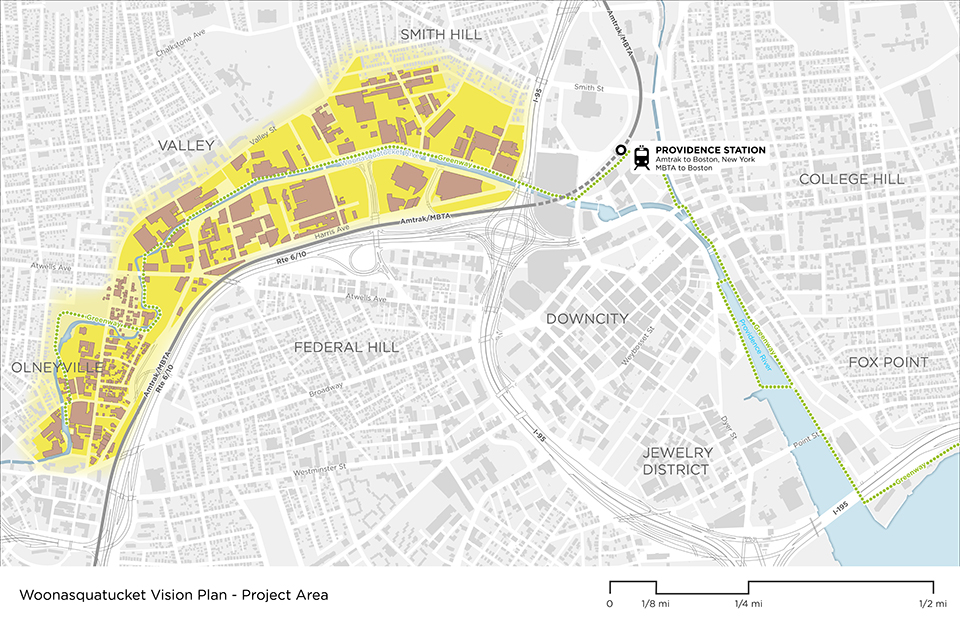 ---
Calendar of Events
Community Picnic
Saturday, September 30, 2017 | 1:00PM – 4:00PM
Parking lot of Iglesia Puerta de Refugio, 247 Valley Street
Facebook Event Page
Join your neighbors for lunch and share your vision for the future of the neighborhoods surrounding the Woonasquatucket River.
View Community Picnic Presentation
Planning Workshop
November 14-18, 2017 | 10:00AM– 8:00PM Daily
WaterFire Arts Center, 475 Valley Street
View Detailed Workshop Schedule

Work alongside the planning team to translate community input into  designs, policies, and actions. Drop in anytime to chat one-on-one with the planners and/or attend the workshop events.
Planning Workshop Kickoff
Tuesday, November 14, 2017 | 6:00PM – 8:00PM
WaterFire Arts Center, 475 Valley Street
Facebook Event Page
View Workshop Kickoff Presentation

Roll up your sleeves and contribute your ideas in a hands-on brainstorm. Use maps, drawings, images, and other tools to tell the planning team what you want for the future of the neighborhood.
Mid-Workshop Review
Thursday, November 16, 2017 | 6:00PM – 8:00PM
WaterFire Arts Center, 475 Valley Street
Facebook Event Page
View Mid-Workshop Review Presentation

Review initial design and policy ideas at the halfway mark. See your ideas take shape, and share your feedback with the planning team.
Closing Review
Saturday, November 18, 2017 | 2:00PM – 4:00PM
WaterFire Arts Center, 475 Valley Street
Facebook Event Page
View Closing Review Presentation

Review the revised design and policy ideas that emerge from community input. See ideas evolve based on your feedback.
Open House
Wednesday, February 28, 2018 | 6:00PM – 8:00PM
The Wurks, 45 Acorn Street
Facebook Event Page
View Open House Presentation
View Footage of Mayor's Remarks and Presentation
View and Comment on the draft Woonasquatucket Vision Plan
The planning team will present a complete draft of the Woonasquatucket Vision Plan to you. Get a pre-release view and share your feedback in this final round of input.
---
Contact Us
Allen Penniman, AICP
Principal Planner
401-680-8523
apenniman@providenceri.gov
Facebook: @ProvPlanning
Twitter: @ProvPlanning
Whenever possible, the City brings the planning process to existing community gathering places. This includes attending standing community meetings, tabling at special events, and canvassing out in the neighborhood. If you are interested in having City staff conduct outreach at your event, please contact Allen Penniman at 401-680-8523 or apenniman@providenceri.gov.