Image credits: Woonasquatucket River Watershed Council, Steel Yard @thesteelyard, The Wurks @thewurks
---
---
Woonasquatucket River Greenway Improvement Project
The Woonasquatucket River Greenway Improvement Project will enhance a one-mile section of the Woonasquatucket River Greenway between Downtown and Eagle Street in the City's Valley and Smith Hill neighborhoods. In addition to being a key focus of the Woonasquatucket Vision Plan and Woonasquatucket River Watershed Council, this project is a critical segment of the citywide Urban Trail Initiative. This one-mile off-road, shared use path will provide a safe connection for those walking and riding bicycles between downtown Providence and Eagle Square, enhance the urban/natural river interface, increase public recreational use of the riverfront, strengthen stormwater management, encourage economic development, and create stronger connections between Downtown and the Smith Hill, Valley, and Olneyville neighborhoods.
With nearly $6 million in funding for design, engineering, and construction from the State Transportation Improvement Program, the City began initial public outreach and analysis of alternatives in Spring 2019.
Due to permitting and review processes the approvals needed have been delayed. The project is expected to be under construction beginning in Spring 2023. The Department of Planning and Development will host informational meetings in late 2022 to update the community on the project schedule.
Project Documents
Investigation Notices and Reports
In accordance with the Rhode Island Department of Environmental Management's (RIDEM's) Rules and Regulations for the Investigation and Remediation of Hazardous Material Releases (the Remediation Regulations), the City of Providence Department of Planning and Development is providing notice to abutters of their intent to conduct a Site Investigation along the Woonasquatucket River Greenway Corridor, from Providence Place Mall to Eagle Street along Promenade Street, Providence Place, and Kinsley Avenue. The goal of this investigation is to determine if a release of hazardous materials has occurred on the property. The investigation will involve the sampling of environmental media (specifically soil, sediment and groundwater) by Civil & Environmental Consultants personnel. The work is being conducted entirely in the public right-of-way along Promenade Street, Providence Place, and Kinsley Avenue.
The investigation is scheduled to be conducted in December 2019 and is expected to take approximately two weeks. The results of the investigation should be available by the end of December 2019.
For more information regarding this notice or this investigation, or with questions regarding the project, contact Jess Lance at (401) 680-8519. Project documents and additional investigation information can be viewed below or at the Woonasquatucket River Watershed Council offices located at 45 Eagle Street, Providence, RI 02909.
Site Investigation Notice Package-Woonasquatucket River Greenway
Additional Documents will be posted here as they become available.
---
Woonasquatucket Brownfields Assessment Program
 The City of Providence has been awarded a Brownfields Assessment Grant by the U.S. Environmental Protection Agency (EPA) to conduct assessment and planning work related to the cleanup of brownfield sites throughout the Woonasquatucket River Corridor. The grant provides funding for Hazardous Materials and Petroleum-related Phase I and Phase II Environmental Site Assessments, Quality Assurance Project Plans, and Remedial Action Work Plans for sites within the Corridor. The intent of this work is to encourage cleanup of brownfield sites and make costs associated with redevelopment of brownfield sites more predictable. Brownfields are "properties, the expansion, redevelopment, or reuse of which may be complicated by the presence or potential presence of a hazardous substance, pollutant, or contaminant" (US EPA). If you are looking to buy, sell, expand, or refinance a business, or plan to develop a vacant, underutilized industrial, commercial, or mixed-use property in the Woonasquatucket River Corridor, this program is here for you!
PROGRAM OBJECTIVES AND BENEFITS
Assist developers and property owners with due diligence measures and estimates of liabilities
Engage community members regarding economic development priorities
Improve the quality of life for residents
Return blighted and contaminated properties to productive use
Help property owners avoid potential government environmental enforcement actions or penalties
Build community pride
Promote economic development, provide jobs, and support businesses
Create safer, healthier places to live, work, and play
Click here for the Woonasquatucket Brownfields Assessment Program Brochure.
Click here for the Woonasquatucket Brownfields Assessment Program Brochure (Spanish).
IS MY PROPERTY ELIGIBLE?
Site eligibility is based on a number of factors, and we encourage you to talk with our brownfields team about your property.
For more information about the program, eligibility of your property, or to discuss your vision for brownfields within the Corridor, please contact:
David Everett
Principal Planner
City of Providence Department of Planning and Development
444 Westminster Street
Providence, RI 02903
401-680-8400
E-Mail: deverett@providenceri.gov
Though this project has been funded, wholly or in part, by EPA, the contents of this webpage do not necessarily reflect the views and policies of EPA.
---
About the Woonasquatucket Vision Plan
The City of Providence, in partnership with the community, is proud to present the Woonasquatucket Vision Plan– a vision for the area along the Woonasquatucket River from Paragon Mills to Providence Place Mall– including portions of the City's Olneyville, Valley, and Smith Hill neighborhoods. Funded by an Area-wide Planning Grant from the US Environmental Protection Agency, the City of Providence worked closely with community members to plan for the thoughtful redevelopment of polluted industrial sites to stimulate economic development that benefits Providence residents and strengthens environmental and social resilience in the Project Area. The Vision Plan will be used to guide the many investments planned and underway in the Project Area, determine other needed investments, and advocate and secure resources for implementation of the community's vision.
View or download the full Woonasquatucket Vision Plan (July 2018):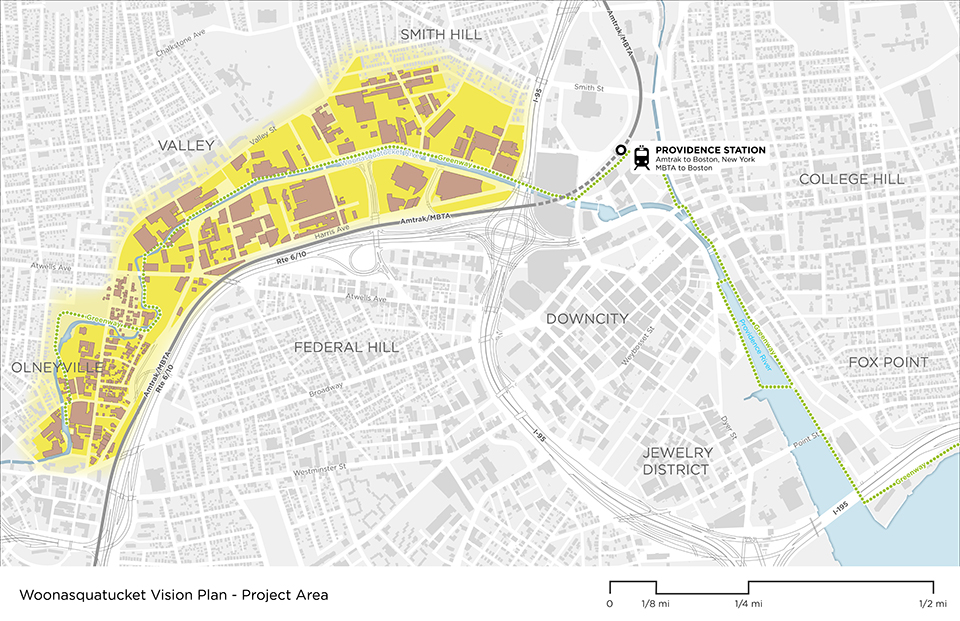 ---
Woonasquatucket River Watershed Flood Protection Project Watershed Plan – Environmental Document
The proposed Woonasquatucket River Watershed Flood Protection Project Watershed Plan – Environmental Document is a joint effort between the USDA – Natural Resource Conservation Service (NRCS), the Town of Smithfield, and the City of Providence to address repeated flooding that causes damages to residential and commercial development and presents a public safety risk during intense rainfall. This project will look at natural and social resource concerns and use engineering analyses to develop alternatives that may be constructed to reduce these flood concerns.
A virtual public meeting regarding this project will be held on Thursday, June 10, 2021 from 6pm to 7pm via Zoom. Check back on this site for a Zoom meeting link.
Meeting Notices:   English  | Spanish
---
Contact Us
Jess Lance, AICP
Principal Planner
401-680-8519
jlance@providenceri.gov
Facebook: @ProvPlanning
Twitter: @ProvPlanning