Roger Williams Park Botanical Center. New England's Largest Indoor Display Garden.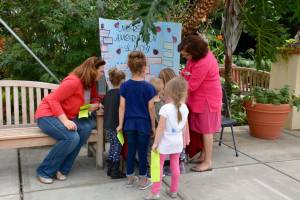 The Roger Williams Park Botanical Center is an oasis in the heart of Roger Williams Park. There are 23,000 square feet of indoor display gardens.  The Conservatory contains a variety of palms, there are orange trees, a carniverous plant bog and an arid desert. Water features and a moon gate help to create a relaxing atmosphere. The outdoor gardens include a rose maze, perennial gardens, edible forest, and a pollinator garden (Fall 2020).  There are also three goats on the property to help control poison ivy and invasive plant species.
Our Mission:  To create a space for people to experience nature through plants.
Our maintenance and growing practices are holistic, meaning we work within nature's boundaries to control problems and pests.
We do this by:

using beneficial insects to decrease pest problems
leaving leaves in the fall to create habitats for native insects and pollinators
reducing the use of carbon-producing equipment like mowers and leaf blowers by allowing grassy areas to become low-mow or meadows
allowing plants to grow in a more natural manner rather than intense maintenance and pruning for perfection.
Memberships
Volunteer
Support
E-Newsletter