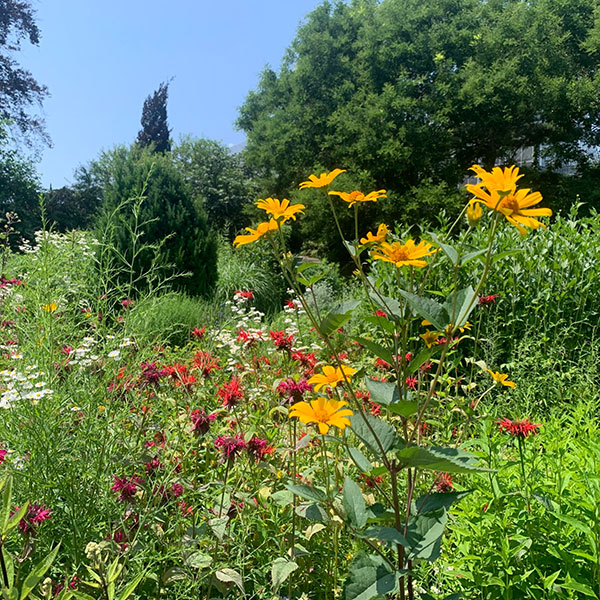 Perennial Gardens
Highlighting New England Flora
When you first enter the Botanical Center, you are in the Perennial Garden. This outdoor area primarily grows plants native to the New England region, such as the wildflowers pictured here. You will likely see the insects, birds, mammals, and more that live in this ecosystem. Our amazing volunteers help to keep this space beautiful and healthy.
Rose Maze
A-maze-ing roses
Hidden behind the greenhouses, the Rose Maze is a must-see of the Botanical Center, with countless rose bushes to be admired. Come in the summer to see the roses in full bloom.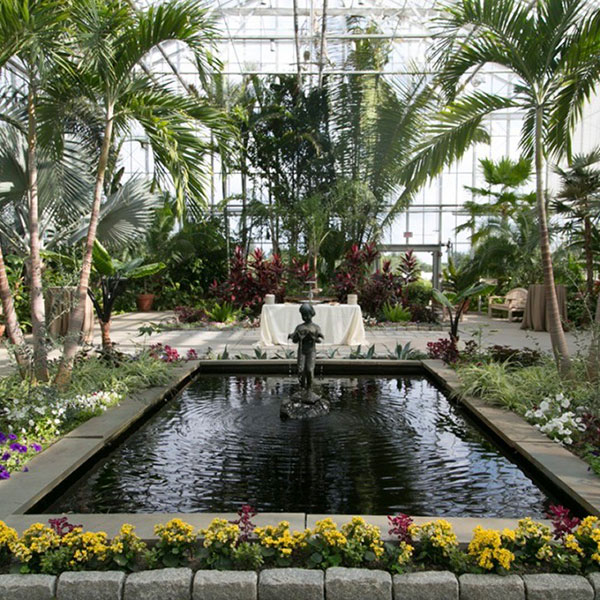 Greenhouse 1: The Conservatory
New England's largest glasshouse display garden
The conservatory is our largest greenhouse, consisting of a variety of tropical plants. Because these plants are used to a certain tropical climate, which we don't have here in Rhode Island, the greenhouse stays over 70 degrees (F) year-round. The towering palms are an essential plant in this greenhouse.

Greenhouse 2: The Mediterranean Room
Carnivorous plants and cacti taller than you…
Located next to the Conservatory, this greenhouse has many unique plants to explore. Based on the ecologies of the Mediterranean, this room has plants that thrive in adry summer climate. This is also a great place for you to host your next event.

Greenhouse 3: The Flavor Lab and Indoor Play Area
Growing food and learning
The third greenhouse, or open studio, has a play area for when the young ones need some entertainment. Stocked with books, toys, and plants, kids and families can come here to take a break, play, or meet other families. Stop by for Wee-One Wednesdays every week at 9 am!
This greenhouse is also home to the Flavor Lab where you can see how food is grown. The Flavor Lab, a garden shared by multiple food growers, showcases a wide variety of edible plants. Come see what we have growing!
Greenhouse 4: Frog & Turtle House
Can you spot our resident frogs and turtles?
The last of our tropical greenhouses, this garden contains fruit trees, cacti, flowers, and more. If you're quiet enough, you may be able to see the frogs and turtles that enjoy the small pond hidden away in this greenhouse. If you continue through the garden, you can find out outdoor kids' play area.