New England's Largest Indoor Display Garden…letting go of control and working towards balance.
Built in the year 2007, the Roger Williams Park Botanical Center (RWPBC) is an oasis in the heart of Roger Williams Park. There are over 23,000 square feet of indoor display gardens while outdoor gardens include summer and winter gardens, a rose maze, and a newly installed pollinator meadow. To protect the ecosystem the RWPBC practices a no-chemical approach to plant maintenance in the gardens, greenhouses, and grounds. The year-round 70-degree temperatures in the greenhouses create a tropical ecosystem while the outdoor gardens emphasize plants native to the New England region. In both the indoor and outdoor gardens you will find insects, birds, fish, and many other inhabitants all working together to create a balanced ecosystem.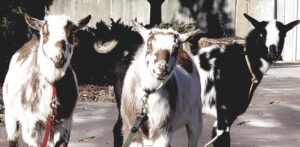 How do we work towards a balanced ecosystem?
The Center monitors and manages pest levels instead of eliminating them to preserve the environment, reduce costs, protect the health of humans and animals, and maintain beneficial organisms such as birds, bees, butterflies, predaceous bugs, and other pollinators.
The Center manages, not eradicates pests, by using biological controls. Biological management is the process of reducing a pest population by using predators, parasites, or disease organisms that ordinarily occur in nature.  The goats are a great biological control for invasive plants like Japanese knotweed!
To keep this system in balance and to provide a continuous food source for beneficial insects, some plants that appear to be yellowed, or over-ridden with insects occur. These are trap plants. The trap plants are used to create a continuous supply of pest insect species for our beneficial insects. You might think of them as a beneficial insect restaurant!
The outdoor gardens focus on growing soil more than plants.  Soil serves as a nutrient source for plants because of the micro and macro organisms that eat and digest compost and other plant debris.  The Center maintains healthy soil by not using leaf blowers in garden beds to remove leaves.  Leaves are left in beds in the fall as they serve to create a habitat for organisms like fireflies to overwinter and also act as an ever-ready food source for micro and macro organisms to eat.
Stems of plants in the garden are left in the fall to overwinter.  These stems are important to provide a winter home to many native pollinators like the mason bee while the seed heads serve as a food source to overwintering birds.  The Center will cut back dead stems and plants when it is most beneficial for the ecosystem, in the Spring after April 15th.
So please, be mindful and appreciative of the important ecosystem inhabitants, both big and small at the RWPBC. It is our hope that once you visit, you too will work towards creating a space that emphasizes balance in nature, rather than control of nature!