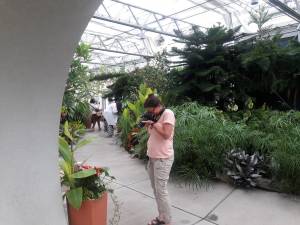 The RWP Botanical Center offers some of the best photo opportunities for amateur and professional photographers alike.  If you are looking to photograph unique stills of nature or help a couple celebrate a special announcement, the Botanical Center has you covered.   Amateur photographers are welcome to come every Friday for Amateur Paint and Photography day with regular paid admission.  Professional photographers* are required by the City of Providence to acquire a Botanical Center Photography Permit.   Please show the permit when entering the ticket gate.
*Professional photographers are considered to be:
Paid, or often paid photographers, that use special equipment, including, but not limited to all photographs with, or of people, such as fashion or model shoots, engagement shoots, family portraits, graduation/prom photos, maternity or gender reveal portraits, quinceañera, and wedding photographs.  "Special Equipment" is anything that is not attached to the camera such as lighting equipment, external power necessities, or staging.
Lenses, as well as tripods, can be used provided they do not block walkways for extended periods of time. The intention of the Friday Open Paint and Photography day is to mingle with like-minded nature enthusiasts. Therefore, excessive group photography, engagement or wedding sessions, or model shoots with wardrobe changes are not allowed. Any of these types of shoots that use human subjects as the main focus are subject to permitting and extra fees.
Permitting Fees:
Engagement shoots and family portraits are $150 for 1 hour.
The cost for wedding photography is $300 for 1 hour and wedding shoots must take place between 8:00AM-11: 00 AM, 2:00 PM-3: 30 PM if available.
All permits must be shown at the entrance gate or you will not be permitted to enter.
Please contact the event coordinator at 401-680-7240 or email bcinformation@providenceri.gov to learn more and obtain a permit.
General Photography Policies:
Photographers must not interfere with the visiting experience of other guests at RWP Botanical Center
Moving or removing plants (inside or out) or structures that are part of the Center—such as benches, containers, displays, plant signs, fences, etc.—is strictly prohibited.
No photographer, assistant, subject, props or lighting may step in flower beds, fountains, walls, benches or places other than on designated paths and open grassy areas.
Climbing or mounting equipment in trees or on buildings is not permitted.
All photo subjects must be fully and appropriately clothed. Nude and swimsuit photo shoots are not permitted.
All cords or wires must be placed and guarded in a way that doesn't alter the pathways and put Botanical Center visitors at risk.
Photographers will be held accountable for their actions and those of clients, crew members, and subjects if they damage the Botanical Center facilities and property.
The admissions fee for the Botanical Center does not allow access to the Botanical Center for professional photos.